Incise :: Daily Methods
:: Goon Trax
as reviewed by Pete T.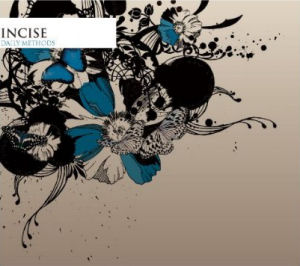 As a newly christened RapReviews staff writer earlier this year I took it upon myself to review Incise's 2008 album "Nobody's Story." A simply gorgeous record musically, Incise raised the already high bar he set on his prior collaboration with Toronto rapper Prince Ali "I Miss 1994," an online-circulated release that served to quietly turn heads throughout hip hop's underground and proved his versatility and consistency on a second record that quickly became among my favorites of recent years. Having since dabbled in electronica and worked with a wide range of artists, the follow-up "Daily Methods" was unleashed by Japanese imprint Goon Trax just in time for RR's Canadian Month.
Goon Trax is home to an eclectic and uniformly impressive group of hip hop artists yet caters almost exclusively to an international market with virtually no presence or distribution in the states. It's been both perplexing and frustrating from a listener's perspective that the Ontario-based Incise has continued to produce such phenomenal records as a relative unknown, and it's safe to say that with "Daily Methods" he's made it a perfect three for three. A very similar album to "Nobody's Story," he displays gradual progression upon his unique musical template and may have even eclipsed his prior work from a creative standpoint.
Ethereal and melancholy are the two words I know of that best capture Incise's production. Sonically expansive, electronically lush, and instrumentally rich, his music hits home with evocative and dazzling melodies amidst the vast arrangements: bittersweet piano cadences, expressive horn synths, strong percussion, and resonant soundscapes created by clever balance and engineering of the musical layers. On this effort, he further enhances his endearing circular beat structures with a more ambitious musical approach, often incorporating R&B vocalists into more complex arrays. Ultimately it's a moodier, haunting listen in comparison to "Nobody's Story," and this effect is certainly a product of the rappers as well.
I'm not sure how Incise chooses the MCs to bless his tracks, but his collaborators comprise a group of rappers spanning the map but akin in insight, technique, and artistry. What's striking about an Incise album is that his beats are so evocative that each rapper seems similarly inspired to deviate upon a common theme. Featuring many of the same largely unknowns as his previous record, "Daily Methods" includes a few more notable names, most of all Canadian critical darling Shad K, and together they make for a seriously deep and thought-provoking listen that's frequently stimulating on an intellectual and philosophical level.
Punctuated by a few beautiful instrumental interludes, with titles such as "Sunrise," "Mid-Day," and "Sunset" so the listener can track the growth and progression of the 50-minute running time, Incise's comrades are a crew of young men who collectively observe, wonder, and explore the complicated yet ultimately inspiring world around them. Old friends the 49ers and the Stereotypes further expand upon Incise's obsession with the passing of time, respectively, on "Running Out of Time" and "Music Forever," a pair of lively grooves beset by the disheartening paradox that time constantly slips away despite efforts to conserve and enjoy it. As he did to resounding success on past albums, he puts stunningly disparate spins to the same vocals on both mixes of Nieve's "Got to Go," the first an eerie, upbeat, piano-driven track and the remix a charming yet latently sad counter. Queens' Hydroponikz shines on the sentimental "Bring It Back," and "Paving the Way" is a deeply introspective collaboration featuring Okay City, Shad, and David Morin that also gets the remix treatment, turning a generally unassuming-sounding track into a dramatic one on the second version. Noah King's "Go Back" is stirring and soulful, and the always-live Don Cerino makes the most of a horn-driven banger on "Written."
The most arresting song is "Rising (Redux)," a breathtaking orchestration of full-bodied keys, ghostly female vocals, electric guitar, and a thumping bassline with a rallying vocal hook. Tunji sketches an equally powerful profile of perseverance through his verses:
"They say I look and sound like an un-jiggy young Biggie
So come with me through the slum city, run quickly
I'm college educated, IQ's like one-sixty
But now I'm graduated, focused on the funds strictly
So they label me the conscious rapper
Lately something's really slowin' me down, could be the ganja factor
Finally found a ladyfriend to name a song after
My sister's pregnant, there's so many things I wanna ask her
Feelin' like I've gone backwards, wrong password
It's a long path through the night, the dawn's after
Left to care for the songs and chapters
I found my own path, stay calm through disaster
A rapper, outspoken 'til my mouth's broken
Visions of the Spanish Riviera houseboat and
Every mornin' I press play on a fresh day
And try to figure how to live it in the best way"
The contemplative mood continues on Stain's "Inequity" and Dan Johns' "Stay Driven," also marked by swirling piano chimes and sonorous female vocals.
Few who fell under the spell of Incise's prior efforts will be surprised that he's done it again with "Daily Methods." Rare is the album so uplifting musically, and Incise and his buddies continue to make music that celebrates life, love, and music itself in such a manner that the listener can't help but do so as well. As I noted on "Nobody's Story," the lyrics might not be so striking on their own, but the likenesses between each rapper's accounts of daily struggle, persistence, and inspiration are consistently endearing, especially given the way they mesh so seamlessly with the music. Another technically supreme and whimsical record from Incise, "Daily Methods" is a hip hop album with real soul.
Music Vibes: 9 of 10 Lyric Vibes: 7 of 10 TOTAL Vibes: 8 of 10
Originally posted: October 5, 2010
source: www.RapReviews.com