Configa :: Pac to the Essence Volume 1 :: Configaration Records
as reviewed by Steve 'Flash' Juon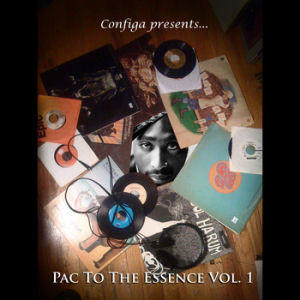 It's not immediately obvious from looking at the extensive archive of reviews at RR that we've written about Configa before - you won't find any albums attributed to his name. If you dig deep enough though you'll find he was part of a release credited to the Slept On Fam. Matt Tomer was so impressed by Configa's production techniques that he was moved to poetic praise, branding the entire album "an attempt to compliment producer Configa and his splendiferous sonic scenery." Since Tomer works as an artist/producer himself under the name Remot (pronounced "re-mote") he's not going to offer such praise to an undeserving producer not worthy of holding his jock, so when Configa's newest release arrived at RR headquarters I was happy to give it a spin myself.
In his liner notes Configa explains that this album is meant to commemorate the 14th anniversary of the death of Tupac Shakur. That explains the "Pac to the Essence" title but it doesn't begin to explain what's actually going on here. Some of you may remember when the dying gasps of Death Row tried to squeeze a little more blood out of a rock with "Nu-Mixx Klazzics," but hopefully most of you who did hear it have forgotten it or long since sold it for a quarter. Calling the album garbage would actually be an insult to trash. It took great pains to take apart Tupac Shakur's legacy and turn once beautiful songs into unlistenable CRAP. Fortunately Tomer's words about Configa still ring true, so when this man intends a "tribute" hailing all the way from the UK, he's actually able to make old 'Pac songs into "new classics" without destroying the essence of what made them great in the first place.
Now that's not to say there isn't any original material whatsoever on this first installment of "Pac to the Essence." In fact Taina La Poet provides three linking "Ode to Pac" interludes talking about his musical impact and relevance to her own life personally. It's actually what "The Rose" series could have been if it had been original poems instead of people delivering Shakur's own words with varying degrees of success and sincerity (the first volume did succeed somewhat but it was downhill from there). The rest of this album re-imagines old tracks featuring 2Pac in a brand new light with enough style and flair that it's a truly enjoyable experience. "R U Still Down?
" may not be the most remembered album in his catalogue, but "Lie to Kick It" with Richie Rich is a fresh track that arguably is improved dramatically. The beat to the original was overly simplistic, while Configa's take on it is 1970's soul meets a Dr. Dre roll, wrapped up in a fat funk smoky blunt. This toke could have been a surefire (radio) hit.
The majority of Configa's revisitations on the 16 track "Pac to the Essence" work for me. The minimalistic and speedy "Crooked Nigga Too" gets slowed down and funked out, and winds up sounding like something that jumped straight off of "2Pacalypse Now." "Nothing to Lose" was a swinging jazzy ode to Shakur's willingness to succeed by any means, and Con keeps some of that swing but makes the sound a little darker and infuses more piano into it. There are some songs where I just can't get around my love for the original version. While Con's minimalistic take on "Who Do You Believe In?" doesn't destroy the original, the soft combination of guitar, bass and melody from the widely known (and oft-times exploited) Death Row version will stick with me for all time. I don't mind hearing Kurtis Blow throw out a shout to Shakur in the open to "Dear Mama," but there's no getting around how soulful and heartfelt the Joe Sample loop when Pac's song first hit as a single.
To be fair about it I'm sure Configa doesn't intend for any of the songs on "Pac to the Essence Volume 1" to be considered greater, and I take his intent for this album to be a "tribute" as a whole with sincerity and not simply as a ploy to cash in on his musical legacy. As such I can respect what Configa has done here, given it succeeds more often than it fails, and certainly pays better tribute to Shakur remix-wise than even his own record label was able to do. I do wonder where he goes from here though if the album's title really does indicate a "Volume 2" is forthcoming. Does he dig deeper for lesser known 'Pac tracks, does he try to remix familiar songs like "I Get Around" and "California Love," or do we get more poetry? There's not enough of the latter for me to justify giving this album a lyrics score, but I did like what I heard here so I'm definitely hoping for more.
Music Vibes: 7.5 of 10 Lyric Vibes: n/a of 10 TOTAL Vibes: 7.5 of 10
Originally posted: October 5, 2010
source: www.RapReviews.com