Nikki Lynette :: The Strong Survive EP :: Team Bad Ass/NikkiLynette.com
as reviewed by Steve 'Flash' Juon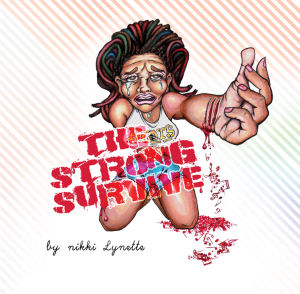 One thing you'll want to know about Nikki Lynette right from the jump is that three of her songs to date have been featured on MTV's "Jersey Shore." I can't say I've watched more than 30 seconds of the program, but given how many photos and how much publicity the stars of it get (both good and bad) I can't help but feel like I know who Snooki, The Situation and JWoww are anyway. Having checked out her personal website I can't say that Lynette looks like the much-maligned "Guido" stereotype of the show, which both Italian-Americans and New Jersey residents have gone out of their way to say is a total falsehood (not to mention most of the TV show's stars are actually from New York City). I wouldn't have been bothered if she had per se, but it also wouldn't have surprised me for MTV to have picked an artist to feature whose gimmick matched the show perfectly. The opening track definitely doesn't give that feel either - "Make it Back Home" is Nikki's ode to a brother who is doing a tour of duty overseas:
"After teaching you to fight and watchin you become a man
You signed up with Uncle Sam and leavin me where I stand
You can call it God's plan, fightin for your homeland
Like you can call autumn fall or call Persia Iran
But when it's all over all that I can understand
is my brother's going to fight a war in a foreign land
I hate this but I'm facin it, the war between the nations
My little bro embraced it now I'm forced to be a patriot
Suddenly my makeup can't can't pretty up the face
I deal with my mascara's mixing with the tears that made the stains in it
But I love you, so I support you
I promise when you need me I'ma be here for you
So don't forget the promise that you made me on the phone
when you promised me in honesty you'd make it back home"
Though Lynette's rhyme scheme is not overly complex, the heartfelt lyrics about her bro share the same feelings every family who has a son, daughter, sister or brother serving overseas has too. The star spangled guitar backdrop and military cadence drums emphasize the point in a way that may be predictable but at least to me don't seem corny. She's not just a rhyme spitter though, as Lynette describes herself as "rapper, singer, producer, songwriter, and on-air personality." The singer part is definitely evident on "It Doesn't Matter":
"It's funny how things can make you so mad
Until you realize the role that you had
Time goes on and the right and the wrong
don't mean quite as much as love that went bad
I guess when you're younger you have time to play
To argue and fuss and to push love away
We both took sides, what I've learned in life
is nobody ever wins the blame game"
The song strikes a nice balance between Lynette's delivery and a self-produced melody that at times when she croons makes her sound eerily like Dionne Farris. Although she was off to a good start with the first two songs, hardcore hip-hop listeners may be put off by "Model in the Mirror (Fashion)." I can't sugarcoat this song and make it palatable, although "sugar" is definitely the right word since the chirpy pop rap, materialistic topic matter and electronic beats fall somewhere between Kesha and Kim Zolciak. "Chicago Sunrise" is better - her singing skills again show some promise and the harmonized scat sound of the instrumental seems like a throwback to a 1990's underground rap track, and Lynette is at her best when she rhymes or sings about anything that she feels deeply. Lynette seems to bounce back and forth between deciding if that's what she wants though - "Whatever I Want" is all about how she refuses to be a cheap date, sarcastically noting "if I wanted to donate my free time, I'd go join PETA or March of Dimes." On the other hand "Love U Crazy" has enough guitar rock pop appeal she could shove Katy Perry clean off the charts.
One thing's for sure by the end of Lynette's "The Strong Survive EP," and it's that she lives up to her website's statement that she "mixes hip-hop, rock and dance music." For me the difficulty there is that she doesn't do all three equally well. She's a pretty good singer, an average rapper, and might be slightly above average as a rock star - but she doesn't do enough of the latter to give one any good idea about it. I can see how her music fit into "Jersey Shore" but I can also see that her career has only just begun and as she figures out what parts of her style to focus on future releases will become much more impressive.
Music Vibes: 6.5 of 10 Lyric Vibes: 5.5 of 10 TOTAL Vibes: 6 of 10
Originally posted: October 5, 2010
source: www.RapReviews.com