Gucci Mane :: The Appeal: Georgia's Most Wanted
:: Asylum/Warner Bros. Records
as reviewed by Joe Howard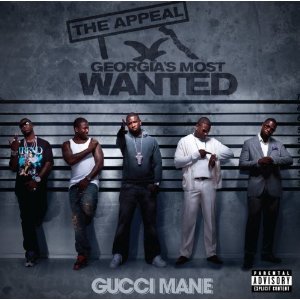 I'm not going to waste any time providing background information on Radric "Gucci Mane" Davis. The majority of people reading this review are already familiar with Gucci Mane's music, and fully aware of what to expect at this point. With three major label albums to date (including this one), and four independent albums as well, Gucci Mane has a fairly extensive discography considering he debuted professionally in 2005. After being charged with murder in 2005, having those charges dropped not long afterwards, and rising to the upper echelon of the rap industry, it would be somewhat fair to consider Gucci Mane's arc somewhat of a "success story". Maybe even a "feel good story". I'm happy for the guy, he's never done anything to offend me personally, so yeah, I guess you can say that I derive some slight measure of satisfaction from his accomplishments, because I'm fully aware of the feeling of trying to succeed in the music world. God bless him.
There's just one problem, I really don't think Gucci Mane's music is all that good, at all. I agreed to review this album in the hope that maybe I'd have a change of heart, and that Gucci Mane would provide me some insight into an area of hip hop music that I've never really explored. I had always despised Lil Wayne until I took the time to listen to "The Carter III" front to back, and now Wayne is in my top 5 alive. There was no such luck this time around. In fact, my initial reaction to this album was the realization that I'm not a Rick Ross dickrider after all, he really is eons ahead of his peers right now. I have been right, and my backpacker friends have just been haters. I came to this realization because half the songs on this album sound like a half assed take on "B.M.F.", and Gucci Mane is not even close to being in the top twenty most talented, or entertaining rap artists making music right now. His lyrics are mind-numbing, he never changes his cadence, never displays any excitement, and makes absolutely no effort whatsoever to make his songs interesting.
What about the beats, you ask? Surely Gucci Mane has some bangers on his new shit, you know with all those big name producers on it, right? Wrong.
The production credits are downright baffling. The Neptunes, Swizz Beatz, Drumma Boy, Zaytoven, FATBOI, Wyclef, and more contribute production to this album. So why the FUCK are these beats so underwhelming? And why are none of them the least bit exciting? Other than "Making Love To The Money", produced by Schife and OhZee, there is not one single beat on this album as hot as the weakest beat on "Teflon Don" or "Thank Me Later", and I hated the production on the latter. To make matters worse, the hottest verse on this entire album is provided courtesy of Nicki Minaj, which in my opinion is the weakest verse I've heard from her to date. "Haterade", produced by The Neptunes could have been a hot track if shortened or sweetened, and with a better performer at the helm. This album is simply redundant to the point of annoyance.
I'll admit that the whole "trap" type music never appealed to me all that much, but I listen to music with an unbiased, open mind, and I'd like to believe that I have a legitimate right to my opinion in regards to hip hop talent. I own over 125 rap albums, by artists such as Onyx, Outkast, Jedi Mind Tricks, Clipse, E-40, G-Unit, Geto Boys, Atmosphere, Westside Connection, Busta Rhymes, and so on, and so on. Yet for all of my open mindedness I just can't for the life of me convince myself to appreciate any aspect of not only this album, but Gucci Mane as a rap artist. I just don't think he's all that good. Seriously, it's almost like the guy doesn't even record his vocals to the instrumental sometimes. I don't like panning albums because I know that somewhere out there a lot of people worked hard and tirelessly for those albums to make an impact. However, I'm panning this one because it seems like Gucci Mane does the least amount of work on the entire album. With T.I. heading back to jail, Rick Ross enjoying the success of "Teflon Don" for the time being, one can only hope that new albums by Dr. Dre, Outkast, and Kanye West can put some exceptional music out, because Gucci Mane, Drake, and Eminem aren't cutting it.
Music Vibes: 6 of 10 Lyric Vibes: 4 of 10 TOTAL Vibes: 5 of 10
Originally posted: October 26, 2010
source: www.RapReviews.com