311 :: From Chaos
:: Volcano Records
as reviewed by Joe Howard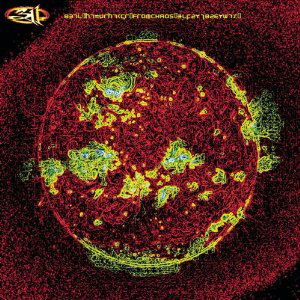 There's something very special about 311, an unidentifiable element floating around somewhere in the elixir that is the 311 experience that has kept that elixir as fresh, bubbly, and sweet as it was when they released their debut album on Capricorn Records back in 1993. While I will never truly know what it was about their music that leapt out of my television during an episode of Total Request Live in 1999 and bit me, or why I spent two hours in front of Napster immediately afterwards downloading their music, one thing I am absolutely aware of is that I am thankful those things happened to me. My CD collection is pushing three hundred albums now, I've been to many life changing concerts, and I write and record my own music. Music is my salvation, and my heartbeat, and while there have been thousands upon thousands of songs that have broken into my heart and left something behind on their way out, the first song that I ever loved in my entire life was "Come Original", the lead single from 311's fifth album, "Soundsystem".
Back then, "nu-metal", and "rap rock" were the big things, and bands like Limp Bizkit, Disturbed, and Linkin Park were everywhere. If you tuned in to any alternative rock station on the radio chances are you would hear a "rap rock" song within five minutes. Yet, as all these new bands kept popping up all across the country, selling millions of albums, and flourishing, 311, who had been rapping in their music since the very early 90's, four years removed from their triple platinum self titled album, were under the radar. Despite their perpetually fun, party oriented music of a positive, uplifted nature, 311 were being overshadowed by the "Nookie" audience. At a time when red Yankees' hats, tattoos, and mohawks were the norm, this group of five seriously funky Nebraskans defiantly fired their flares into the air, and "Soundsystem", an album comprised of upbeat, party-oriented tunes went gold. However, it was the follow up album where they truly embraced the sound that they would fine tune over the years, that album being 2001's "From Chaos".
The opening track, "You Get Worked", is a capable and rollicking jam. Complete with polished, and high octane rapping courtesy of co-front man Doug "SA" Martinez, and a particularly thrashing backdrop supplied by 311's supremely talented rhythm section, "You Get Worked" kicks the album off with a bang. It's the following track however, "Sick Tight", that really bashes you in the face, due in large part to a sick overall performance musically, during which Hexum wastes no time in giving his personal opinion on the angst-driven music of that particular time:
"You're cryin' bout your life, I think it is absurd
What could be so bad, you come from the suburbs
Just like me, but I could never despair
Most people in this world ain't got shit to spare
Suckas look up to thugs, they like the attitude
But fuck that, I'm talking gratitude
The harder they act just to hide their insecurity
I'm talking honestly, we are assuredly dope
I smoke it, but not every day
Cuz anything all the time's a drag I say
311, you want to get next to them
The name is Nick H, E, X, U, M"
That's 311 in a nutshell. Yes, over the years they began incorporating a lot more romanticism into their music, and they came to fully embrace their ability to concoct mellow, breezy songs suitable for long periods of laid back chillin', 311 and company have always been able to, and are still very capable of rocking the fuck out. The lead single and third track from the album, "You Wouldn't Believe", was written by Hexum as a "get better soon" song to a buddy of his who was suffering from some heartache at the time, and almost ten years later it remains one of their coolest songs. Two relatively short, but potent tracks go by before we come to one of the album's standout tracks, "I Told Myself", which in my personal opinion has one of the most badass choruses I've ever heard. Hexum and Martinez alternate microphone duties in a high-energy head banger about a love better off lost, but not to be lost so easily. Hexum sings:
"And now it's all turned bad...
Your ploy to make me jealous, is obvious and sad
It had the opposite effect
And now you're left with what you had
[...]
The rain comes down as love turns to dust
I was joking she took me serious
the rain comes down as love turns to dust
I was joking she took me serious
This was the last time that I was ever going to call you
I told myself
I wouldn't let you back in
But here I am dialing, trying"
Now you're never going to mistake these for Nas, or Vinnie Paz lyrics, but we've all been where Hexum was at that time and the musicianship on this song, especially towards the end, is superb. It is also worth noting that this album featured two of 311's first signature "love songs", the insanely chill "Champagne", and their smash hit "Amber" (written about Hexum's then-fiancee Nicole Scherzinger of the Pussycat Dolls). While there really isn't any legitimate rapping in either song, they are both pretty ill and the group really get a groove going on both occasions. As the album winds down and the peculiar yet infectious "Uncalm" transpires, leading you into "I'll Be Here Awhile", which Hexum wrote the lyrics to at the age of twenty, (in the year 1990), 311 should at this point give you a pretty effective impression of what they are all about. While "From Chaos" isn't exactly my favorite 311 album lyrically, and I personally believe their most recent album "Uplifter" to be their best work, this album showcases an extremely talented, criminally under-acknowledged, and habitually fun-loving, grassroots group of five best friends at their most energetic, and invigorated as a band. 311 are not for everyone, in fact I'm the only diehard 311 fan I know, and a good amount of close friends of mine loathe most of their more recent work. One thing remains abundantly true however, there is a very large, active, and pulsating group of excitable listeners out there that think of 311 when they think of good times, and chances are you know someone who is a part of that group. If "From Chaos" leads you to explore 311's discography there's a pretty good probability that somewhere down the line you'll be a member of that group too.
Music Vibes: 9 of 10 Lyric Vibes: 7.5 of 10 TOTAL Vibes: 8 of 10
Originally posted: November 16th, 2010
source: www.RapReviews.com