The East Flatbush Project :: First Born (Overdue)
:: 10/30 Uproar Music
as reviewed by Matt Jost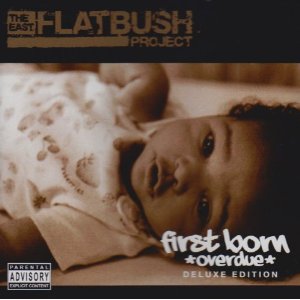 Spencer Bellamy's production career has been unconventional to say the least. Learning the ropes from Howie Tee in the late '80s when he witnessed the conception of albums by Chubb Rock and Special Ed, some of his earliest credits appear on a 1991 release on Miami Bass mogul Luther Campbell's label (by female Brooklyn rapper PreC.I.S.E. MC). Towards the end of the '90s the beatmaker who also uses the tag Spencer 4 Hire was slated to join Roc-A-Fella and contribute to albums by Memphis Bleek and Foxy Brown but ultimately didn't get beyond producing the Jay-Z/Sauce Money duet "Pre-Game," a short version of which appeared on the gold-selling "Belly" OST.
Yet as his real name lingered in obscurity, his East Flatbush Project avatar made recurring appearances on underground track- and playlists. Conceived in 1994 as a casually operated platform of 12's, The East Flatbush Project is Bellamy behind the boards and a revolving cast of MC's on the mic. Almost all of the Project's notoriety, however, is based on one song. 1996's "Tried By 12" is one of the decade's essential independent hip-hop tracks, which is as much due to the production as to the vocals. Bellamy serves up a radically stripped down interpretation of the Wu-Tang Clan's Asian angle (sampling, intriguingly, a recording by American folk singer and civil rights activist Odetta), whille rapper DeS revisits vintage Wild West rhetoric according to which it is better "to be tried by twelve than carried by six" - meaning when forced to choose it's better to kill than to be killed. You could call it an audio fusion of a western and a martial arts flick, interpreted by African American musicians (drums from an Al Green song serve as the rhythmic backbone), but "Tried By 12" is first and foremost a dope hip-hop song, pointedly summing up the do-or-die mentality that has the urban wasteland in its deadly grip.
Another unknown rapper helmed the Project's 1994 debut single on the underrated "A Madman's Dream." Brooklyn MC Payday spits deranged battle raps and hoodlum diction over a beat that recalls Buckwild and Da Beatminerz but still stands on its own with spooky vocal samples illustrating the song title. Bellamy's most known accomplice in the Project is Boot Camp affiliate Ruste Juxx, whose eponymous 2000 track that he laid down for him - a brutally mangled classical sample - isn't far off the Crown Heights rep's 2010 full-length collaboration with Marco Polo, "The Exxecution." Juxx got to pair his precise flow with the equally decisive Mirage Black on the BK-meets-Brick City clash "718, 973" (a relentlessly drilling beat finished by a sped up vocal sample) and then again on the horn-led neck exercise "Head to Head."
The latter song's concept was revisited in 2005 when the New Jersey duo of Stress and DOX went head-to-head over a rock-hard piano bounce, engaging in a verbal brawl no one would dare stand between. The two, who have also recorded together outside of TEFP, also bang it out to the frenetic "Who I'm Is," but their standout performance under the direction of Spencer Bellamy is "Hush," an airtight storytelling joint following a long tradition of rap crime narratives. Containing everything from wordplay to suspense to a cinematic soundtrack, you couldn't really ask for more from classic East Coast gangsta rap.
But The East Flatbush Project isn't all ice grills and quick kills. Stress opens "Inhale" with a nod to Big Daddy Kane's "Smooth Operator" as Bellamy unfolds a cozy scenery that also welcomes female rapper Fallon. On 2008's "Day in a Life," Stress' genuinely emotional introspection is supported by a simple but richly instrumented background that circumvents hip-hop clichés. Meanwhile, the girl-themed "Thirsty" (featuring Stress and Mirage Black) attempts to make the best out of a '80s jazz funk template.
"First Born (Overdue)" gathers all East Flatbush Project tracks on one CD, including two UK remixes of "Tried By 12" and the unlisted bonus track "Can't Hold Back" (a throwback to the days when New York rappers felt the urge to diss Compton). As of today, Spencer Bellamy's main claim to fame remains "Tried By 12," certified by URB Magazine in 2000 as one of hip-hop's 25 'Singles of the Decade.' It would have been interesting to see him operate on a higher level, but then again neither DJ Premier nor Buckwild really tore down any walls in mainstream rap after "Life After Death," so maybe not much would have come out of it. Spanning sixteen years, "First Born" presents a meticulously working producer who still often sounds too much like other people. If your tracks subsequently recall the Wu-Tang Clan, Boot Camp Clik, DITC, Ruff Ryders and G-Unit, it shows that you can stay up to date, but your ability to innovate remains disputable. Maybe a brand new East Flatbush album could rectify that impression, but for now, if you're into dark-toned hip-hop with grimey MC's who actually make sense, don't hesitate to check out "First Born."
Music Vibes: 7 of 10 Lyric Vibes: 7 of 10 TOTAL Vibes: 7 of 10
Originally posted: November 9th, 2010
source: www.RapReviews.com