Kid Cudi :: Man on the Moon II: The Legend of Mr. Rager
:: GOOD Music/Universal Motown
as reviewed by Jesal 'Jay Soul' Padania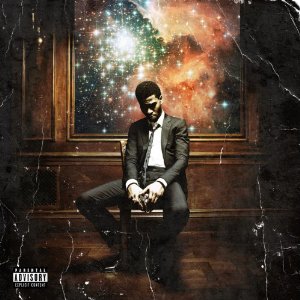 Kid Cudi released his debut last year, and follows up quick-fire with his sophomore LP. There are various approaches to the clichéd "tricky second album" - stick to a bunch of big hits; refine the formula; expand on the formula; start afresh. The last of those probably represents Cudi's choice. He creates a wildly different vibe, feel, and mood. Whilst his musical selection is all over the place - ranging from hip hop to rock to pop - his subject matter gets even darker. It follows on flawlessly from his debut, yet sounds almost nothing like it. The whole album is expertly subversive on an almost subliminal level.
Whilst the first MOTM was a more universal creature, and one that divided opinion, the second dose is even more fearless, taking no prisoners from the second the insistent marching drums of "Scott Mescudi vs. the World" kick in (following a clever little in-joke melody), and Cee Lo Green, needless to say, kills the chorus, presumably written by Bruno Mars and co. "REVOFEV" is, perhaps, one of the most attention-grabbing tracks in recent memory, with Cudi almost battling the genial instrumental (courtesy of Plain Pat and No I.D.). The skipping, Swinging Sixties jaunt is almost like a warmongering anti-war track.
Parent-baiting tracks have always been a staple of hip hop, and Cudi is no different in using it in the form of "Don't Play This Song," with sweeping violins underpinned by skipping and an overtly digital bass. We get a slice of his mind, and whilst some artists are just putting it on, Cudi comes across as earnest: you actually kind of believe him when he talks about suicidal thoughts. Mary J. Blige helps out on chorus and outro duties, and good old Mary Jane is the subject of the next track proper, "Marijuana." Musical reminiscent of "Notorious Thugs" it initially comes across like that scene in "Harold & Kumar" where Kal Penn's character has a dream about marrying a big bag of weed, fucking her and slapping her around. In fact, it is a lush number more about the medicinal purposes of it, how it takes away the pain. It makes me want to book the next flight to Amsterdam, truly.
A real standout arrives soon after in the form of "Ashin' Kusher" - stupid name, stupid rhymes, amazing beat from Chuck Inglish (a LOT of rappers will want that instrumental). The pre-requisite chart attack song come next, "Erase Me," featuring his boss, Kanye West. Jim Jonsin provides the kind of 1990's teen-flick throwback track, which the protagonist runs to after he's been a dick to the girl. How Cudi makes it work within the context of the album, I'll never know, but it does. West drops a slightly disappointing verse (by his recent standards) but it still does the job.
The next three tracks go dark. "Wild'n Cuz I'm Young" is hard, almost anti-melodic compared to the rest of the album. The unsettling "The Mood" is cloaked in the night, full of echoes and stabbing laughter. "MANIAC" fits in perfectly, with Cudi and Cage dovetailing well over subtly challenging production. The second official single comes next in the form of the relatively successful "Mr. Rager" - an almost U2-esque stadium anthem. It has that elusive knack of making you care just by creating a particular atmosphere. And if you can continue to care, "These Worries" finds Jason opening up to his fans even more.
The final section of the album is, perhaps, slightly disappointing when compared with the rest of this stellar album. "The End" has a great mid-90's feel, but lyrically feels a touch lacking. "All Along" starts the final Act properly, entitled "You Live & You Learn" - presumably alluding to Cudi allegedly overcoming his cocaine addiction and the birth of his first child. It feels like the closer, and "GHOST!" sounds - for the first time, more like a Kanye track than one of his own. That's not necessarily a bad thing, but I'm just not entirely sure it was necessary on the album (although the lush piano outro works well). "Trapped In My Mind" is, again, slightly surplus.
If you know anything about Kid Cudi, you should, by now, recognise that his "rap" lyrics only deserve a mere passing interest. He is not a great MC, by any stretch of the imagination. However, he sticks to his strengths admirably, and has created a real gem of an album. Ask a Biggie fan which one they prefer out of "Ready to Die" and "Life After Death" - their answer usually reveals a lot about them. For some reason - and this obviously does NOT apply to lyrics or MC-ing ability - MOTM2 reminds me of "Ready to Die." It is just so RAW, uncut, dark… It is also a lot tighter than the first MOTM. That remains a much more accessible LP, but I honestly think that Kid Cudi couldn't really care less about such things. He is an absolute master at creating a particular mood, and he has, right now, perhaps the best melodies in the game. Full stop. I'm not sure that this will be everyone's cup of tea, but the majority of Cudi fans should recognise it as a breath of fresh air - not to mention, aided and abetted by crack production squad, a sublime musical treat.
Music Vibes: 9 of 10 Lyric Vibes: 7 of 10 TOTAL Vibes: 8 of 10
Originally posted: November 9th, 2010
source: www.RapReviews.com