Celph Titled & Buckwild :: Nineteen Ninety Now
:: No Sleep Recordings
as reviewed by Matt Jost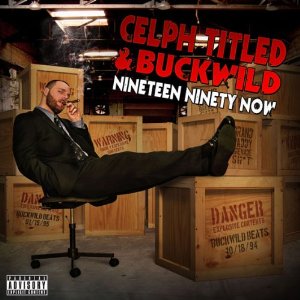 Despite being a prominent delegate of the 2K indie scene, Celph Titled has one of the least prolific individual discographies of his peers. He rather gets it all out at once, releasing a quadruple-disc collection of his work, but prefers working in a team even more - membership in the Demigodz and Army of the Pharaohs, collaboration albums with Apathy and J-Zone. "Nineteen Ninety Now" fits the mold as yet another project where Celph shares the bill, but it is also his most high profile release, not to mention the closest thing to a real Celph Titled album to date.
Who's to blame? Esteemed beatmaker Buckwild has granted Celph Titled access to his vaults of unpublished '90s beats. Which, if you know anything about the Rubix Cuban, is like handing a kid the keys to a candy store. What was good enough for Big L, Kool G Rap, O.C., Brand Nubian, Organized Konfusion and Artifacts must be nothing short of a blessing for a hip-hop artist who sees himself as an upholder of '90s values. Buck's beats from that era possess integrity in spades, and, while they call for a certain brand of rap, are of a timeless quality. Samples can remain recognizable, yet they never dominate the track but rather merge with the other elements into elegant, wondrous compositions. There's a steady melodic undercurrent to a Buckwild beat that creates a hypnotic effect while the tightly arranged, mostly mid-tempo drums make that the track doesn't linger in a dream state. Many of Buck's variations can be heard here, and those who vibed to Big L's "Put it On" or Artifacts' "C'mon Wit Da Git Down" will feel instantly at home on "Nineteen Ninety Now." Sleigh bells and all.
Beyond their often friendly appearance, however, Buck's beats, besides disposing of a solid hardcore backbone, often carry a militant undertone that encourages rappers to act out. Celph Titled is known to not hold hostages or take prisoners, and he takes the vintage mid-'90s flavor as a call to go to war against modern times - besides being his usual rogue self. He wastes no time, introducing himself with the album's first lines: "I hold the record for the most ignorant rhymes said / that'll knock that cowoby hat offa Imus's head." Four minutes later we're already knee-deep in Buck's horn-infused headnod ish and Celph's sarcastic spit delivered in that gruff, harsh vocal tone that instinctively switches between dead serious and darkly humorous.
Most important for the success of "Nineteen Nintety Now" is that Buck and Celph are a natural match and that they - assisted by Mista Sinista, who provides the songs with timely vocal samples and scratches - crafted fresh songs. Celph Titled, as playful as he is ruthless, is long past the stage of a wanna-be, he's a full-grown, fearsome MC. And so are his guests, both the students and the survivors of the '90s. Celph's contemporaries all rip a different beat on "Swashbuckling," Apathy standing out with his slick Big L impression. FT and RA the Rugged Man let it all hang out on the almost club-ready single "Mad Ammo" while Vinnie Paz infects the miraculous "Eraserheads" with his nihilistic lyricism.
Next to the usual suspects, the album holds a few surprise guests. Treach and Chino XL both make an apperance, and a whole lot of legends crowd "There Will Be Blood," Sadat X, Grand Puba, A.G., O.C., Diamond D all getting on the mic after Celph takes the lead. The two Nubians are also present via samples, Puba on the bouncy "Where I Are," X on "I Could Write a Rhyme," one of the rare songs where Celph reveals personal information, although here very much on-topic as he recounts his history with hip-hop, beginning with the Tampa teenager who "went from blastin' Magic Mike to grabbin' a mic," hooks up with a local crew but realizes that he has to leave his hometown to follow his dreams. While not as sentimental as your typical ode to hip-hop, it does feature an unusually humble Celph Titled. Nostalgia is in full effect however on "Miss Those Days," complete with a female hook reminiscing about the good old days.
Which brings us to the album's inherent message - that the 1990's were hip-hop's halcyon days. Whether you agree or not, it's quite ironic that the hopelessly homophobic rapper is actually the one walking around with rose colored glasses. That doesn't prevent him from getting laughs with songs like "Wack Juice," a particularly heated indictment of the current rap scene framed by a Canibus-inspired hook, or the album's truest throwback joint, "Fuckmaster Sex" (complete with highly appropriate Funkmaster Flex soundbites). At the same time he manages to end the LP on a mature note with "Time Travels On" with help from his own '90s teammates Majik Most and Dutchmassive.
In the end Celph stays true to himself with this release. Just like as a fan he rebelled against the Big Willie-ism of the later '90s (see "I Could Write A Rhyme"), he now as an artist takes part in the backlash against current questionable trends in rap. Make no mistake, what lends credence to his crusade is its musical side. That's the real legacy of this album - any similar future projects will be measured by "Nineteen Ninety Now." At this point, it is one of rap music's most legit hommages to times past.
Music Vibes: 7.5 of 10 Lyric Vibes: 7 of 10 TOTAL Vibes: 7.5 of 10
Originally posted: November 22nd, 2010
source: www.RapReviews.com