Ameer :: Only Built for Digital Links :: 25th Hour Music
as reviewed by Mike Baber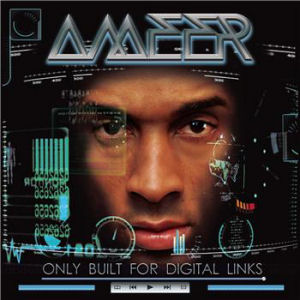 No, there is no relation between "Only Built for Digital Links" and Raekwon's timeless classic "Only Built 4 Cuban Linx." While New York based rapper Ameer's latest mixtape is similar in name, the production style is a far cry from the gritty hardcore vibes of "Cuban Linx." Rather, "Digital Links" is a blend of hip-hop, pop, and electronic music that makes for a unique and diverse body of songs. From the opening track, "Fresh Out the Oven" – which is nothing more than a kick, snare, and hi hat – to the final song, "Friends List" – which samples a song by The Killers and has an alternative rock sounding chorus – the mixtape has a little bit of everything and always manages to sound fresh.
For starters, the pure range of sounds used on "Digital Links" is remarkable. "20 Winters" pits a hardcore drum loop over a noisy electronic synth and a high-pitched whistle that flutters in the background, which makes for a heavy hip-hop based track that Ameer tears apart. On "Footsteps," which sees Ameer sing the chorus as well as rap, a simple grand piano and a trippy high-pitched synth shine over a deep rolling bass. "I'm Sorry," on the other hand, features a range of guitars and electric pianos, as well as a set of orchestral strings that drive the catchy chorus:
"I am not a rock star
I am not a gangster
I am not a hipster
I am not a trap star
Momma I'm sorry
I know I like to party
I ain't hurtin' nobody
Oh momma I'm sorry"
Ameer has been through and seen a lot, and he doesn't shy away from sharing his experiences on "Digital Links." "Honestly" features a mournful, wavering synth with a high-pitched acoustic guitar pluck in the background, as he raps: "Got friends in the grave and the feds in the county/ So I question every new mothafucker that's around me." Songs such as "Losing Me" and "Friends List" also see Ameer opening up and rapping about the problems he and his loved ones have faced so far in life. On "Friends List," as he reminisces about some of his friends who have passed away, he spits:
"We was so so cool, even so so rude
Walkin' through the hood breakin' so so rules
Life without a friend is like death without a witness
Help me find the words when I'm tryin' to make a sentence
Meet people who forget us, forget who we met
But in between the meetin' best friends we don't forget"
"Digital Links" even takes a stab at R&B with songs such as "Lie to Me," which features a slow, mellow grand piano and a desolate high-pitched synth. Indonesian born singer Astrid Suryanto steps in to deliver a sweeping chorus on "So Blind," and she plays an even bigger role on "Can't Be," as her voice carries over the shimmering synths and mellow vibes of the track. And moving away from R&B and towards pop music, "Fly N***a Hardcore" has a chorus that sounds like it's straight out of a T-Pain song
While "Digital Links" samples from a variety of music genres, the mixtape's one shortcoming is that, after 16 songs, Ameer's flow seems to get slightly repetitive. While his ability to mix things up vocally is impressive, his lyrical content at times falters, and his raps rely too much on average punch lines such as: "I can pull strings, I got the game on a yoyo." Simply put, it seems that "Digital Links" could be trimmed down slightly and still be just as good. Despite this, though, the fact remains that "Digital Links" comes with a unique sound that makes for a generally enjoyable mixtape. Pure hip-hop fans may be put off by some of the slower, more R&B type songs, but those willing to go a little outside the genre will definitely appreciate Ameer's latest release.
Music Vibes: 8 of 10 Lyric Vibes: 7 of 10 TOTAL Vibes: 7.5 of 10
Originally posted: November 30th, 2010
source: www.RapReviews.com