Kokayi :: Robots & Dinosaurs
:: QN5 Music
as reviewed by Mike Baber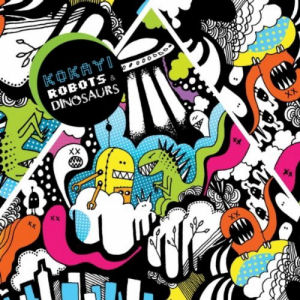 It's rare to see an artist these days who not only raps but also writes all his songs, produces his own beats, and sings his own choruses. This is exactly what Washington DC rapper Kokayi does, though, on his latest album "Robots & Dinosaurs," named after the two items on his six year old son's Christmas list. Using robots and dinosaurs as a simplistic way to explain the divide between old school and new school emcees, Kokayi creates a well-produced and thoughtful album that delves deep into his personal life and deals with everything from his growth as a father to his battle with depression to his thoughts on age discrimination in hip-hop.
Kokayi may not be a mainstream household name, but his credentials are far from lacking. After dropping his debut album in 2007, he continued to produce and worked on various projects for local artists. In 2009, Kokayi was nominated for a Grammy for his co-production on Ethiopia singer Wayan's song "Lovin' You (Music)." 2009 also saw the addition of Kokayi to the well-known New York underground hip-hop label QN5, which has several other notable acts such as CunninLynguists. "Robots & Dinosaurs," his first album as part of the QN5 label, is almost entirely self produced, save for the track "Autumn Rules," and showcases his skills not only as a rapper but as a singer and songwriter, as well.
As a producer, Kokayi isn't afraid to stray outside the normal boundaries of hip-hop, as "Robots & Dinosaurs" features elements of rock, R&B, and electronic music that make for a unique production style. "RoxTar" pits an aggressive set of drums over an unrelenting laser-like synth as Kokayi pays homage to the lives of a rock stars. It's hard not to feel energized as D.C. icon Stanley Cooper shreds a guitar solo near the end of the song. "Wynter of My Discontent," on the other hand, has a simple and sparse drum pattern (similar to something one might find on a Neptune's beat) over a soft flute that seemingly flutters across the track.
The overall range of songs found on "Robots & Dinosaurs" is astounding. Hip-hop fans are sure to like songs such as "Shpring (What You Want)," "Hiya," and "Ninety 5," which features fellow QN5 rappers Substantial and Tonedeff and is the token hip-hop posse cut on the album. "Autumn Rules," on the other hand, almost sounds like an indie alternative rock song, as Kokayi talks about dealing with depression and thoughts of suicide over a light acoustic guitar and soft drums. "Only" has a simple but extremely catchy blues-sounding piano loop and a heavy old-school set of drums, while "Drive" has a more new school pop R&B sound, with an admittedly catchy synth piano in the background. Simply put, the wide variety of musical styles found on "Robots & Dinosaurs," combined with the fact that Kokayi often switches between rapping and singing, keeps the album sounding fresh throughout.
Of all the songs on "Robots & Dinosaurs," though, one of the most memorable is "Obdare," where Kokayi discusses the problem of age discrimination in hip-hop. As someone who has seen his 20s come and go, Kokayi has a problem with the common notion that rappers decline after age 30. Over a pulsing electric piano and a busy drum loop, he opens the first verse with: "They want my rappin' to stop, and this trappin' to die/ No more stories of past glory, just gon' step aside." The orchestral strings that join in later in the track give the song a majestic feel as Kokayi calls out to the hip-hop world, asking it to stop labeling rappers as over the hill after they turn 30. As the song closes, however, Kokayi still has his doubts, rapping: "But I still got questions about this mic in my hand/ Should I hang it up for good and just play in the band?"
The bottom line is that, while Kokayi may not embody hip-hop in the traditional sense, by going outside the normal margins of the genre to incorporate different musical elements he creates a work of art unlike most other rap albums in today's world. While not every track has the lyrical depth of songs such as "Wynter of My Discontent" and "Obdare," Kokayi's voice – whether he is rapping or singing – meshes well with his unique production style and makes "Robots & Dinosaurs" a good pick-up for those looking to explore beyond the typical boundaries of hip-hop.
Music Vibes: 7.5 of 10 Lyric Vibes: 7 of 10 TOTAL Vibes: 7 of 10
Originally posted: November 2nd, 2010
source: www.RapReviews.com