Luciano :: United States of Africa
:: VP Records
as reviewed by Steve 'Flash' Juon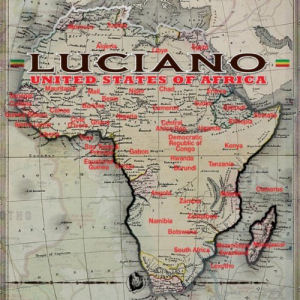 The contradiction of Jepther McClymont's chosen stage name is too large to ignore, especially given that Luciano portrays himself as a social activist, pan-African cultural unifier and rasta spiritualist. Many will instantly be drawn to think of criminal mastermind 'Lucky' Luciano, arguably the most famous mafia crime boss in the history of the United States. The one and likely ONLY thing the two men could be said to have in common is that they believed in unity. Luciano sought to organize warring mafia factions from different families under one "Commission" that would control and direct their respective crime rackets to the profit and benefit of all. Luciano's "United States of Africa" imagines an African continent where all countries work together toward one common goal, rather than warring within themselves or with each other. It's certainly a more noble dream than his namesake's, which may have ended SOME bloodshed in mafia business but certainly didn't curtail the criminal operations which hurt so many people.
Other facts about McClymont beyond "United States of Africa" are also contradictory. No one can say for sure whether he was born in 1964 or 1974, which would either make him my age or a decade older. I would think that Luciano himself would be aware of his true age but he's never cleared it up. Even the month he was born in is up for debate (some say October, some say November). What is clear is that Luciano is a second generation reggae star who began to make his mark on the musical world in the 1990's, dating all the way back to the 1994 VP Records release "One Way Ticket." His political views and desire to be a positive role model for the youth were established with songs like "Chant Down Babylon," "Jah Is Alive" and "Turn Your Life Around." Luciano has stayed remarkably consistent to those views and his natural positivity his entire career, despite the constant temptations to record in a more slack or commercial stylee to achieve more commercial publicity.
Over a dozen albums and fifteen years later, Luciano continues to rally against the wickedness of the world on tracks like "Another Terrorist Attack" featuring Fantan Mojah. Luciano decries those who would use such violence to achieve their political goals without any fear of meeting the grim ends that sometimes unfortunately accompany famous and successful Jamaican artists. His warbling patois croon carries the years of his country's struggle with him, but when he says "better BEWARRRE" it's a warning to the entire world to wake up from the negative cycle of violence. Perhaps the track order should have been reversed, because the song preceding accurately states his position: "Only Jah Can Save Us Now."
Production on "United States of Africa" is handled throughout by the Maximum Sounds mon known simply as Frenchie. The music neither rises above nor falls below the Carribean cool you would expect from a roots reggae singer. The horns, keyboards and slow tempo of "Footstool" (and for the record, Babylon is Jah footstool) is almost exactly what you would expect without even having listened to the track. Some would say that kind of predictability is detrimental, but for Luciano it suits him fine to not be breaking new ground. He's gotten to where he is in his career based on a certain sound and message, and to buck that trend at this point would undoubtedly alienate his large fanbase. That doesn't mean his topics aren't timely though, as "In This Recession" talks about the global suffering of the masses due to the changing economy, while being sure to note corporations are to blame as it's "part of their evil plan."
In the final reckoning, Luciano's "United States of Africa" is a cool slice of roots reggae that is spiritual, soulful, carefully considered and entirely inoffensive to anyone. It's possible that some day McClymont's fame could exceed that of his more infamous gangster counterpart, but whether it does or not he's established a credibility in the musical world and among social activists that would be hard (albiet not impossible) to tarnish at this point. For casual reggae fans this album is not necessarily a must own, but to the hardcore set and long-time Luciano listeners it's definitely ital to increase their livity.
Music Vibes: 6 of 10 Lyric Vibes: 6 of 10 TOTAL Vibes: 6 of 10
Originally posted: November 9th, 2010
source: www.RapReviews.com