Fresh Cut Collective :: Fresh Cut Collective
:: Unifi Records
as reviewed by Mike Baber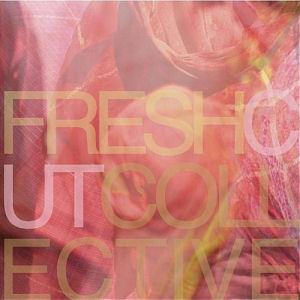 Fresh Cut Collective isn't your everyday hip-hop group. In a day and age when only a handful of new artists manage to bring a fresh and innovative sound to hip-hop, there is something about Fresh Cut Collective that stands out from the start. Maybe it's that the Milwaukee based group is really a hip-hop band consisting of lead vocals from emcee Adebisi Agoro, two guitars, two keyboards, drums, backup vocals, and even a violin. There are definitely a number of artists who use a live band when performing in concert, but there are fewer that actually record every instrument live in the studio, as Fresh Cut Collective does. Maybe it's that the group lists influences "ranging from Outkast to Led Zeppelin to Bach" on their website, which makes it easy to see how they came about their unique style that expands the range of the hip-hop genre to include elements of indie rock, electronic, and soul music. Or maybe it's that the members of Fresh Cut Collective have a passion for their music that is evident from the opening track to the final song. Regardless, the group simply brings a newfound liveliness to the hip-hop game that makes their self-titled debut album a success from start to finish.
Fresh Cut Collective comes with energy right out of the gate on the opening track, "Loveless," which begins with the roar of a live crowd as Agoro steps up to the mic. The group's chemistry is immediately apparent, as an aggressive drum loop, a guitar driven chorus, and an organ-like synth blend together to complement one another perfectly and set the stage for Agoro's powerful flow. After an electric guitar solo near the end of the song over the same hard-hitting drums, it's clear that Fresh Cut Collective isn't afraid to step outside the normal boundaries of hip-hop. Next up, though, in a stark contrast to the busy feel of "Loveless," "Ridin'" begins with nothing more than Agoro's lyrics over a catchy high-pitched keyboard loop and soft electronic synths. A simple bassline and drum loop join in to give the song a mellow feel, and it's hard not to get lost in the beat as a soothing guitar laces the chorus.
Agoro really gets a chance to showcase his lyrical prowess on "Wisdom," which features a heavy fast-paced set of drums, a soft piano, and a deep synth that drives the track. As he recounts, among other things, a run-in with the police, he raps:
"They try to pull me over and I'm laughin'
See he don't know, I'm a blastin' lyrical assassin
With a passion, to put a hole right through his soul
And smoke 'em like they mothafuckin dro"
On "Crazy Party," Agoro once again showcases his impressive flow, as he raps with Twista-like speed over an upbeat track that sounds like an alt-rock song with a hip-hop twist. A little over two minutes in, the vocals drop and the band breaks it down with an incredible jam session where every instrument seems to be playing as fast as possible while still managing to blend together smoothly. And despite the simplistic subject matter of "Group-e," it actually turns out to be one of the more witty songs on the album. Agoro avoids the normal clichés of money, cars, and hoes that plague many similar, more mainstream songs as he spits his tongue-twisting verses, full of clever, humorous punch lines, about the groupies that come with the rock star life. Perhaps the catchiest song on the CD, though, is "Bumblebee," which gives off a mellow vibe with easygoing electronic synths and piano keys, a simple, riding drum beat, a slow guitar riff, and a crooning violin. Keyboardist Kiran Vedula, one of the group's original founders, delivers a relaxing R&B-type chorus as Agoro raps about finding love and settling down with a woman: "Lady, want you to be my baby/ 'cause girl you drive me crazy/ Ain't gotta think no ifs, ands, or maybes."
The rest of the album continues to mix things up, as "Project Talk" returns to more old school hip-hop roots but features a chorus that sounds like it belongs on a reggae or Caribbean music song. As the group finishes with "Everybody" and "Never Over," both of which have more of an alt-rock feel to them, the album maintains the same energy it had from the very beginning on "Loveless." Overall, "Fresh Cut Collective" is a great listen not just because of the lyrical talent of Agoro and the musical variety the other band members bring to the table, but also because the group just sounds like they are having fun the entire time and are always into their music. As Fresh Cut Collective acknowledges at the end of "Bumblebee," the members come from "a lot of different backgrounds musically." One might think that this would lead to collusion, especially with seven people sharing the stage, but the different styles complement one another and come together beautifully to create a unique and fresh sound. With everything from catchy tunes to great jam sessions to impressive lyrics, "Fresh Cut Collective" has enough musical variety to appeal to a wide range of hip-hop fans, and hopefully it marks only the beginning for this up-and-coming Milwaukee hip-hop band.
Music Vibes: 8.5 of 10 Lyric Vibes: 8.5 of 10 TOTAL Vibes: 8.5 of 10
Originally posted: December 14th, 2010
source: www.RapReviews.com