Skyzoo & !llmind :: Live From the Tape Deck
:: Duck Down Music
as reviewed by Steve 'Flash' Juon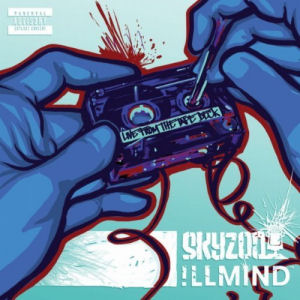 Skyzoo describes himself in the opener to "Live From the Tape Deck" as "critically acclaimed and underrated at the same time." He's right. The Brooklyn emcee built his reputation off highly regarded mixtapes and a collaborative "Cloud 9" album with 9th Wonder, after which he inked with the legendary Duck Down label to release his solo debut "The Salvation." Regrettably Skyzoo soon fell into that well-tred hip-hop category of "your favorite rapper's favorite rapper," which for the unfamiliar translates to "everybody respects his skills but he's not pushing units like Lil Wayne does." Sky is that name everybody looks for on a free MP3 or a downloadable .zip file, but when it comes to ponying up the ducats more people get torrents. Sometimes skills DON'T pay the bills.
Hoping to turn that trend around, I didn't wait for the label to comp me a copy of his latest CD (shoutout to Matt though) and dropped $13.99 for it at the store. I had the notion in mind ever since we first posted the press release announcing it back in August, but a massive amount of promo material to review delayed the inevitable purchase a couple of months. It certainly didn't hurt that !llmind's name keeps popping up in the production credits of other rap albums I enjoyed this year, so the idea of him working with Skyzoo for an entire album was highly appealing. Even though you can't really judge a book by the cover, the artwork definitely struck a nostalgic chord in my head. I spent many hours of my childhood doing exactly what's pictured above - ballpoint pen in hand, desperately trying to pull a cassette tape spool back around the wheel after a tape deck tried to chew it up. The boombox was sadly indiscriminate, as it enjoyed dining on homemade mixtapes and mid-80's releases from P.E. and Run-D.M.C. in equal measure. I sometimes miss cassettes, but I don't miss fixing them. At least when you got mad at your boy when HIS tape deck chewed up your shit, you could chuck it at him and the shit would hurt. Nowadays we're all throwing "Frisbees":
"I guess how I set it off will determine how to finish
And finishin this is fine, the finish line is the scrimmage
Scrimmagin the design and designin is by the witness
Witness it from the side as I'm driftin by to the endin
Endin another stanza by beginnin to explain it
Explainin an explanation and waitin while you arrange it
Arrangin it around and I'm astound from where you place it
The placement was out of place, just try to keep it adjacent
To the couplet, tercet, quatrain, cinquain
Sextet, septet, octave and then playin
label at the two to eight, eight'll get you through the day
Double that and you cut up that and cut the move away
Away from where they wave at, I looked down, waved back
Waving gets impatient, you pick-and-roll? I waived that
That would be the obvious - obviously I should just
stick with this and see what the oblivious is tryin to catch
Catch it if you up for it, the catchin is the jump for it
The catch is if you catch it, you catchin whatever come with it
I'm with for the wittiest, winnin off of wittiness
Lose the whereabouts of the wit like I threw the wind in it
In it for the incline, included to entwine
Inclination of any innovation within mine
Mine like I molded it, one rib, sculpted it
Shook 'em off the syllables, I ain't have to motive it"
As if the ridiculously ill twists and turns of Skyzoo's rap weren't hot enough here, !llmind's beat sets it off perfectly. That word may be thrown around too much in reviews, so let me emphasize it again: PERFECTLY. The beat sounds five years ahead of where rap is at today, just like the rap. The multiple layers of sounds start with a trap set drum track, combining hi-hat, hard hitting snare and kick drum that reach out to you through the melody. That melody is electronic but surprisingly warm and inviting, repeating phrases but never becoming repetitive, shifting the keys in and out of the layers at different volumes. There's an eerie wind blowing in the backdrop, like exploring the future in Chrono Trigger, where humanity clings to life by a thread in a frozen wasteland. The chorus warms you up though like a bright ray of sunshine, bathing you in a lush orchestration that laces the whole track together. There's usually one or two songs a year that are so next level I'll remember them regardless of whatever else happens, and "Frisbees" is that unforgettable. This song WILL stick with you 'til infinity.
Happily the rest of "Live From the Tape Deck" is at that level or damn near it. "Burn Notice" happily reunites Ruck and Rock from Heltah Skeltah on one song, with Sean Price sounding remarkably like Big Pun in his closing verse. "Speakers On Blast" is aptly named, as it's the kind of minimalistic track you might hear the New Boyz rap on, but done in pure East coast bravado as Sky brags "One after the other one, then I shake another one - huh/Dish 'em the opposite and watch how the devil come." His flow is reminiscent of mid-1990's era Jay-Z, "Reasonable Doubt" style, and he even says that's fine with him because the 90's are the era he was birthed in musically and lyrically. It definitely shows. "The Winners Circle" dings and swings on a breezy vibe while Skyzoo says "I'm trying to reflect what I'm trying to protect/I'm trying to arrive and they trying to neglect" true hip-hop. It may be cliche to save hip-hop when so many people have declared it to be on life support, but nothing about Sky's flow or the choices he makes lyrically come across as the ordinary. It's no surprise he considers himself kin to Little Brother and Justus League.
At some point you'll probably find that this review is a little bit on Skyzoo's johnson, but having heard so many mediocre albums in almost 30 years let alone throughout 2010, I wouldn't jock if jimmy couldn't jam. Even the littlest details on "Live From the Tape Deck" are perfect, like the sound of shaking up and spraying out a can on "Krylon" - it's as though The Artifacts are throwing up a burner while you listen. Guests are few and far between but Skyzoo is such a talent that he doesn't really need the support; still when it comes in the form of Buckshot and Styles P on "The Now or Never" you definitely won't be hating on it. The only bad part of "Live From the Tape Deck" is that it's 12 songs and 43 minutes long. When you get on a vibe this good you get hooked like a morphine addict and you want that feeling to last, and you can't wait to have it again. If you want to go old school get a 90 minute cassette and dub this shit off twice front to back, then pop it in your stereo and hit the autoreverse button so it stays looped. Better hope that the tape don't pop while you're sippin' on Private Stock. This is the new old school, so far ahead it's actually going way back.
Music Vibes: 9 of 10 Lyric Vibes: 9 of 10 TOTAL Vibes: 9 of 10
Originally posted: December 21st, 2010
source: www.RapReviews.com