The Left :: Gas Mask
:: Mello Music Group
as reviewed by Pete T.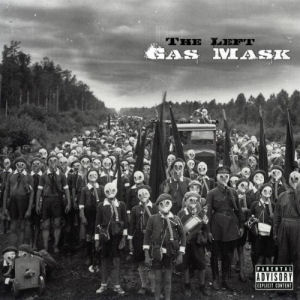 It's about that time of year that we music writers take it upon ourselves to look back at the year that was, highlight the great albums that many listeners probably missed, discern which albums we actually ought to still be listening to after the year's end, and ultimately determine how the year should be remembered going forward. It's been a heck of a year for Detroit producer Apollo Brown, who released a remix album "The Reset" in May featuring his reworked versions of recent tracks by Diamond District, Black Milk, Rapper Big Pooh, and Prince Po among many others. September saw the release of "Brown Study," a collaboration with female rapper Boog Brown, and a month later "Gas Mask" saw the light of day, the debut full-length from The Left, a trio comprised of Apollo Brown, rapper Journalist 103, and DJ Soko. It's been a similarly busy year for indie boutique Mello Music Group, which in addition to each of the aforementioned releases put forth strong albums by Georgia Anne Muldrow and Declaime, yU, Trek Life, and Oddisee. Chances are when we're looking back at 2010 Apollo Brown and Mello Music Group will play at least some role in our memories, and "Gas Mask" may be the biggest reason.
So why have The Left got their gas masks on? Well, it's because they're on to a whole lot of toxicity in their environment that, if they didn't take precautions, might take us all under. Journalist 103 sounds like the third member of Dead Prez, a stone-faced commentator with a commanding delivery and impenetrable flow. Throughout "Gas Mask" he's kind enough to let us in on the latent ills surrounding us, beginning on the opening title track:
"I make connections with the dots that shouldn't be connected
I make it simple, quite plain, so the folks can check it
New York rappers are complainin' 'cause they disrespected
While the rappers in Detroit don't get no recognition
Even the rappers in Oakland don't share the vision
Of the music of the famous and the wealthy-livin'
That's kinda strange like the story of the pied piper
Play a tune for the youth, lead 'em to hell's fire
There ain't no balance in the game and the need is dire
Refugees in need of food, their kids dyin'
There's a thin line in between a market scheme
And raw talent overshadowed by the glitz and gleam
This the way of the blackface and the Sambo
So I rap forces of freedom, just call me Rambo
This shit is toxic, killin' the real to set the lies
It's The Left with the gas mask, we must survive"
Apollo Brown has in the past been labeled a J. Dilla disciple, but he makes "Gas Mask" all his own. His primary weapon of choice is horns—not jazzy, loopy horny-horns, but loud, driving, hard-hitting horns that give the tracks a militant sound. Perhaps his most effective tactic is his clever use of distant vocal bites on almost every song, be it soul samples or clips from films, commercials, or speeches that lend the songs a remote evocativeness, moving expressiveness, and at times ironic soulfulness. The title track is anchored by a powerful horn line and mournful vocal repeating "I can't taaaake it," between Journalist 103's depictions of injustice, and the Kool G Rap collabo "Frozen" is punctuated by a familiar Nas sample over the nod-inducing groove powered by thundering horns, a thumping old-school beat, and piano chimes.
"Gas Mask" is as heavy-handed and consistent as you could ask for, and although guests are fairly frequent they never distract from Journalist's furious, meticulous lyrics and Apollo's gritty, full-bodied production. Apollo and Journalist are such a spookily natural match for each other that they always seem to be on the same page. Gloomy beats such as on "Binoculars" are the perfect template for 103's inspiring rhymes about struggle and oppression, and Apollo's penchant for the dramatic on tracks such as "Chokehold" proves equally effective. Journalist is a perfectly-titled MC because his raps have no gimmicks—no triple-time speed raps, no lyrical gymnastics, no pop-culture punchlines—but keep the listener coming back for more because they're expertly-arranged, compellingly delivered, and contain real substance. He paints an apocalyptic vision brought to fruition by malevolence and corruption on "How We Live" with Hassaan Mackey and trades heady verses with Invincible on "Statistics":
"I'll take you back a little bit so you can understand
How the land of the free made this type of man
I got a coked out mom, alcoholic father
Who walked out when I was ten, like, 'Fuck it, why bother?'
So now my attitude is like, fuck it, why bother
I stay blowed off the kush to even think of karma
Clothes, bankrolls, and hoes was the best slogan
That I lived by next to 'I gotcha open'
I done gave up hope so I start acceptin'
That my life ain't shit without a Smith and Wesson
'Cause when them sales get slow and them pockets empty
I'ma squeeze on the semi 'til the clip's empty
Just like Mr. Simpson, your boy's Guilty
I'm the environmental product of this great country
'Cause of that violence, I stay vibrant
I'm one of the last dudes you wanna see on that live tip
Either the grave or the cell's what I'm headed for
'Cause based off the statistics, I'm prepared for it"
"Real Detroit" featuring Marv Won serves as an anthem for both MCs' hometown, describing it as an unimaginably rough place to grow up but a breeding ground of hip hop's finest. Still the standout track might be "The Melody," a touchingly melancholy track that finds an unusually poignant Journalist executing an unlikely love song to resounding success without sacrificing his wary eye and earnest persistence in the process, all while Apollo evokes a "Moment of Truth"-era Premo with his swirling violins. By the time Guilty Simpson shows up on "Reporting Live," another Motown anthem, the approach is familiar but the shtick is far from old, and both hand in excellent performances. The album's home stretch features a tellingly-titled batch of bangers including the phenomenal "Caged Birds" with Finale, a soaring production where the rappers attempt to discern theirs: "It's my reality, the story of an artist starvin' / Or the story of an artist on his way to starvin'." "Homage" is a sad, heartfelt trip down memory lane, and on the closer "Get In Where You Fit In" Apollo Brown channels his inner Apollo Creed with a show-stopping horn fanfare and M.O.P. sample.
The Left's approach is, in some manners, decidedly old school—hell will freeze over before they incorporate any autotune, R&B collabos, dubstep, or Weezy-style punchlines into their rap—but the success of their craft results from a quality that is truly timeless. Literate, substantial rhymes and heavy, musical beats are always in style, and "Gas Mask" unites a virtuoso of each so seamlessly that you'll swear they'd been connected since the womb. Perhaps more importantly, though, The Left has provided an album that captures the desolation, frustration, desperation, and depression of Detroit circa 2010, as the city's once-bountiful jobs have moved south and the economy turned for the worst, and its citizens are left powerless save for their ability to simply observe and report. Journalist's all-too-real narratives and Apollo's nods to classic soul could hardly have come from another city. An artistic statement and a brilliant debut, "Gas Mask" should be Motown's unofficial soundtrack, but its listenership should know no regional boundaries.
Music Vibes: 8 of 10 Lyric Vibes: 8 of 10 TOTAL Vibes: 8 of 10
Originally posted: December 7th, 2010
source: www.RapReviews.com