LinoBoyLive :: IMLINOBOYLIVE :: LI Records
as reviewed by Emanuel Wallace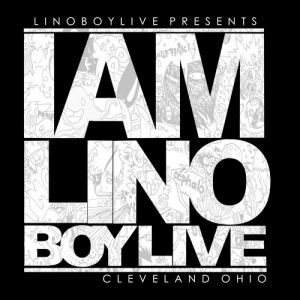 Back in September, I attended the Ohio Hip Hop Awards in Cleveland, Ohio. The ceremony was okay... the small amount of the show I got to see anyway. For the majority of the time, I was in the back of the venue in the media room where the winners were to come after winning an award. The few glimpses of the show came when I stepped out to hit up the bar or to go to the restroom. It would've been nice if there was some kind of feed being sent to the room, but alas there wasn't. I met a lot of cool artists and industry folk back in the room though, so don't think that I'm downing the experience or bitching for the sake of just bitching. As expected, the tables and bar were both flooded with promo material, with packaging that ranged from quite professional down to D-I-Y in the most literal of ways (think CD-Rs and Sharpies).
After I left the show, I sat in my car getting ready to pull off and a car pulls up next to me. My first thought was that I was about to go out like Biggie or Pac. Foolish, I know. My second thought was that they were about to ask for directions. After both of our windows were down, a hand reached out and they proceeded to hand me a CD and then they drove away. Relieved that it was just promo material and nothing that would garner a special post in the newsfeed section of this fine website, I added the disc to my collection of things from that night. Skip to a few months later and I'm looking for something to review and I stumbled upon the "I Am Ohio" disc I was given that night. I ripped it to my computer, started listening and started doing my research on things. This is when I found out that the disc I received was actually rolled over into a larger project called "IAMLINOBOYLIVE" and it was due to be released in the coming weeks. I decided to hold off and wait for the larger mixtape to drop.
Avelino Davila, aka LinoBoyLive is a Brooklyn-born artist that is based out of Cleveland, Ohio. According to the press material I came across, Lino favors "a new school approach, full of 808 drums, strong synths and snares." He wasn't lying, because all that is here in abundance, perhaps to the point of ad nauseum. Lino worked with more than a few producers on the project. To give you an idea of the extent of this: there are fifteen tracks on this project and production comes from thirteen different producers. LBL calls this project a blend of hip-hop, r&b and pop. With that bit of information in mind, I went ahead and pressed play.
The first few tracks seem to link to each other, not necessarily musically, but topically. "My Girl" finds Lino asking a lucky young lady if she wants to be his girl, while "Drumma" has LBL wanting to beat her body like a...yep, you guessed it. Apparently, he liked whatever he got from her, because now LBL's in the mall splurging on what he calls the "Love Of Mines." The Chemist-produced "Party With Us" is mellow and features Yung Flight. In contrast to some of the busier songs on the project, it's easily one of the standouts. "PSRS," short for Pop Star Rock Star, has an alternative pop feel to it, similar to something you might expect from Kid Cudi. More on that later. "Unthinkable" has a sound that may make it suitable for dance clubs full of drunk college students and "I Don't Know" works as the introspective song as LBL searches to find out who he is, and where he's headed. He even mentions "pulling a LeBron." Good luck with that. Things start to wind down with "This Love" and "Dreamers." The latter features vocals from Janesse Colon. As one might expect, the song is all about the pursuit of dreams and turning them into reality. The stripped-down closer, "Slow Down" is undoubtedly the most aggressive track on the project, as Lino raps:
"Hold up, yeah I'm surfin' on you niggas
Boy Live is about to put a hurtin' on you niggas
About to pull the curtain on you niggas
Better yet, I'm 'bout to pull the fuckin' skirt up off you niggas
About to go ham on you niggas
About to drop the blueprint plan on you niggas
[...]
Chicks wanna smash me, skinny tie, classy
Believe me when I say it, I ain't tryin' to be classy
Shit, it's natural, you tryin' to be a statue
But me I'm on the verge of being turned into a tattoo
And if you talk shit, I don't have to catch you
I swear I got a group of goons ready to attack you
And after they snatch you...
Ya family won't be able to reattach you"
Earlier I made a mention of LBL giving off Cudi vibes. I also can feel strong Drake and Lil Wayne likenesses here. It's not a jab at Lino, but you can certainly hear the influences in LBL's delivery and the cadences of some songs. The production here is formidable and fits well with the content that Lino presents. Most of the project could easily fit into a radio station's programming without much tweaking needed. Perhaps a bleep here and there, but that's about all. To be honest, I wish there were more songs like "Slow Down," but I suppose the variety gives LBL more of a chance to attract more fans. I wonder how that's going to work for him moving forward. My advice to him would be to continue pushing and promoting, you never know whose car you've pulled up on the side of.
Music Vibes: 6 of 10 Lyric Vibes: 5 of 10 TOTAL Vibes: 5.5 of 10
Originally posted: December 21st, 2010
source: www.RapReviews.com