Lil 1/2 Dead :: The Dead Has Arisen
:: Priority Records
as reviewed by Pete T.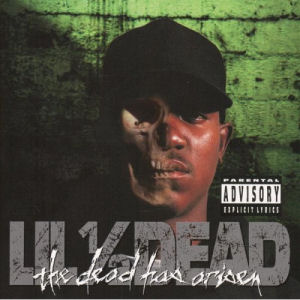 "The Dead Has Arisen" by a Lil 1/2 Dead, you say? With a cover depicting some sort of Two-Face/Skeletor hybrid, better yet? Before you write this off as a trip down horrorcore lane, you might be pleasantly surprised (sorry, Flatlinerz fans) to know that Half Dead's debut is one of the smoothest, most well-produced g-funk records to emerge from the vibrant Long Beach scene in the great year that was 1994.
A cousin of Snoop Dogg, Nate Dogg, Daz Dillinger, and RBX, Lil 1/2 Dead fielded an invaluable shoutout courtesy of Snoop on "Lil' Ghetto Boy" from Dr. Dre's "The Chronic" ("Wake up, jumped out my bed / Hung in a two-man cell with my homey Lil Half Dead"). A tangential Dogg Pound affiliate, Young HD inked a deal with Priority on the heels of his buddies' success and released "The Dead Has Arisen" to little fanfare. While his pals' influence was certainly instrumental in Half Dead's getting his foot in the door, "The Dead Has Arisen" contains neither guest appearances nor production from any of the D.P.G.C., making its brilliance all the more impressive.
1/2 Dead is a pretty standard, if likable, g-funk rapper - "The Dead Has Arisen" features tales of street-corner hustling, shoot-em-ups, hood love, and chronic indulgence - but it's the beats that set this album apart from the countless L.A. gangbangers of nine-fo'. Quite simply, they don't come much better than these. Supplied primarily by the duo of Tracy Kendrick and Courtney Branch with contributions from a group of similarly unknown names, the music embodies the best of the post-"Chronic" wave. Gently whistling keyboard synths, rich funk licks, and rolling bass arrangements place these hypnotically relaxing productions among the concurrent brilliance of Warren G, Daz Dillinger, and DJ Quik. The most apt comparison might in fact be Quik, whose full-bodied summertime orchestrations of "Safe + Sound" can at times be heard here. While by no means revolutionary, the quality and laidback contagiousness of the production throughout "The Dead Has Arisen" is seriously addicting.
1/2 Dead sports an appropriately sleepy delivery on most tracks, beginning with the opener "Had to Be a Hustler," a gem with smooth keyboards, calm synths, unobtrusively winding bass, and twangy guitar falling together seamlessly for a genuinely enrapturing arrangement. HD takes the listener through his neighborhood and looks back at his teenage years and his introduction to the dope game. The herbal vibes carry over to the classic "12 Pacofdoja" featuring Chaos and Quicc 2 Macc, a slow, deliciously funky weed ode. The album's biggest names appear on the upbeat "Stz'll Got It," as AMG and Compton's Most Wanted's MC Chill show up to kick the "late-night hype," and HD recalls "a late-night mission for some ass" on "Still on a Mission":
"On the late mission for some ass
I had to pull over and get me some gas
And some rubbers and some drank, oh let me count my bank
To see if I can get some muthafuckin' dank
Oh let me think, about which bitch I'm go'n fuck
Or which bitch would straight be willing to suck
My dick real quick, without sayin' shit
'Cause I'm the gangsta ass nigga from the Dogg Pound clique
That nigga HD dog is a mack
My nigga Snoop Dogg had five on the sack
And I gots five, so that makes ten
So we got a dime sack, and a pint of gin
And a nigga got drunk as fuck
So now it's time for me to go and get my dick sucked
By a bitch I met the other day
Rollin' in the six-trey down M-L-K
On the Eastside of the L-O-N-G-B-E-A-C-H, but hold up wait
Let me elevate my game for this humble
I gives a fuck 'cause I told you so"
1/2 Dead's verses probably won't win any awards for complexity, but the simple storytelling lends itself well to the tight grooves. The head-nodding funk of "Dead Man Can't Rap" and the rich "That Dope Nigga 1/2 Dead" are so superb musically that all HD need do is get busy on the instrumentals:
"Early in the morning, jumps out my bed
Who am I, that little loony nigga Half Dead
I'm goin' to tell you 'bout a trick I knew
A bitch I met way back in eighty-two
Her name was Grace
Her face was all that and a bag of chips
And boy she had hips, I dips
Every single day down her block
And now that hoe jocks 'cause I served some nice rocks
It's like everytime she see me she's flaggin' me down
I just swerve on her and I throw up the Pound
I let the hoe know that I don't love her ass
As I mash on my gas and dash
To me it's seemin', the girl is feenin'
She really wants to be down with my team, and
Makin' lots o' money schemin'
As I turn the corner, all I heard the hoes screamin' was..."
Chill and 1/2 Dead both stand out on the lush, whiny thump of "Eastside, Westside," and Chill's gritty delivery contrasts nicely with 1/2 Dead's more upbeat, talkative flow. Quicc 2 Macc and Chaos return for the bright "Now They Come Around," and while "That's What You Get" is menacing lyrically, the beat is so downright infectious that it's irresistible regardless. The closer "Deadicated" flips a heavy Funkadelic bassline as HD and X-Con sends love to the LBC.
Lil 1/2 Dead never exactly drops science, and left to their own devices his simplistic, fairly generic verses might be suspect. However, his audience isn't looking to be enlightened by his words or wowed by his lyrical gymnastics - they're looking for smooth, funky West Coast grooves to chill to, ride to, smoke to, and party to, and given that criteria few records fare better. HD would release one follow-up, the similarly excellent "Steel on a Mission" in 1996, but outside of subsequent name-checks on Dre's "2001" and Snoop's "Tha Last Meal" has largely remained silent since, and both of his LPs have fallen into underappreciated, slept-on obscurity. Supposed involvement at Doggystyle Records proved ultimately fruitless, and eventually he went the DJ Yella route and turned to a career in the porn industry. After years out-of-print, "The Dead Has Arisen" is a sought-after treasure commanding stratospheric prices among collectors, but fans of Warren G, DJ Quik, and D.P.G. would be crazy not to pick it up if the chance presented itself.
Music Vibes: 9 of 10 Lyric Vibes: 5 of 10 TOTAL Vibes: 7 of 10
Originally posted: December 14th, 2010
source: www.RapReviews.com