Dood Computer :: Rap Sale $5 Vol. 2 :: Home Records
as reviewed by Daniel Oh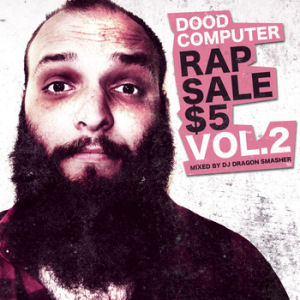 This album cover conforms to almost every stereotype I hate about backpacking hip-hop. The first thing to greet my eyes was a shining sticker proudly labeling this album to be "The First Album in 2010 NOT to feature Lil' Wayne!" Superimposed in the front is an attentive-looking white guy with a lumberjack beard and a red flannel. Hell, even the title, "Rap Sale $5" just screams "I'm dope because I'm not mainstream!" Ugh. Nothing makes you look like an ass quite like jumping into a cliché to avoid the "mainstream." I mean, if you're going to be original, be original.
Don't get me wrong, the album cover is the only thing I really dislike about this album. Dood Computer made me into a fan after the first few spins in the trusty Honda Accord. This album stays fresh even if it's not the most original album I've listened to. The production hits more than it misses, and Dood Computer can handle his microphone, and knows how to pick his guest spots to give the right amount of seasoning to the release.
"Rap Sale $5" opens up with "Let's Have an Intro, Albany" which sets up a reoccurring theme in the album. Dood Computer loves his city, even if it's in the middle of bubblefuck Upstate NY, or maybe because of it. The intro gives way to "Dead Celebs, 1/2 Remix" produced by Atypical and featuring Dizzo. I like this track because it's playful, and the beat knocks at the right times. Dood Computer starts off rager with a couple of shots:
"I drink to pain, drink to pleasure
I drink like I'm tryin to meet with Heath Ledger
I can drink a river, drink it gone
Till' Joaquin Phoenix call 9-1-1
I'm hardly straight edge, with hops and barley
Snortin' coke till I go and joke with Chris Farley
Imma rock, a rock, rock the party
Till I rap with Pimp C and ODB
I'ma live my life, the way I like
Rather live till forty-fun than a shitty eighty-five!"
The beat sounds like it was dunked in a Jameson and let out to dry, with low, dark synths and slow methodical drumline that perfectly pairs Dood Computer's understated flow. Then, all of a sudden, the guitars come in and the party comes alive with Dood Computer and Dizzo name dropping dead celebrities like Fred Rogers, better known as Mr. Rogers. What's really dope is that Dood Computer, Dizzo, and Atypical have a lot of fun making this song, which makes it a lot of fun to listen to. Unfortunately, the album takes an unnecessary detour with "Need Those Years Back."
Producer Carl Kavorkian crafts something more annoying than off-kilter, and guest spot Greek doesn't open the song with a dope verse, or even set the table for Dood to come and kill it. A misstep, but the pace picks up again with "Somethin In This." Producer Caucasian brings the soul with his keys and a slit-throat drumline. Dood Computer does the song that almost every independent artist drops, the song justifying the struggle and hardships of eating off this rap shit. With Caucasian pulling double duties between the mic and the boards, and Dood Computer injecting some of his soul into his verse, the song is crafted well enough and comes fresh enough to avoid being labeled as just another song of the struggling rapper.
Oh, and this motherfucker can produce too. Dood Computer pulls his own card when "Welcome to Muscle City" starts punching the stereo. Like all hood anthems - well as hood as Albany can be - the beat brings the heavy horns and bass to bring the roundhouse kick into the sound. The song isn't the best on the album, but like most everything on this album, it's a playful tune that lets two dudes represent their city in their own way. The rhymes aren't exactly inspired, and the autotuned chorus can get fucking annoying, but it's still symbolic of the release. It's an album from a rapper that loves his town, loves to drink, and loves to have fun by spitting some serious raps.
Some other good cuts are "Perfectly Content" with a nice guitar loop and an inspired performance from Dood Computer, "Live-In Girlfriend" with Harm crooning some serious soul on the chorus, and "Clean Socks" with its old-school drumline, good use of samples, and overall good lyricism from everyone involved. "Rap Sale $5 Vol. 2" is something that could be overlooked in the record store, with its uninspired album cover. But for five dollars (technically free for me), I'd say that it's an absolute steal of a CD. Cop this.
Music Vibes: 7.5 of 10 Lyric Vibes: 7 of 10 TOTAL Vibes: 7.5 of 10
Originally posted: October 12, 2010
source: www.RapReviews.com