DJ Butter :: Detroit Demo
:: Crazy Noise Productions
as reviewed by Steve 'Flash' Juon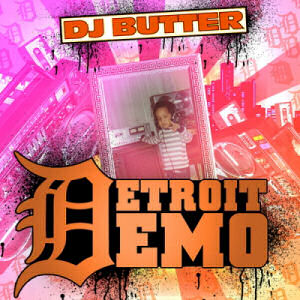 DJ Butter is a well known fixture of Eastern Michigan hip-hop. He's Detroit born and raised and well known for supporting the scene by exposing local artists to a larger audience. He also maintains a close affiliation with recognized D rappers like Royce Da 5'9" and Obie Trice, who get love on his projects or vice versa. When nobody else is supporting Detroit's underground rappers, you can count on Butter to be there to lend a helping hand. Eminem and D12 completists already know this because some of their most obscure and hard to find tracks appear on DJ Butter mixtapes like "Kill the DJ," from a time when the former has just broken through nationally and the latter were unknowns. Put simply Butter has been integral to Detroit hip-hop in the last decade+.
When the DJ Butter "Detroit Demo" mixtape hit my desk last week I was intrigued by two things - the lack of a copyright date on the artwork and the sheer amount of names I didn't recognize on it. A little research determined that this album was first released in 2008, though I suspect it's had more than one printing since then. Regardless the URL's listed on the back cover no longer work, so somebody should have at least updated that info between the original pressing and 2011. Then again Butter is at least partially to blame because he's changed websites more than a few times in the last decade - just Google search him and you'll find a lot of virtual tombstones (one embarrassing one that still exists hasn't changed since 2003). At least the MySpace page seems to be official and somewhat recently updated. Anyway this is the big stage for rappers like NinaDaPimp to shine on songs like "Murderous Spit":
"Eyes tatted on my back to see you bitch niggaz comin
So when I turn around you runnin so with my back to you I'm bustin
I'm my own weapon, roundhouse you like Tekken in one second
Clear the room - won't be nobody livin to be beggin me for life
Bust twice, make sure the job's done
When the coroner comes, won't be no question about the outcome
He's a dead nigga and I'm a bread winner
They call me Nina, wanna guess where I keep my trigger?
Nigga, figure it out"
Nina's quick-tongued delivery and gangsterish topic matter is intriguing, but sadly Butter's beat on this song offers her almost no support whatsoever. It's not just minimalistic - it's practically non-existant. He represents much better on "Here We Come" featuring Mozzarati Vick, Obie Trice and Tu-One, although it's the kind of Detroit horrorcore sound not everyone can get down with. Sometimes Butter is best served showing off this sound on the solo instrumental tip, which he does on songs like "Motown Nights" and the slow flowing "Rockin & Rollin." For better or worse though with all due respect to Butter the guest producers steal his shine despite their limited contributions. As a result Wesley Valentine's "Have My Cash" as laced by Mike Wyatt is one of the album's most enjoyable songs, as Valentine has a braggadocious vibe of "Corvette hoppin (and) Moet poppin" that's effective on this CD. Vellis Detroit's beat on "Pissy Drunk" might be the closest that "Detroit Demo" gets to jiggy, even though the rappers on it are relatively unremarkable. Essman's "Survive" featuring Brando and Lodown is also a standout.
Though there are several skit cameos from bigger name hip-hop artists like MC Serch and MC Lyte throughout "Detroit Demo," they really don't add anything to the mix and are quickly forgettable. Sadly this is true for the CD as a whole, as for unknown reasons I feel like DJ Butter was phoning it in on this one when it came to the production. Even the inside of the CD seems a little half-assed - the discs sits on a clear gem tray even though there's no artwork inlay, and the liner notes are on some non-existant old school Rap-A-Lot Records shit - a one page thick insert with the cover art on one side and some notable albums from the artist/label on the flipside. For the aspiring Detroit artists compiled on this album it's great to get the DJ Butter exposure, but it would have been even greater if the insert had been a page thicker so they could have gotten a few shoutouts and MySpace links of their own. Given the average poor effort put in overall the "Demo" part of "Detroit Demo" is much more apt than it should be. I expect more from Butter and if there's another volume he should come correct with it.
Music Vibes: 4 of 10 Lyric Vibes: 4 of 10 TOTAL Vibes: 4 of 10
Originally posted: January 18th, 2011
source: www.RapReviews.com