Essman :: Esspionage Vol. 1
:: Long Range Distribution
as reviewed by Steve 'Flash' Juon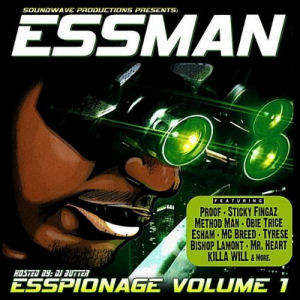 Essman's "Esspionage Vol. 1" is an album full of pleasant surprises. If that seems more like the conclusion of the review than the opening to you, feel free to skip ahead and check the scores. The major downside of that is that you'll be missing out on what exactly those pleasant surprises are, not to mention a little background info on why you should care about Essman.
Essman's resume dates at least as far back as the 2002 Slum Village album "Trinity (Past, Present and Future)" when he produced tracks under the name Shelton 'Ess' Rivers - a hook up that came in part on talent and in part on his friendship with SV member Baatin. He made the most of that exposure and got work with D12, including scoring some classics for the grossly underexposed Proof solo album "Searching for Jerry Garcia," a year before the talented emcee met his untimely demise. Essman has continued to work with top talents in and outside of the Detroit area over the years, including landing a major gig to score the soundtrack for the Sticky Fingaz' movie "A Day in the Life." To put it succinctly, saying Essman is putting in work in hip-hop is an understatement. He's consistently grinding to get that paper.
This leads us to "Esspionage Vol. 1," an album where Ess takes advantage of all his friendships and affiliations over the years to create what is in some respects a "best of" compilation. It's presented as a mixtape hosted by DJ Butter, but often times you would mistake this mixtape for a regular retail release album - it's certainly packaged and presented for retail that way. One of the many surprises of this CD is that Ess uses the opportunity of the album to make his debut as a rapper, and he's far from the worst on the mic. In fact he's pretty nice:
"The Ess, I represent East to West
I'm universal with dispersal, put it right in your chest
I've been to other cities but the D is the best
Nevertheless, I'm puttin whack emcees in check
I'm a grown-ass man, ain't got time to play
It's rush hour, you're caught up in a jam like Ford Freeway
Motor City player all day, what can I say?
And niggaz who test like Faye, they get Dunaway"
The only downside on this jam is that Ess purposefully gives up the spotlight to share the mic with A.O.L.. It's not that the latter is bad or anything - it's just such a rare opportunity to hear Ess as something other than a producer and the fact he's pretty good at it makes you want to hear more. There's no shortage of unexpected gems on this album though. "Focused" is the kind of all-star track which should be on EVERY mixtape, not just "Esspionage Vol. 1," given the fact two-thirds of the representatives are now deceased - MC Breed and Proof, and they're joined by the slept on Obie Trice to round out the trio. Proof is also featured on the opener "Esspionage," and it's clear that the friendship between Ess and Proof was much cherished and greatly missed by the producer. The Detroit area love is to be expected even if they weren't rappers he was friends with or produced for - but Essman laying down a R&B crossover beat for Gilla House singer Melanie Rutherford on "Real Love" is! Even more astonishing though is crooner Tyrese switching to his rap alter ego BlackTy to rap with C-Arson, California representative Bishop Lamont on "The System." There's no doubt Ess has connects that are stuck like glue.
As with all mixtapes there are some hits and some missed to be found in the mix, though there are fewer of the latter and more of the former. The "Killa Will Freestyle" is 56 seconds from a rapper who sounds like a genetic hybrid of 50 Cent and Lloyd Banks, only not as good as either. Co-Chees may have some potential, but the uninspiring beat and topic for "Brick & Bows" don't give me the patience to find it. Horrorcore rapper Esham seems to be trying to make a club record with "Errol Flynn," and I guess it's a good club record for Esham - but I don't really want that and I think most of his fans feel the same way (though I was amused he "put Scott Storch on hold" during the song and complains that it's "hard to two-step with your pistol"). These are made up for in spades by tracks like Sticky Fingaz threatening to "Debo the Game" and take over all of hip-hop, or the Fingaz duet with Method Man appropriately titled "Kirk & Cliff." Even Jino from the Bake Up Boyz slips and slides smoothly over "Stack Yo Paper," bragging "nigga I'm a hustler" without sounding full of shit about it. DJ Butter may unintentionally bring things down a notch here and there by unnecessarily cutting or rewinding in the middle of songs, but on the whole "Esspionage Vol. 1" is worth the time.
Music Vibes: 7 of 10 Lyric Vibes: 7 of 10 TOTAL Vibes: 7 of 10
Originally posted: January 11th, 2011
source: www.RapReviews.com