Dysfunkshunal Familee :: Family Reunion
:: Narcata Records
as reviewed by Steve 'Flash' Juon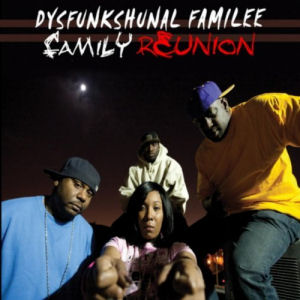 One thing hasn't changed about hip-hop in 2011 - crate digging. No matter how obscure or unheard a hip-hop single was in the past 30+ years, somebody somewhere will find it - and probably blog about it too. Such was the case with the 1994 Dysfunkshunal Familee song "New Ruff Flava," the kind of ruggedly East coast hip-hop song that would have been featured on mixtapes of the era alongside songs by Wu-Tang Clan, Redman and Lords of the Underground. For reasons that aren't exactly clear but which we'll simply attribute to Industry Rule #4,080 a complete album by the Fam was recorded but never commercially released and the group seemed destined to fade into obscurity. Once the video for "New Ruff Flava" resurfaced in 2007 though, buzz for the song gave the Fam something they had waited a decade plus for - the chance to put out a full length album THEMSELVES.
In partnership with Da Beatminerz Radio and Narcata Records, "Family Reunion" is the long awaited second chance for the Fam to shine in hip-hop. The man chiefly in charge of pushing this project is 'Crazy' DJ Bazarro, founding member and executive producer of this CD. He's joined for the reunion by Familee members Uneek a/k/a Amayss, DJ Skinny, D-Rock, Braindead, Diverse, Migraine and Rebel Rhyme. That's a big crew to get to know but to simplify matters Amayss and D-Rock credited on over half the tracks on the album. That's not to claim that the other members of the crew are not stars, but it's fair to say if the group was reduced to Amayss, D-Rock and Bazarro they'd probably roll just as strong over the length of an entire album. Either way their friendship with Da Beatminerz has benefitted the group both in front of and behind the boards. Guest appearances here are top rank for underground hip-hop - O.C. drops in on "Just Keep Holding," freestyle kingpin Craig G rocks "So Phony," veteran Brand Nubian rapper Sadat X joins "I'm Dysfunkshunal" and even fellow 1990's underground vet Bundy from Finsta Bundy comes through on "Step Up My Game." Speaking of the latter, check out a few bars from the crew the song:
"Quote me I'm so dope, that fiends wanna smoke me
I'm a beast on the beat, yo the track provoke me
Used to stay dirty like, cleats in the mud
Now I'm doin shows with my peeps in the club
Sellin CD's in the streets like it's drugs
And you can bet I got that heat for you cuz
Spit fire that's what each of us does
And every record we release gets a buzz
On a pace to blow, I got a first rate flow
'Bout to shake up the game like a earthquake though
Come through with a bang, blow the doors off the hinges
I'm destined for the top and won't stop 'til I'm in it
So get ready as we usher a new era
And fake niggaz won't feel nuttin but true terror
We great just face it; might as well embrace it
You can hate all you want - we still gon' make it"
The album is a curiously charming mixture of what would have been a great hip-hop tape or CD from the early-to-mid 1990's and a dope indie album today. The DJ Skinny produced "Fuck All Ya'll" opens with turntable scratching, trash talking about whack rappers, and the kind of funky loop break you'd expect from Pete Rock. "Start Scheming" brings in Steele (Smif-N-Wessun) and Jean Grae for a super posse cut that comes heavy over Beatminerz piano breaks. Speaking of massive collaborations, "The Grind The Hustle" includes everyone from Dollamentary to Poison Pen joining the fun over a Bazarro beat of sped-up soul samples. Even songs that border on hip-hop cliches like "Smoke Weed" seem fresher in context, and the Nate Dogg samples from "The Next Episode" and KRS-One samples from "Mad Izm" help out too. There's a purposeful intent to flipping a "La-Di-Da-Di" sample on "Can't Be Your Lover" too, and Amayss shows why she's the first lady of the Fam dropping the opening bars to set the tone:
"Can't really explain how it happened, it just happened so quick
All I know is I'm in love and he could give two shits
See ex, why I flip? I feel some type of weight and now it's
gettin to the point my words expressin and he gets ticked
I try to make a move, why you turn when I'm tryin to think?
And when he's not around, my stomach start to feel it and sink
Hazardous for my health, I convinced myself that I quit
I thought you could change, my pride won't allow me to slip
Now picture this, me no longer by the side in your flicks
Chillin goin out and calmin you down when you pissed
Cause you don't appreciate me for this, respect and no diss
And when I'm not around, then you gon' be callin me bitch
Can't win for losin, but I ain't gon' be losin no chips
Cause I have my own money, my middle finger you get
Until you learn some respect, I'll be pleadin the fifth
And don't call me, I'll call you, I'll be busy on trips
And I'm out"
That's right - I probably forgot to mention that Amayss a/k/a Uneek is a female poet of the mic. That's intentional because there are some of you out there (not naming names) who instantly start hating on the thought of listening to any femcee unless she's being sluttier than Khia, Lil' Kim and Nicki Minaj put together. For every one dude who gives Jean Grae or Psalm One her props, two more hate and say they don't like hearing anything other than a strong male voice over beats. Well it's 2011 now so GTFOHWTBS. Amayss rocks just as hard as anyone else in the Fam and their respect is evident in the fact you hear her just as often as the men in the crew throughout this CD - sometimes more. All the members of this group are talented but Amayss stands out as someone to watch for in the future - a rapstress who doesn't need to shake her ass or brag about her chocha being gold plated to make it in hip-hop. Some would say "Family Reunion" is 15 years too late to have a place in a changing world of album releases where MP3 is slowly replacing the CD, but to me this album is right on time.
Music Vibes: 7.5 of 10 Lyric Vibes: 7.5 of 10 TOTAL Vibes: 7.5 of 10
Originally posted: January 4th, 2011
source: www.RapReviews.com