Don P :: Talking Bout Money
:: Hood Royal Entertainment/Stay Tooned Entertainment
as reviewed by Matt Jost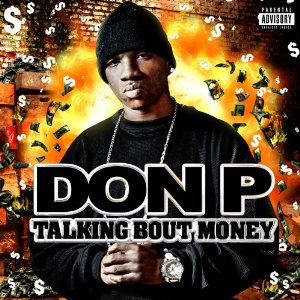 This was a YouTube-inspired purchase. Sometime in 2009 I read about a new Don P video featuring The Jacka. Don P (not to be confused with the Trillville member of the same name) briefly had my attention in the late '90s and early '00s but had since faded from my memory. "Distractions" served to renew my interest in the Oakland rapper, yet the actual album didn't happen until 2010.
Once I got a hold of the CD, I went directly to "Distractions" - and got greeted by an overmodulated bass that threatened to ruin the entire experience. I later realized the video had the same problem, but naturally was now less inclined to overlook the flaw without the visuals and having actually paid for it. "Distractions" serves as an example for the negligence that regularly plagues Bay Area rap music. The Coldplay song "X&Y" had already been sampled by Swizz Beatz for his '07 album, but it's really warranted on this - more negligence - uncredited production, the pointed Chris Martin vocals echoing as Jacka flat out dismisses the newly elected Barack Obama ("A black president must be a Uncle Tom / fuck a president, I rather be a fuckin' don"). Overall, however, it is a typically lost opportunity as the two verses remain frustratingly vague and superficial. You'd think Don P is building something up in the quote below, but the content crumples shortly after:
"My do's suicide, my flow's do-or-die
My clothes new and fly, my foes truly die
You ask who am I? I am the Don Player
Street novelist, I am the player mayor
I sense the urgency, state of emergency
that's why my eyes are in the deep shade of burgundy"
As for the rest of "Talking Bout Money," the album title pretty much serves as a summary. "Bout My Money," "What You Need," "Talkin Bout Money," "Getting Money," "On Top of Da World" - we've heard these songs a thousand times over. He adds a bit of regional flavor with an RIP to Mac Dre here or by teaming up with fellow late '90s introduction Killa Tay there, but the influence of southern popular street fare is clearly felt. The catchiest out the bunch is "Gotta Get It," a noisy concoction of crashing rhythms and cutting synths. The slightly AutoTuned hook complements the solid flow, resulting in the one song off "Talking Bout Money" I found myself putting on repeat.
The ladies also receive their share of attention, Don P preferrably addressing them with "lil mama." Single "You're With Me" (featuring Matt Blaque) exemplifies confident courtship while the breezy R&B duet with platinum artist Keyshia Cole, the apologetic "Supastar," displays solid songwriting skills. Meanwhile "Drippin Wett" puts an emphasis on foreplay rarely heard in steamy rap songs, whereas "Lil Mama" with Chilee Powdah and Mistah FAB is pretty much the commentary you would expect from three horny guys. Limiting street posturing to one song ("Cheese Up"), Don P rather gets his Mac Dre on alongside Nump ("Act a Fool"), or enlists the help of another hometown up-and-comer, Beeda Weeda ("It's On"). He's even joined by chanteuse Deltrice on "Bad Like Me," but feels most at home on the old school Bay stunna "Dat Shit."
Don P plays it safe on his comeback album. He manages to lag not too far behind in terms of the overall impression, but lacking an artistic personality that would fascinate across time periods, he's destined to be an also-ran in the rap race.
Music Vibes: 4.5 of 10 Lyric Vibes: 3.5 of 10 TOTAL Vibes: 4 of 10
Originally posted: January 18th, 2011
source: www.RapReviews.com