Chris Clay :: The Christening
:: MIM Entertainment
as reviewed by Steve 'Flash' Juon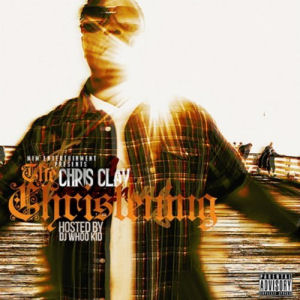 SIX, FIVE, ONE. If you want to know what Chris Clay is about, or at the very least what he represents, you need to remember these three numbers in that order. SIX, FIVE, ONE. It's something you will hear frequently on Clay's release "The Christening." What does it mean though? Clay explains it best himself on "Hypnotize":
"Okay... listen!
I am Minnesota, St. Paul
But you can call me
Mr. S-I-X, F-I-F-T-Y
O-N-E, bet I'm next
Just blessed, why you guessin?
I'm fresh like zest
And the only thing you ain't seen from me yet is my best"
Despite being hella proud of his Midwestern heritage and the "ten thousand frozen lakes" of Minnesota, the rapper is now repping his area code from the much more hospitable climate of Southern California. Mr. Six-Fifty-One Chris Clay now has more in common with Mr. Six-One-Nine Rey Mysterio. It's not a betrayal of his heritage though, it's just what Clay needed to do to take his career to the next plateau. Moving to Cali enabled him to ink a deal with MIM Entertainment and take his exposure beyond playing clubs in the Twin Cities and selling tapes out of the trunk of his car. Every young rapper has to make that choice at some point - stay the local neighborhood hero everyone loves or take a chance on becoming a hip-hop superstar. After all if Marshall Mathers never signed with Andrew Young, Eminem would be selling mixtapes hand to hand on 8 Mile Road right now.
Chris Clay's "Christening" is a twenty-six track long mixtape ostensibly hosted by DJ Whoo Kid, although his involvement in this project is minimal at best. That's actually to Clay's advantage as hearing him shout "WHOOOO KIIIIIIIIID" a million times might knock a full point off his album's score. The actual mixing of the tape is left to the lesser known DJ Reeg, so in terms of name value both the artist and label decided to hype the bigger name and have him record some drops to stamp his seal of approval on Clay. That's about as far as you'll get on album credits because like most mixtapes this album features its star(s) rapping over well known hip-hop instrumentals to build their credentials. Eve's "Let Me Blow Ya Mind" is the backdrop for "ESPN." I hoped "Slow Down" would jack Brand Nubian, but actually it builds on Fat Joe's "(Ha Ha) Slow Down" featuring Young Jeezy. If you have to even ask what beat "Fuck You" jacks, go buy "Chronic 2001" right now and return to this review after listening to it. Nothing is off limits to Clay - he's even jumping right on the left foot to turn "Shutterbugg" into "Slutterbugg":
"I told momma let your hair down, cause we here now
It's crackin, distractions, ain't nowhere around
Ye ain't gotta worry 'bout glocks and goons
Just roll this blunt, I'ma cop the room
Now you know Chris gon' switch the topic soon
How to make honies moon like we hopped the broom
Grip the drop and zoom, never mind the flirt
Let your body rest, make that vagina work"
Chris Clay makes a lot of noise on "The Christening" about wanting to be regarded as an all-time lyrical great, not just in the 651 but in all area codes throughout the United States. For his own home turf he might be at or slightly above average. For national or international exposure he's more likely at or slightly below it. The flow is technically solid - he's not gasping for air, losing the rhythm in the rhyme, or trying to cram too many big words into one small bar. The difficulty here is that level of competency is to be expected almost automatically if you're audacious enough to put out a rap album in this already overcrowded musical market. At some point you've got to have more: an extra distinctive voice, so much charisma it pours out of your ear canals while listening, unforgettable punchlines, an unusual lyrical delivery, or all of the above. Some average rappers can get over by being paired with outstanding producers, but since almost this entire album is a jack Clay doesn't rise above on these beats. His only real chance to prove his point is on the non-instrumental freestyles like "Acapella Bars":
"Yo I'm from a place that's basically foreign in my genre of music
Some see it as a setback, I accept that with honor and use it
Represent it to the fullest y'all I'm thankful that I'm colder
Now my scriptures paint the picture when you think of Minnesota
That's the biggest misconception I would like those to know
There's just more than the lakes, and the farmland, some white folks and snow
St. Paul, born and raised, that's the capital city
If it was Brooklyn hypothetically I'd have to be Biggie"
Here's what can ultimately be said about Chris Clay. He gets props for being proud of his Minnesota heritage and for wanting to prove something to people who think it's just a flyover state. He's got an acceptable albeit unspectacular level of talent - nothing embarrassing to listen to but nothing overwhelmingly memorable either. He's got some brass cajones for the instrumentals he's willing to spit on knowing some of the tracks are ridiculously easy to identify (or get sued for), and he's not lacking in the swagger of self-belief one needs to compete in the cutthroat music world. At the same time comparisons to the legendary Christopher Wallace are probably not warranted in the young Chris Clay's career. "The Christening" gets an A for effort but a solid C overall in execution, though there's a definite spark here that shows he could bring that GPA up.
Music Vibes: n/a of 10 Lyric Vibes: 6 of 10 TOTAL Vibes: 6 of 10
Originally posted: January 18th, 2011
source: www.RapReviews.com