Diggy :: Past Presents Future :: Violator Management
as reviewed by Matt Jost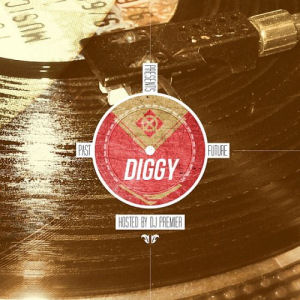 This longtime Run-D.M.C. fan was considerably irritated by the reality show 'Run's House,' simply failing to understand reason and motive for the format. Still curiosity got the best of me and I spent more time with the Simmons family than I initially intended. I watched one of Run's sons, JoJo, dabble in rap a little bit, but apparently lacking the necessary determination to make any kind of impression. My sympathies were more with his brothers, Diggy and Russy, who at the time were too young to be spoiled by the promise of stardom. Fast forward a few years and the same Diggy has a DJ Premier-hosted mixtape on deck. Quite surprisingly, at least for a person like myself who much rather listens to birds chirp than celebrities twitter.
Turns out, Diggy has already two free releases to his credit ("The First Flight" and "Airborne") and is signed to Atlantic since last year. "Past Presents Future" hopes for a credibility boost that is definitely in order under these circumstances. Primo lends his voice and turntable skills to the project, pointing out that from him you don't get anything less than a "real mixtape." He also provides the young rapper with one of his own famous beats, "Nas Is Like," for the opening track "Digg Is Like," which he equips with a matching D.O.C. sample to underline that this is Diggy's moment.
Rapping over other people's beats has a long-standing tradition in rap, but you have to be able to make that beat your own. Your performance has to be on point, and that's just not the case here. Diggy's vocal tone is stuck somewhere in puberty, carrying an inevitably annoying tone. The flow is nothing to speak of either, lacking the natural ease experienced rappers exhibit. The lyrics are worth a look, though:
"This ain't a rap song, this is a rap psalm
Immaculate, so I'ma be first to cast stone
In kindergarten I was fillin' out my tax form
while my other class mates was learnin' Jimmy Crack Corn
Iron sharpens iron, how can I go wood?
Ridin' shotgun with Lupe through Chicago hood
hat tilted to the side like a GD, bumpin' a Pac CD
Picture Me Rollin', Holler When You See Me"
If anything, "Past Presents Future" is proof that Diggy is familiar with rap icons and iconography, the references ranging from Red and Meth all the way back to Schoolly D ("Lookin' at my Breitling, it's 'bout that time"). He plays Phife to somebody's Q-Tip on "Electric Relaxation," he rocks the '80s staple "Risin' to the Top." He boasts, "I can take you back to '87" over Eric B. & Rakim's "Paid in Full." I'm positive we can expect Digg to have known these songs before Preem cued them up for this mixtape.
He's also familiar with some of his predecessors, as evidenced by lines like "On my Master P grind, no time to be a Romeo / I love the laides, but success is a lonely road" and "I don't rap for my age like Lil Bow Wow / the son of a King, so why would I ever bow down?" But since rap is not just lyrics, Diggy could actually call himself lucky to have a flow as refined as Bow Wow had ten years ago. Still lyrics are part of any up-and-coming rapper's regimen and in under 30 minutes he dishes out healthy doses of wordplay ("I'm a reality show - I Love Money 2"), religious references and great expectations ("I'm feelin' like Nas in his prime / flow illmatic, the game about to be mine"). He even drops the obligatory 'Menace II Society' reference while rapping over "Shook Ones Pt. 2," a beat actually laid down the year he was born.
But of course clichés will only get you so far. I was more captivated by the statements with a wee bit of personal flavor:
"I walked in Atlantic like, 'It's my time'
The 'Welcome Home King' posters lookin' like they mine
I know they T.I.'s, but in my mind
I'm the new king of the game, now watch me shine"
Diggy may have gotten people's attention with his take on "Made You Look" (added as a bonus track here), but in my opinion the mixtape's nicest lyrics are to be found on "Cypher (Continued...)":
"I'm a star, kid
And I swear if Nicki babysit me, I just might learn what a menage [/Minaj] is
And all you dudes is delusional mirages
You think I grew up in the neighborhood like Mr. Rogers
We started from the bottom, 205th in Hollis
Down with the Kings, all be payin' hommage
School of hard knocks, I'ma graduate with honors
I'm the golden child, therefore I will never tarnish
[...]
So you can stay in La La Land
I'm calm and yellow like Lala's man
Have you 'Speaking in Tungs' like Vado Cam
Think you 'Gangsta For Life' like that Movado jam"
Favoritism is not what hip-hop is about. Hip-Hop is about proving yourself. But would I have listened to "Past Presents Future" if Diggy's dad wasn't Run and if he didn't have the DJ Premier co-sign? Probably not. Would he have a major label deal and made over two million YouTube viewers look if he hadn't been on 'Run's House'? Unlikely. That's just how it is. At this point, there's still the possibility that Diggy's official debut might as well be called "My Super Sweet Rap Album." But there's some indication here that young Simmons will find his own way.
Music Vibes: 4.5 of 10 Lyric Vibes: 4.5 of 10 TOTAL Vibes: 4.5 of 10
Originally posted: February 22nd, 2011
source: www.RapReviews.com