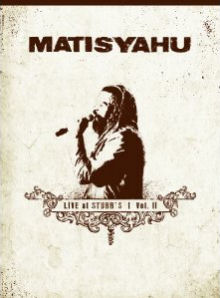 Live at Stubb's Vol. II

Label: Fallen Sparks Records
Author: Susan 'susiQ' Kim


It's been a journey for Grammy-nominated artist, Matisyahu, who has only grown and surpassed people's expectations of an Orthodox-Jew rapper. In 2005, at a venue in Austin, Texas called Stubb's Barb-B-Q, he unveiled his live album, "Live at Stubb's," and now comes full circle as returns to the place that set his career in motion. In this latest installation of "Live at Stubb's Vol. II," Matisyahu moves towards a different direction in his reggae influenced music with new band, Dub Trio, thus exposing a rather eclectic sound. Also, as Matisyahu has released both CD and DVD versions of "Live at Stubb's Vol. II," his aim is to fully immerse his audience through both sight and sound while simultaneously creating an emotional experience.
The flickering Stubb's Bar-B-Q sign commences the DVD as sounds of thunder display a balmy Austin night. Dub Trio takes to the stage as Matisyahu walks aimlessly in a hallway with his two sons and Moshav's Yeshuda Solomon. Screaming fans and faint whispers are heard as the camera pans across the audience. Ghostly children's voices begin to yell out throughout "Tzama L'Cha Nafshi" as Matisyahu makes his way to the stage. Matisyahu and Dub Trio changes gears and begins "Time of Your Song," followed "Mist Rising" and "Youth." The DVD's menu track, "Jerusalem," starts off with Dave Holmes on the guitar in a subtle chord as Matisyahu affirms:
"Rebuild the temple and the crown of glory
Years gone by, about sixty
Burn in the oven in this century
And the gas tried to choke, but it couldn't choke me
I will not lie down, I will not fall asleep
They come overseas; yes they're trying to be free
Erase the demons out of our memory
Change your name and your identity
Afraid of the truth and our dark history
Why is everybody always chasing we
Cut off the roots of your family tree
Don't you know that's not the way to be"
Matisyahu breaks out with his extensive beat boxing talents which are not heard in its entirety in the CD version while he his accompanied by Yehuda Solomon on stage in "Two Child One Drop." Matisyahu reveals a new track on the DVD, "Open the Gates," and exposes his true reggae style while finishing it off with a Rasta chant.
The influential "One Day" is one of my more favorite tracks on the DVD as he performs it well and full of passion. His voice seems fluid and Dub Trio seems to be in sync with the emotion as Dave Holms ends the song on his guitar with the simple melody. Featured in the 2010 Vancouver Olympic Games, "One Day" is truly inspirational and moving especially when viewed live.
Matisyahu ends with his hit "King without a Crown." As soon as the guitar commences, the audience yells out and screams in elation as they know what is coming. The fans are entirely engrossed in the track as their energy is clearly seen. Towards the end of the track, Dub Trio rocks out in amazing instrumentals as Matisyahu gets inspired to dive into the audience, not once, but twice. He then invites his fans to join him on stage and thus initiates a rush of chaos and excitement.
In addition to the live concert portion, "Live at Stubb's Vol. II" DVD is accompanied by a documentary portion that delves deep into Matisyahu's relationship with his music and his connection with Dub Trio. Matisyahu had been a follower of Dub Trio, initially hearing of them in SXSW, and soon grew a "mutual appreciation for each other." Their dub, rock, and almost electronic sound gives a new style to Matisyahu that he otherwise would not have. He shows how he is influenced by his religion and different genres of music to create his own even if it means his artistry is constantly changing. Throughout the documentary, he is looking away from the camera, deep in his own thought and self-reflection, but definitely poignant moments nonetheless.
Matisyahu's "Live at Stubb's Vol. II" DVD is something unique and original. The production was amazing and highlighted Matisyahu and Dub Trio's talents. The addition of Dub Trio was beneficial as it changed his style and artistry. Although Matisyahu's religion and beliefs are reflected heavily in his music and can be difficult to connect with, his talents are unmatched. While listening, I sometimes felt uncomfortable for its religious tones, but I still appreciate it at face value. Matisyahu is multitalented to say the least and although some may think that he his straying from his reggae roots, in the end, it works.
Content: 7 of 10 Layout: 7 of 10 TOTAL Vibes: 7 of 10
Originally posted: March 8, 2011
source: www.RapReviews.com