Blood Type :: 2 Weeks Notice :: LionsFace Records/Blood Type Music
as reviewed by Emanuel Wallace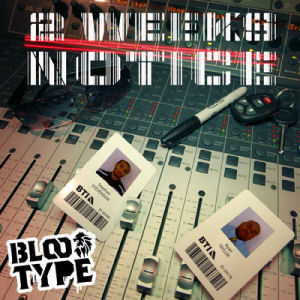 "As we embark upon a journey
It's less about the end and the trip it took to reach that
Life can kick you in the ass one time and the wisdom that you gain
Ain't a hundred books [that] can teach that
If I awaken upon tomorrow, another day I have survived
I won't fixate on hate and sorrow, I'll thank the creator for opening my eyes
In order to lead, one must follow, this is all true soldier shared belief
The prodigal Stepson must return, forever brave to become the Chief
Look at my eyes and see my soul, you'll know my words to be the truth
The prize I seek not diamonds and gold, but freedom old and freedom youth
Freedom wide and freedom long, freedom beats and freedom songs
Freedom's worth everything you own, you disagree...
until your freedom's gone"
The above passage of words is not comprised of words from Stepson or Chief, but they are the words of Dungeon Family alumnus Big Rube...yes THAT Big Rube, setting the tone for "2 Weeks Notice," the latest offering from Blood Type. On their last effort, the duo paid respect to Outkast with the aptly-titled "MIAliens." This time around BT is back with production from XV, Best Kept Secret, Drew Belly, The Synthesis, Allrounda Productions and Scarecrow Beatz. The album features guest appearances from the likes of Big K.R.I.T., Smoke DZA, Kendrick Lamar, Emilio Rojas and GhostWridah. Freedom seems to be a recurring theme throughout the album here. In some cases it's freedom from living up to the expectations of those around you and in other cases it's freedom from relationships that have seemingly gone sour and need to be reworked into something more useful.
Speaking of which, after the Big Rube intro, things get going with "Lemons," which encourages the listener to take those lemons that life sometimes hands out and transform them into a tasty beverage best served when chilled on a hot summer day. The duo welcomes us all to the rest of our lives on "Sallie Mae." The track tells a couple of stories that I'm sure many of us can relate to. The first, going away to school and graduating only to find yourself back in your parents' home for a period of time that goes from "just a few weeks" to a few years just like that. Soon you become full of frustration and no one is checking for you except a crazy stalker bitch named Sallie Mae who somehow knows every one of your phone numbers and all your relatives as well. Similarly, Stepson goes into a narrative about people that blindly go into marriage before waking up one morning and coming to the realization that it's not what they want. Big K.R.I.T. makes an appearance on the inspirational XV-produced "I Have Dreams" and Smoke DZA shows up to help BT spit "The Real." Blood Type has a few choice words for any women who may have a misconstrued notion that the fellas are down to pay to play on "No Disrespect" as Chief puts it: " Look ma, I ain't no sad ass nigga/ No "take-you-shopping-and-throw-it-in-the-bag-ass nigga"."
One of the more interesting songs is "Life of a Fool," which features Chief as the boss-type figure, suspicious that his lover of six years has been cheating on him. He follows her to a hotel, sees her with a bunch of bags and finds her in Room 305 (Miami stand up!) and puts a bullet in her for each year that they were together. In the second verse, we find out that the guy she was stepping out with (pun intended) was Stepson and they were planning to run off together that day. By the time Steppa gets there, she's already dead and he plays it off as if he was there to back up Chief all along. Quite the story that probably happens more often than we think. "Thanksgiving" features Kendrick Lamar and GhostWridah and is all about appreciating the things we already have before appealing to a higher power to try and get more. The production here is smooth and compliments the lyrics nicely. Coincidentally, "Da Money" follows and examines several of the pitfalls that come along with that struggle to attain the almighty dollar. Chief and Stepson trade rhymes back and forth reminding us that "blood's thicker than water, but money's thicker than blood" and that "friendship should never be an occupation." Wise words.
Vocalist Cat Rincon belts out the hook on "I'm Free," which presents Blood Type's position on the ideas of organized religion and the like, with the main point being that everyone doesn't fit into the scheme of fear-based religion and that people may need to find a way of their own to worship their higher power...if they even believe in one. XV comes from behind the boards and along with BT, drops some "advice for the young at heart" on "Yung World." Perhaps the song I'm able to relate to the most is "Writer's Block." Staring at an empty notepad can be quite intimidating at times, but instead of deciding whether to focus on the verse or the hook, I find myself wondering if I should work on the introduction or the rest of my review first. Production is provided by The Synthesis and the soft voice of Sheri Reid increases the replay value a bit as well. "2 Weeks Notice" closes out with "Nobody Knows" and "Galaxy." The former belabors the point of the fact that none of us really know where we'll end up in this crazy thing called life and the latter is yet another back and forth lyrical exercise between the duo that serves as the perfect closing track for the album.
I was put on to Blood Type by one of my good friends from an online hip-hop community I used to frequent. She asked me if I'd be able to do a write-up on "MIAliens" and after weeks of reminding me and me wading through the assignments I already had on my desk, I finally got around to it and was pleasantly satisfied with the music. I'd always trusted her taste in music and even though she hasn't suggested anything else to me lately, I'm glad she pointed me in the direction of Chief and Stepson. I like the growth that I've seen in their music between then and now. There's a reason that these guys were able to reel in as much firepower for this release as they did. I believe there's an honesty attached to their music and as long as they can keep things flowing, the outlook for Blood Type will continue to be positive.
Music Vibes: 7.5 of 10 Lyric Vibes: 7.5 of 10 TOTAL Vibes: 7.5 of 10
Originally posted: March 29th, 2011
source: www.RapReviews.com