Apollo Brown :: Clouds
:: Mello Music Group
as reviewed by Mike Baber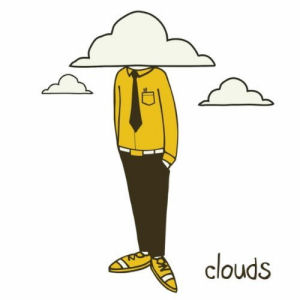 I first heard of Apollo Brown four months ago while reviewing "Helpless Dreamer," a compilation album featuring different emcees and producers from Brown's Mello Music Group label. Although he produced only three tracks on the CD, I was immediately struck by his old-school production style, featuring hard-hitting drums over chopped R&B/soul samples and sweeping strings and horns. In a day and age when it is difficult to find a producer who creates a new and unique sound while still incorporating the gritty roots that birthed hip-hop, it became apparent that Apollo Brown embodied this vision. Thus, when I heard that his latest project would be a 27-track instrumental album, I was anxious to see what else the Detroit-based producer had in store.
Hip-hop beats need lyrics like peanut butter needs jelly; a track feels almost naked without an emcee to bless the mic, and as a result there is a tendency for instrumental albums to leave the listener somewhat unsatisfied and wanting more. Despite my appreciation for Apollo Brown's style of production, I was initially slightly skeptical of "Clouds" and had my doubts as to whether I would be able to fully immerse myself in the music. The opening song begins with a sample from the title track to the 1973 musical film "Lost Horizon," and the words "have you ever dreamed of a place far away from it all…" float across the gentle acoustic guitar. Soon, I found myself lost within the truly majestic musical environment that Apollo Brown creates with "Clouds," and my previous skepticism was all but forgotten.
The album's sheer range and variety of songs is remarkable. "Black Pearls" features a flowing jazz trumpet sample that glides across the track and chopped orchestral synths to complement the steady drum beat. "Seed of Memory" has a similar jazzy feel to it, with a soft grand piano and what sounds like a set of wind chimes over a sparse drum kit that sees a crashing cymbal broken up only by the occasional snare hit, making for one of the more mellow songs on "Clouds." On the flip side, "Bridge Through Time" has an upbeat and lighthearted feel, as flowing synths and electric pianos mesh with the riding drum pattern. Of course, Apollo Brown is known for his use of R&B/soul samples, as well, and "Drinking Life" exemplifies this style perfectly, as the chopped vocals and uplifting trumpet and horns carry the track. Contrary to most everything else, "Push" has an "out of this world" vibe to it, with a hypnotic electric piano and a shimmering set of synths that sound like they belong on another planet. Finally, Apollo Brown gives listeners a taste of the old school with "Shoot the Heart," which samples a couple bars from the Pharcyde classic "Passing Me By," and the laid back vibes and quirky drum beat blend seamlessly with the lyrics:
"I should quit chasing, and look for something better
But the smile that she shows makes me a go-getter
Shooting for her heart, got my finger on the trigger
She could be my broad, and I could be her nigga"
It is almost a shame to break down "Clouds" song by song, because the album is best listened to all at once from start to finish, with each track flowing seamlessly into the next. Incredible as it may sound for such a lengthy release, there is practically no filler material, and each beat sounds just as carefully and thoughtfully crafted as the next. Apollo Brown simply has a way of blending sounds together to create harmonious and flowing melodies, and each instrument – every snare hit, every trumpet and horn, every piano chord – seems to be perfectly tuned and in place. And while the drums are on point in nearly every song, for the most part the percussion plays second fiddle to the creative samples that he incorporates.
Of course, one cannot help but wonder what a skilled emcee could do with Apollo Brown's collection of beats, but this should not take away from the fact that "Clouds" is a very impressive and thoroughly enjoyable effort from an up-and-coming producer. Simply put, the album embodies the true art form of hip-hop in its fullest, and it is a breath of fresh air in a rap game that is currently diluted by mainstream bubblegum hip-hop. Any fan looking to bring back the soulful and jazzy vibes of the old school should look no further than Apollo Brown's latest project, which is sure to not disappoint; as far as instrumental albums go, "Clouds" is top of the line.
Music Vibes: 9 of 10 Lyric Vibes: n/a of 10 TOTAL Vibes: 9 of 10
Originally posted: March 29th, 2011
source: www.RapReviews.com