Collective Efforts :: Freezing World
:: Collective Efforts Music
as reviewed by Pete T.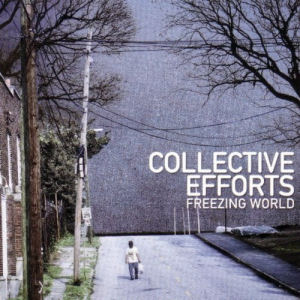 If you were among the millions who read my now-infamous "The Year 2010 in Review" editorial, you may have been left with a few questions. Questions like "Pete! How did you get to be so smart AND good looking AND cultivate such impeccable taste in music?" Or perhaps "Pete! How do you find time to listen to all these wildly obscure albums when the ladies are constantly beating down your door like Elliott Stabler?" Maybe once you got past the initial shock and awe you were filled with more subjective questions, along the lines of "Pete! What's up with that Collective Efforts album coming in at #7 on the year in front of albums by Nappy Roots, The Left, and 1982 that you spun the FUCK out of in 2010?" This question, I assure you, would be equally meritorious as the two aforementioned, given all the great and well-loved LPs that clocked in behind said Collective Efforts record, but you can rest assured it was no fluke.
Collective Efforts is an Atlanta trio specializing in crunchy-organic hip hop, evidenced by the titles of their previous albums "Trail Mix" and "Medicine." For their latest effort, "Freezing World," they've added a five-piece band to the mix. Although lyrically Ben Hameen, J-Mil, and Bambu largely touch on the same subjects as on prior efforts, celebrating and emphasizing hip hop as an art form, decrying hit-radio rap, and looking to motivate and inspire their listeners with tidbits of strength and wisdom, the live music adds a further element of singularity to their sound. "Freezing World" isn't just the album's title, it's the pervading mood of practically every second of its running time, and the cold, bleak feel is impossible to overlook. Polished with a flawless studio sheen, the band's spare and channeled playing is deeply effective and frequently a study unto itself. The opener "Tunnel Vision" is so chilly you can practically see your breath in front of you, and the throbbing piano, thundering percussion, and fuzzy guitar of "So Cold" are positively subarctic. Diamond D produces the dead-ahead boogie-funk of "I Get Down," and the eerie "One Million Minds" is phenomenal, built upon a complex percussion arrangement and startling vocal cadence.
C.E. also pulls off laidback tracks brilliantly. The smooth, relaxing strums of "The Game" sound almost tropical and are almost sure to slow down the listener's heart rate, with deep, reflective lyrics, excellent vocals, and a strong hook. "Try Again" is a thoughtful, motivational song with an immediately appealing downtempo groove and similarly good chorus. The band shines on the more upbeat "Crazy Things," anchored by a twangy guitar part, warmer keyboards, and a tight horn section, and they don't come much smoother than the infectious "Time to Grow," with its distinctive drums and guitar strums.
Although the instrumentals at times suggest a "Freezing World" of impending doom, C.E.'s eternally positive lyrics call on their listeners to find inner strength and persevere through distress. The trio's lyrics will prove divisive among different audiences; some will be inspired by their words, others will find them preachy and redundant. They also fall into the category of rappers who "rap about rapping," which will also turn off some listeners. Still, their meticulously penned verses should offer at least something for everyone, and Ben Hameen in particular impresses throughout the tracklist. His blissfully smoked-out tone might be likened to Myka 9, but when he sings the hooks and backing vocals, it's more akin to an ungangstafied Nate Dogg. His multiple talents and endlessly soulful hooks buoy even the less effusive numbers. Their dedication to rap as an art and wholesome, tireless optimism will rub some the wrong way, but vocally "Freezing World" is often fantastic. "This Far" is gorgeously balanced between smooth guitar, percussion, somber synths, and a show-stopping performance from Ben Hameen for perhaps the LP's best track. The stark closer "See What You Find" is breathtaking, with a gloomy guitar line perfectly suited for his calls for introspection.
My only gripe with "Freezing World" is that it's such a powerful mood-setter that once the temperature strays above 60 I'm sure I won't be able to bring myself to listen to it—it's that effective a sound. There isn't a dud among the fifteen tracks, and the ambitious utilization of the band is pulled off flawlessly for a deep, striking, and unforgettable sound that's so smooth it makes fine silk look like coarse flannel, if not steel wool. The album's instrumental tactics are quite innovative, but somehow everything sticks, and while "Freezing World" is miles removed from your conventional rap album sonically, it's deeply rooted in hip hop because of the group's ceaseless devotion to the genre. Before spring wipes away your winter blues make sure you cash in on "Freezing World," a distinct, consistent record of positive hip hop backed by a tight, perfectly balanced instrumental quintet.
Music Vibes: 9 of 10 Lyric Vibes: 6 of 10 TOTAL Vibes: 7.5 of 10
Originally posted: March 22nd, 2011
source: www.RapReviews.com