Travis Barker :: Give the Drummer Some
:: Interscope Records
as reviewed by Jesal 'Jay Soul' Padania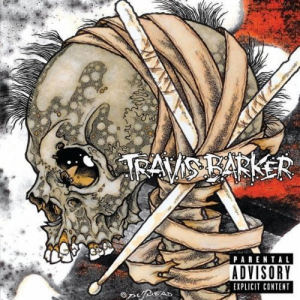 Oh dear, another crossover vanity project from a hip hop wannabe. Let's cut the pretence: long to the short, that's what you're probably thinking. But, happily, you'd be wrong. Travis Barker, the drummer from various bands such as Blink 182, has produced an album that is remarkably consistent throughout, with some excellent beats and a great overall vibe. In Hip Hop 2011, the rules are "there are no rules." Seriously, if you want to chuck Justin Bieber on a track with Raekwon, it's all good. But there is one thing above all that Barker has managed to pull off on "Give the Drummer Some."
There is a shared hallmark of all great executive producers overseeing projects such as these – or, indeed, albums in general: they know how to get the rappers amped up, in the zone and hungry to impress. After recent albums (such as Lupe Fiasco's) where the artist, for whatever reason, seems to coast through, only doing the absolute bare minimum, it is so refreshing to see virtually EVERY rapper (and the Deluxe version crams over a mammoth 35 rappers into the mix) turning in work at close to their full capacity. Lupe himself absolutely tears up the urgent "If U Want To" with a tour de force performance (his random quotation of Method Man, by the by, is insanely funny), and it's certainly one of the hottest tracks on the LP. Initially, it highlights one of the few problems apparent on "Give the Drummer Some" – the vast number of guests is quite overwhelming at first, and it might have been nice to have balanced it out with one MC/group taking care of a whole track by themselves a bit more often (such as the Lupe joint or "Jump Down" – handled brilliantly by The Cool Kids). But after you listen to the whole album a couple of times, you can focus on each track with more clarity, and you start to realise that the success rate is very high.
"Let's Go" has sterling contributions from Busta Rhymes, Twista and Yelawolf, with the usual high-energy chorus from Lil Jon. The Slaughterhouse track "Devil's Got a Hold of Me" is, for my money, better than practically every song on either their album or EP – the beat just sounds superior for their brand of "I'm-going-slice-your-head-off" rhymes, and the chorus is absolutely top-notch (more of these, and Shady Records could be looking at a nice little earner). "Cool Head" could have been lifted off Kid Cudi's second LP, with Barker's excellent production and Cudi's unrivalled sense of musicality dovetailing superbly. "Carry It" is a more old school hard-knockin' Wu joint with a slamming beat; opener "Can a Drummer Get Some?" features The Game, Rick Ross and (with the best verse) Lil Wayne, and it provides a solid start to the album. Cypress Hill sound fantastic on the album closer "Beat Goes On." You'll note that I'm randomly cherry-picking songs in a non-sequential format – that's what this album feels like, as even though it's a coherent front-to-back listen, you will invariable like certain songs a lot more than others.
There are a few numbers that just don't seem to work quite as well: "Knockin'" is one, where the beat and the guests just don't sync well enough; "Saturday Night" feels misplaced and a touch laborious compared to the quick-fire nature of other songs; "Raw Shit" is perfectly fine, but just not up to the level of most of GTDS; if we're talking about the Deluxe cut, the two more "rock" joints are significantly better than the two rap ones (although, as is often the case with bonus tracks, put much of this down to personal preference). But if we're just focussing on the main 12 song cut, then Travis Barker is going to attract his fair share of criticism – but only from people that haven't taken the time to ACTUALLY listen to "Give the Drummer Some" properly, and with open ears.
The greatest irony of this consistent and surprisingly enjoyable album is the fact that you would have expected banging beats, but MC's to phone in their verses and makes a trillion corny rock references. The reverse of this rings more true, as this is absolutely an MC-driven album – trust me, if you love lyrics (and hey, you're on RapReviews, so it's a safe bet), then the chances are that after a couple of spins to digest it all, you will start to really dig this album. Perhaps not "love" but really appreciate it – appreciate the care and attention that has gone into almost every second of it, the countless guests that universally seem fired up enough to deliver close to their best verses, and some truly excellent beats. Travis himself doesn't overplay the "drummer" card and ruin tracks: he knows when to come in, and when to ease off. What is truly clear is that Barker loves hip hop, and he has really put his all into producing this album. There are a few missteps (some songs that didn't quite click, a few beats that aren't quite up to par) and this album might not make too many year-end lists. But it's an album made with passion, spirit and a hunger to impress – something that's been missing in much of this corporate rap era. It's not a vanity project at all – it's a labour of love. Bravo.
Music Vibes: 6 of 10 Lyric Vibes: 8 of 10 TOTAL Vibes: 7 of 10
Originally posted: March 22nd, 2011
source: www.RapReviews.com