Hi-Life Soundsystem :: Hi-Life Soundsystem :: Bandcamp
as reviewed by Mike Baber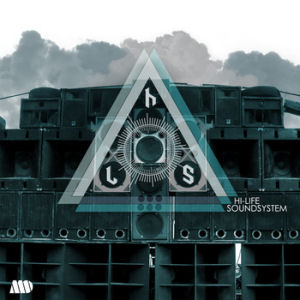 After countless hours spent listening to hip-hop, writing album reviews, and generally just soaking in as much music as possible, I've come to develop somewhat of a "been there, done that" attitude. In other words, an album really has to bring something new to the table to leave a lasting impression, and in a hip-hop game that is often muddled by a slew of online releases, mixtapes, and digital downloads, it is rare that an artist or group stands out with a fresh and unique sound. Enter Hi-Life Soundsystem, a newly formed "super-group," consisting of emcees Khingz and B-Flat and producer Crispy, looking to take the Seattle hip-hop game by storm with their self-titled debut release.
So what exactly does the trio from the northwest bring to the table? Well, for starters, the group blends hip-hop with elements of soul, pop, and electronic music, creating an eclectic blend of songs that keeps things interesting throughout. And when it comes to rapping, neither emcee is hesitant to switch up his flow to match the ever-changing pace of the music. Compliment this with plenty of guest emcees, and "Hi-Life Soundsystem" is a surprisingly deep album that rarely warrants hitting the "next track" button prematurely.
The album's lead single is titled "Death of the Party," and although it features pounding kicks and electronic synths, don't be fooled into thinking it's just another clichéd club hit with subpar rhyming. Khingz and B-Flat flow over the deep bassline and flaring horns that accompany the beat, painting a picture of the typical strung-out party girl as they rap: "So far gone mind blown way out/Used to shine so bright now she's just burnt out/ You ain't even that bad girl/ Wipe that shit off your nose have some class girl." And on "Bounce," an upbeat , fast-paced track with the same club feel as "Death of the Party," both emcees kick it up a notch to match the beat, rapping with Twista-like speed at 1:30 in.
While both these songs feature catchy beats and impressive lyricism, the heart of the album lies with the soulful vocal samples, strings, and pianos that lace a majority of the instrumentals. Songs such as "Hella-Hi" and "Somethin' Like," the latter sounding like an old Pharcyde or Souls of Mischief track with a jazzy trumpet and piano, have a relaxed feel to them, and Khingz and B-Flat slow things down accordingly. And "Forever," one of the best tracks on the album, has a more old-school hip-hop feel with a raw set of drums and a chopped soul sample. Each emcee, along with guest artist Nam, spits an introspective verse, with lines such as:
"I was dancing with the devil
Ridin' through the bass and treble
Never on a higher level
Considered a blind rebel
An angry motherfucker with a temper like a kettle
And it took so many years before I let my mind settle"
Hi-Life doesn't stop here, as they vary it up more with "Fresh," a sparse but head-bobbing beat that features guest appearances from Helladope, Mr. Mikey Nice, and Stay Low. Things get more aggressive on "Runnin' Man," featuring a heavy set of drums, a menacing piano and driving synth, as B-Flat spites: "I hit the track runnin' like Jackie Joyner-Kersee/ Styles out this world because the flow is unearthly'/ And me and Khingz we like Magic and Worthy." Things get slowed way down, though, with "TetraHIdrocannabinol," which features a soft fluttering synth and easygoing drums over a drawn out brassy bassline.
As the final track faded out, I was truly disappointed that there wasn't another song next to switch things up again and throw me another surprise, as the album is simply unpredictable, in a good way. The variety of beats and samples is remarkable, and the ability of Khingz and B-Flat to mesh their flows accordingly with the speed of the track makes for an enjoyable listen throughout. "Hi-Life Soundsystem" is by no means a flawless album; in fact, the opening track, "Hi-Life Intro," is one of the weaker songs on the release, as the two emcees simply don't have powerful enough flows to take control of the beat. Despite a few lyrical shortcomings though, the debut album from the Seattle trio is still well worth a listen, even if you aren't hailing from the West Coast.
Music Vibes: 8.5 of 10 Lyric Vibes: 7 of 10 TOTAL Vibes: 7.5 of 10
Originally posted: March 8th, 2011
source: www.RapReviews.com