Layzie Bone :: The Definition
:: RBC Records
as reviewed by Pete T.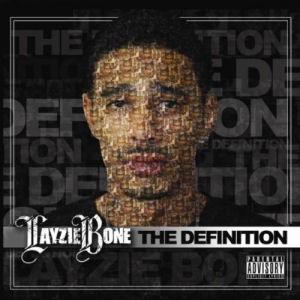 Although it's been employed by such luminaries as Nelly, E-40, and Bruce Springsteen, one record industry tactic I've never understood is when artists release two albums on the same day. As of February 22, Bone Thugs-N-Harmony founder Layzie Bone is a member of the distinguished group with "The Definition" and "The Meaning." The most common knock on double albums is that they're filler-heavy and that few artists have the charisma and material to carry two full discs, and these separate simultaneous releases share this challenge. If an artist really believes he has enough quality material to warrant two discs at once that's one thing, but more often than not they're better served to leave some on the cutting room floor or fine-tune them for a later project. But from a sheer marketing standpoint, releasing two records on a single release date makes virtually no sense. Few listeners are willing to spend $30 on music that's likely to be bloated anyway, and if I only have $15 in my pocket or a gun to my head, how am I supposed to choose between them, especially when they have such synonymous titles as "The Definition" and "The Meaning"?
Bone Thugs continue to be plagued by licensing issues - "The Definition" and "The Meaning
" also shared a release date with the umpteenth unauthorized Bizzy Bone album pieced together with old material, and Layzie was victim to a similar project only a month before - but his latest twin release totals 32 new tracks from L-Burna. Most of the latter-day Bone solos have been recorded on far slimmer budgets than their group efforts, and these are no exception, released independently and featuring no big name producers. Of the sixteen tracks on "The Definition," ten are produced by Thin C, three by John D, and one apiece by DJ Rec, Maully T, and William Musakhanyan.
The album begins promisingly with the rousing "A New Life," a track which finds Layzie at his motivational best, sporting his pioneering triple-time flow and delivery that still sounds youthful at age 36. "My Hood" also has an anthemic quality, boasting the first of the album's high-profile guest appearances with Chamillionaire and Tha Bizniz stopping by. Baby Bash drops in for "Spend the Night," and comrades Krayzie Bone and Flesh-N-Bone appear on the wholly forgettable "Hear'em Knockin'." "Grind Hard" features Paul Wall and Dirty Red on a lethargic track that might have been composed during a collective nap session.
Lil' Lay definitely wasn't well advised to lump all of the big guests in the first five tracks, because once track six hits the album hits a wall. The first major misstep arrives in the form of "Chasin Paper," a song as lyrically and musically vapid as its title, and "Thugs Hold It Down" features a Fat Joe wannabe, irritatingly blippy, unbalanced production, and a horrendous chorus, as well as a particularly head scratching line from Lay: "But I say no to skanks, like I say no to drugs / I do it up, I get a buzz, I don't get fucked up," certain to alienate or at least perplex the millions who were endeared to Bone for their humorous weed odes.
Thin C has been in the wings as Layzie's protégé for years now but still consistently underwhelms. The beats throughout "The Definition" are drab, faceless washes of cheap-sounding synths, repetitive drum patterns, soulless loops, and unimaginative hooks. His use of horns is frequently inappropriate as they awkwardly clash with the upbeat percussion. He's no better on the mic either, and unfortunately his vocals appear on a whopping eight tracks, either by himself or with The Mighty LDT. Based on his contributions to "The Definition" he practically deserves a co-credit, although it would be almost understandable if he didn't want one. "Enjoy the View" is the worst offender, but the spacey title track is sonically horrendous, mostly due to the awful vocals, and at one point Lay stoops so low as to rhyme "dictionary" with "Pictionary."
Despite all his strengths, this album displays Layzie's propensity to lapse into autopilot, perhaps because he knows Bone-heads will lap it up just the same. "The Definition" is chock full of references and concepts all too familiar to Bone fans, and the bulk of these tracks could easily be cut-and-pasted onto any of his other solo records to date.
Layzie Bone is treading water on "The Definition," a completely forgettable, insubstantial collection with bad guests and utterly mediocre production. L-Burna has the capacity to be a captivating, show-stopping MC, but he's proven better suited to the group setting, and anyone who churns out as much product as he does is bound to produce some half-assed efforts. This is one.
Music Vibes: 4 of 10 Lyric Vibes: 5 of 10 TOTAL Vibes: 4.5 of 10
Originally posted: March 22nd, 2011
source: www.RapReviews.com