Loki da Trixta :: Thievery :: Bandcamp
as reviewed by Matthew Gutwillig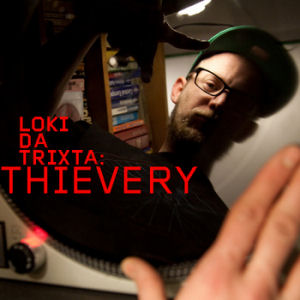 The internet continues to be a double-edged sword for the music industry. Some hip-hop artists like Soulja Boy Tell 'Em have thrived with the use of social media websites like Myspace and YouTube to become overnight pop sensations, while many other artists have seen their album sales steadily slip throughout the years because of illegal file sharing. In a high-tech world that seeks instant gratification with a click of the mouse, some artists may sell millions upon millions of digital singles, while their physical album tanks. Clearly times have changed, as many artists have chosen to go independent to control their own destiny and think outside of conventional model to achieve success. Released in January, Loki da Trixta's "Thievery" is one independent album that doesn't seem too concerned about the bottom line. As the first solo project for the Brooklyn-based rapper in almost two years, Loki has chosen to give his music away and promote it through Bandcamp, which is an online music website normally used by indie artists.
Without the pressure of having to sell an album or please his record company with a hit single, Loki da Trixta has the freedom to express his art the way he wants. Therefore, he can afford to take musical risks that most major label artists would never think or be allowed to take. A great example of this is his remix of Calvin Harris' "Certified." As an independent artist since 2003, the emcee has established his presence within the underground circuit and reminds fans that he's paid his dues and his mic skills are on point:
"S-U-P-E-R fresh L-O-K we are blessed
We can be our best cause we seen the worst
Riding with kings leave the earth
My lights take flight above the trees
My words are heard beneath the seas
In a deep dark freeze and a blinding sun
I'm winding rhymes with threads of fun
This I spun of golden wax
Molding multi musical mass
Cruise and pass the blues and blacks
We move too fast to be using tacks
With the boom and bap the groove and the track
Smooth splash it's a cool collapse
In a glacial path we were made to last
We made the grade we are made to lap
We made it back with faded slacks
Stacks of picks and picks of stacks"
The primitive drums and spacey synths of this menacing electro-house tune blend surprisingly well with Loki's imaginative raps, making this one of the best songs on the album. Even though it's not what you might normally hear on the radio, it's dope that Loki combines the essence of rapping with European flavor. Tracks like Loki's remix to DJ Raff's "I Need a Beat" featuring Maca Melendez also continue to push the boundaries for him as this eerie tune features a hook in Spanish. The international feel works well in these cases but the Brooklyn emcee's remix to Killamu's "Flaminguinho" is a self-indulgent, African-Brazilian ode to female derrieres and should have never made it past the cutting room floor. When looking through the album's track listing you notice that a total of eight songs out the album's 17 are remixed. Most of these songs are around three minutes in length and leave the listener wanting to hear more.
Reflecting a little further, "Thievery" seems more like a mixtape than an album to me. Considering it is being given away, this may not be a bad thing. Loki has sold his albums in the past and using Bandcamp serves as a great promotional tool for whenever he decides to release one again. Perhaps he is looking to increase his fan base and generate enough interest so he can release another album independently or through a major record company. Remixes aside, some of the album features original songs from Loki and those give a better indication of his style. "Get Down, Do My Thing" featuring Homeboy Sandman is a buzzy and bouncy song that showcases Loki's love for rapping and allows you to hear his lyrical abilities:
"Let me get down and do my thing on the regular
Loki da Trixta spiritual, non-secular
Non-sequitur on a molecular level
Wrecking executives, yes sir you're looking impeccable
But respecting the devil, how the heck do you expect to get to the next level
With incorrect treble, you only heard the bass
That's but half of the picture, the Trixta's in the place
Like steady rock, I rock steady with the heavy bop
Led Zeppelin broke the levee, the currents won't let stop
Currently I'm already hot, sweating
'Cause it's really hard work not carrying a weapon
But I'm a keep stepping like my name was Pete Nice
Forever representing the city they say twice
This is headlight scratching, DJs matching without headphones
Your phony, just a fraction
This is terror fabulous action, Jackson
Get on the floor baby bubba get your back and
Clowns running round, crazy acting
Dude you're not a model and this is not a fashion"
Combined with Loki's penchant for injecting raw lyricism with humor, this track is indicative of his style for the majority of the album. The electro-hop "I Love 2 Bounce" and "Don't Stop (Guitarra's mix)" with DJ Caso continue in this tradition by combining hard-hitting lyrics, while still sounding like he's having a good time. Though this isn't one record that will go down in the archives as a classic hip-hop album, it can be praised for its willingness to push boundaries while still maintaining dope lyrics and beats. Loki may have given this away for free, but fans could easily slip him an extra $10 when they see him at a show.
Music Vibes: 7 of 10 Lyric Vibes: 7 of 10 TOTAL Vibes: 7 of 10
Originally posted: March 1st, 2011
source: www.RapReviews.com