Curren$y :: Pilot Talk II
:: DD172
as reviewed by Matt Jost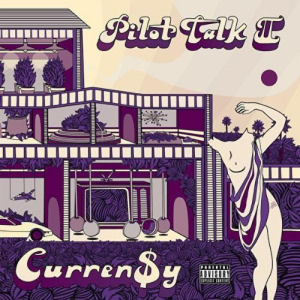 Like Cypress Hill or Devin the Dude before him, Curren$y is often unfairly pigeonholed as a weed rapper. Although he has yet to disclose the sharp articulation skills of B-Real and Devin, there's already more to Spitta than meets the dilated pupil of your bloodshot eye. While his music smolders with the same slow intensity as a burning blunt, giving off that peculiar sweet aroma, and while he has the inspired imagery to go along with the image ("Early mornin' exercise doin' kush-ups"), Curren$y represents the free spirit of the artist archetype. He does whatever the fuck he wants, yet not in a careless but rather a carefree manner.
At the same time he tends to his craft, presenting himself as a "parental guardian to this art, for it's my baby." He manages to present his work as something precious, something worth your while if you can spare some time:
"Real nigga, make it as clear as my windows
No squares shall enter in a circle of winners
Know I'm prepared for whatev' if you know what I been through
Rear view clear vision, memories of paid dues
Confined to a runway, thunderstorms came through
But look what it came to, somethin' that amazes you
soon as you quit hatin' and hear what I gotta say to you"
The alleged significance is bolstered by the symbolism he uses, most notably the ubiquitous flying metaphor. Curren$y wants to come across as a classy dude, keen on providing his music with an exclusive touch. In "Montreux," named after the famous music festival on the shores of Lake Geneva, he creates an air of anticipation: "Hurry up before the elevator do' close / It's that 1980 Marvin Gaye live at the Montreux / Stars in the audience, Al Jarreau in the third row."
Key is that he has the music to match. Leading a growing collective of musicians that comprise the co-credited The Senseis, producer Ski Beatz and stand-ins Monsta Beatz, Nesby Phips and Drupey score a warm live soundtrack that elevates the vocals to a plateau of elegance. Hip-Hop has seen such soundscapes before, for instance on MC Breed's "To Da Beat Ch'All" and "Flatline," Too $hort's "Can't Stay Away," or Tela's "Piece of Mind" and "Now or Never" (all albums featuring input from Atlanta producer Jazze Pha), although Ski and The Senseis lean more towards old school rhythm and blues and top-shelf smooth jazz.
Curren$y's rhymes are steeped in tradition as well. On "Flight Briefing," after looking back on negative label experiences ("Dozens of songs locked away and rottin' in a vault / No one to blame, it was solely my fault"), he discloses an age-old strategy: "I'm tryina get a bigger home, put my niggas on / they puttin' they niggas on, we gettin' really strong." Remaining on the business side, he even recalls former mentor Master P when on "Fashionably Late" he describes himself as "a man of many hats in this New Era / nurturin' several smaller businesses under my umbrella." And yet Curren$y consciously sizes down his ambitions, seemingly focusing on sustainability. The Colonel probably wouldn't have contented himself with "smaller businesses."
There's commonly an honest streak to a Curren$y track. Although opening "Famous" in his typically laconic manner ("Ain't nothin' changed but the weather / and the temp tag sequence of numbers and letters"), in the end he has to admit that with fame came change. The LOX quote "If I showed you where I live you would think that I was hidin'" opens the apologetic "Real Estates," where he almost defends the homeownership away from home, noting with some relief that (this time paraphrasing Ice Cube) "nobody I know got killed in New Orleans today."
At this point, the portrait of the artist known as Curren$y is blurred. The question is whether it will stay that way or not. There's immense lyrical potential, manifesting itself in lines like "Emotional luggage, nothin' of it, I don't check bags / I just carry on, leave that bullshit in the past," or "Master the flow, Alaska-cold / silent foot, assassin approach / high when I stroll / not even leavin' footprints in the snow," but it never quite carries over to the entire song. From that point of view this sequel is more of an afterthought to "Pilot Talk" than an afterburner.
Music Vibes: 7 of 10 Lyric Vibes: 6 of 10 TOTAL Vibes: 6.5 of 10
Originally posted: March 1st, 2011
source: www.RapReviews.com