The CUF :: CUF Caviar Vol. 1
:: CFO Records
as reviewed by Steve 'Flash' Juon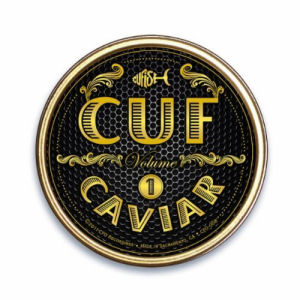 N8 the Gr8, Pete B, Crush, Brotha RJ and Taktics (Lil N8) comprise the Sacramento rap group known as The CUF (California Underground Funk). Supporting non-members in 2011 include singer D Moe (cousin of Dudley Perkins) and crooner Maryann. The group's bio claims a history of chill from ninety-three 'til, having made their claim to fame performing on The World Famous Wake Up Show and using that as a springboard to drop three albums on the masses. At this point things get a bit sketchy. Even though it's explicitly stated that "Bustin writtens don't earn a pension/There ain't no retirement in this y'knahmsayin?/No retirement fund, no 401K plan" on their song "Don't Ask No ?'s" the group spent the last ten years doing anything BUT recording together. Despite their long friendship, this is only their 4th CD.
What happened to The CUF? Did they get frustrated by a lack of major label exposure? Were they not feeling the love in their native California? Did the regional nature of their music not translate to a national audience? Was the group struck by those famous "creative differences" that split asunder so many promising or popular rap groups? The CUF is not particularly inclined to explain what happened during their time apart, other to say "they went on a brief hiatus" in 2000 and the members worked on their own projects in the interim, occasionally teaming up part of the crew to record as Deep Fried Funk Brothers. Nevertheless there seems to be no shortage of accomplishments for The CUF, as they're credited with having songs in the video games Amped and Amped 2 plus sharing the stage with everyone from Dr. Dre to Xzibit during their career.
The CUF's logo looks like a funky fishing swimming to the West, so to keep the aquatic theme on the front and back of "CUF Caviar Vol. 1" That's right, they're comparing their music to fish eggs, but don't be salty about it. The analogy here is that they're doing something quality, something refined, something which is worth paying a premium for. And considering the arguable leader of this group calls himself N8 the Gr8, ego is not something these emcees have a problem with. As the old saying goes, why be humble when you're actually good? Still despite the chance to floss like big ballers, there's actually very down to earth sound on songs like "We Got More."
N8 the Gr8: "When your walls start crumblin down, like an avalanche
I'll slow down for the ambulance
There ain't never been a fatter chance, I chose a better stance
I make 'em right tight, then I make 'em dance
N8 the Gr8, I keep it iced like Natty
Puffin on a fatty [...]
Jumpin over +Pitfalls+, bitin alligators
It's like a safari ridin up on real live haters
Almost gettin bit but I'm too quick for that shit
I'll be on the list while you get dissed and throw a fit
I'ma blow a zip, you just go and trip
When you wanted dope shit, who'd you go and get?"
In other words The CUF know they're good, but they're not obnoxious about it. In fact if anything on "CUF Caviar Vol. 1" they might be understating their level of skill with only 12 tracks for the fans to enjoy. N8 proves to be as good if not perhaps greater behind the boards, producing all of the songs and in doing so not botching a single one. The sound falls somewhere between Living Legends and Hieroglyphics on songs like "How We Get Down" and "Tragic," funks it up with Cali style bass and swing on "Wish You Would," the aforementioned "We Got More" and "Hydro," then merges that sound with the old school on "Flame Lit." There's a definite chronic strain/stain to their songs, as raps brag about "rollin blunts like crepes" on tracks like "Do It the Most," and that's fine. Not to stereotype but it's hard to imagine a rapper in Cali NOT liking herb. As long as you have the beats and rhymes to back it up, that's enough for me.
The feeling of fun on "CUF Caviar Vol. 1" is hard to deny, and you wouldn't get the impression these guys hadn't been recording together for almost 12 years if you didn't read their bio first. They walk a careful balance between making seriously good music and not taking themselves too seriously, but when they profess that you "Gotta Love Us" you can't help but bop your head to the fat horns and fluid rhymes. If they had stuck together the entire time they might have the reputation that their fellow Cali emcee posses have now, but this album proves that it's never too late to start rebuilding your rep.
Music Vibes: 7.5 of 10 Lyric Vibes: 7.5 of 10 TOTAL Vibes: 7.5 of 10
Originally posted: April 12th, 2011
source: www.RapReviews.com