David Banner & 9th Wonder :: Death of a Pop Star
:: Big FaceEntertainment/E1 Music
as reviewed by Emanuel Wallace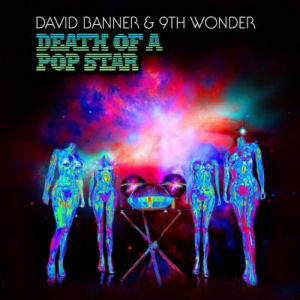 Twitter. Twitter. Twitter. Just about everyone seems to have an account, even RapReviews has one. Aside from talking massive amounts of shit, people also find out about the latest news stories, make new friends, stalk old friends, root for their sports teams, give commentary on whatever television show hordes of people are watching on any given night and kill off celebrities at random. A lot of artists that have a presence on Twitter usually bombard their fans about any upcoming projects they may have, building anticipation among their audience and then bounce as soon as the album drops. Other artists stick around and actually interact with their fans, collecting feedback, engaging them in discussion and all that good stuff. Twitter can be an excellent promotional tool if utilized properly. Dating back to 2009, David Banner (@THEREALBANNER) had been tweeting about a project that he was working on with 9th Wonder called "Death of a Pop Star" or #DOAPS for short. The idea was originally conceived as a mixtape, but eventually transitioned into a full scale retail release. Reportedly, the title was the product of discussions between Banner and 9th about the music industry and how it's seemingly impossible for someone to really reach iconic heights in today's musical climate.
DOAPS is rather brief, clocking in at slightly over half an hour and features appearances from Ludacris, Heather Victoria, Marsha Ambrosius, Big Remo, Anthony Hamilton, Lisa Ivey and Erykah Badu. 9th Wonder handles the lion's share of the production duties with additional assistance from Banner, THX, Warryn Campbell and E. Jones on various tracks. The project opens with "Diamonds on My Pinky" and "No Denying (Channel 3)." On the latter, Banner touches on topics that range from the perception of his hit single "Play" to being accused of being too preachy in his approach to people to a rap industry that's filled to the brim with "several pieces of feces, needin' colonics." E. Jones takes over the boards on the slow, drum break-heavy "The Light," the only track without input from 9th Wonder. We find Banner pledging to lead his people to, what else, the light. Creating a parallel between himself and Jesus, he looks to walk over the beats, as opposed to walking on water. He also goes into a few wrongdoings by "Them," including intentionally getting people hooked on drugs, creating the need for dealers who just happen to be young and Black, grouping all the poor people together, essentially starving the neighborhoods, making Satan into a Christian and satiating the people with false hope in the form of President Obama. Heavy stuff. Realizing he's struggling with his own sins, DB cleverly asserts that he wants to do the Lord's Will, Jada and Willow too. The first single released was "Slow Down" and due to sample issues, the original version was replaced with the album's rendition which features Heather Victoria. A video for the song was released this past June with a theme that was loosely based on John Carpenter's cult classic, "They Live," which starred Roddy Piper and Keith David. We find Banner resisting the determined advances of a young woman, and wondering why she's so persistent, as she raps:
"They call me David Banner, I'm like 'Baby, what it is?'
She like 'Oh you lookin good, let's me and you have some kids'
I'm like 'Hell naw,' because I'm all over 9th Wonder beats
But if you slow it down, you can come and take a seat
You look good
The way that I'm grippin' up on this wood
In this Cadillac
All I wanna do is get you on your back
You love me? Bitch you don't love nothin but the fame
You be talkin all that shit and you don't even know my real name"
"Be With You" and "Stutter" follow and the latter reunites Banner with Anthony Hamilton, who was the recipient of a DB verse on hit single, "Cool" a few years back. The former was the second single released and it features contributions from Marsha Ambrosius and Ludacris who provides a few exceptional guest verses on the track. "Silly" kicks off with a handful of bars from 9th Wonder before Erykah Badu belts out a repetitive hook of sorts and Banner comes in beating his chest and going through some of his accomplishments in case any of you had forgotten. He asks, "Why you put your name before your beat and don't thank me?" A valid question in my mind, since the first song I remember even noticing that on was T.I.'s "Rubber Band Man." DOAPS comes to a close with "Something Is Wrong" and "Strange." On both songs, Banner once again makes it his point to elaborate on things that he sees as being wrong in our society including increases in both the amount and severity of gang activity, the stifling "keep it hood" mentality, ongoing racism and homosexuality. In closing, David Banner brings up many talking points about issues that have plagued several communities for years. I believe him to be earnest and noble in his efforts to reach people through his music, but at the same time I think it's probably going to take more than thirty minutes of beats and rhymes to be the catalyst for change on a large scale. I get the feeling that David Banner knows this and likely takes the "if I reach one person, I'm successful" angle and I can see that as being more realistic and likely to happen. The production on DOAPS works exceptionally well with Banner's oftentimes aggressive flow, which is probably a surprise to most people going into this project. My biggest gripe would have to be the brevity of the album. Perhaps next time around, they'll make the project more of a long player. Retweet that.
Music Vibes: 7 of 10 Lyric Vibes: 7 of 10 TOTAL Vibes: 7 of 10
Originally posted: April 19th, 2011
source: www.RapReviews.com