E Dot Spencer :: Inside My BackPack 2 :: Phresh Musiq Group
as reviewed by Mike Baber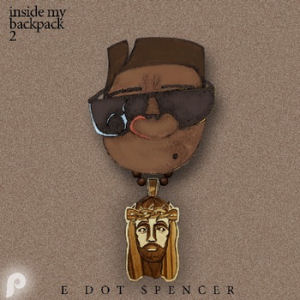 Creativity is what separates the good emcees from the mediocre ones, the great from the good, and the best of all time from the great. Creativity is the ability to tell a story that involves more than just plain language and everyday descriptions and instead paints a vivid picture through the use of tongue twisting lines and a powerful vocabulary. Some rappers have a way with words that makes the lyrics jump off the track and seer into the listener's brain, while others simply fail to captivate the listener's full attention. Unfortunately, E Dot Spencer falls into the latter category with his latest release "Inside My BackPack 2," which, despite solid production, suffers from an overall lack of creativity.
It's not a good sign that three of the first five tracks on the album are titled "I Do It," "Still Doin' What It Do," and "How We Do," an early testament to the album's overall unoriginality. In a day and age when too many rappers are concerned only with making money, chasing women, and smoking weed, E Dot Spencer falls prey to the same influences, and he simply does not have enough to rap about to keep things interesting throughout the entire album. Despite constant assertions of being "phresh," E Dot Spencer relies more on clichéd punch lines than on innovate rhymes, and this is most apparent on the track "Phresh & Fly." After a rather annoying chorus that repeats the phrase "we phresh, we fly" four times over, the second verse kicks off with "You know that Eazy's fly/ If I forgot my parachute then I'd probably die." There are definitely some bright spots, such as "Still Doin' What It Do" and the title track "Inside My Backpack 2," which feature quality verses that mesh well with the instrumentals and allow his confidence on the mic to shine through. Top to bottom, though, the album disappoints when it comes to rhymes.
Despite the subpar lyricism, fans of sample-based, soul-heavy hip-hop will be pleasantly surprised to find that "Inside My BackPack 2" is chock full of chopped vocal samples, uplifting trumpets and horns, and vibrant strings. One of catchiest tracks is "Already," a posse cut featuring Rusty Redenbacher and Mr. Kinetik, who also appears on "Pick Up the Pieces." The head-bobbing drum loop and sweeping orchestral strings that lace the track weave perfectly together, and a set of shimmering wind chimes gives the beat a spacy feel. On the flip side, E Dot Spencer slows things down on "Takeover," with a crooning chopped vocal sample that drives the track and an electric piano to complement. "Dotta Intro" also has a more relaxed vibe to it, featuring a flowing grand piano and strings over a simple but effective drum pattern.
The soulful vibes of "Inside My BackPack 2" might be easy on the ears, but as the album progresses, the beats start to grow repetitive. Save for a few tracks, the percussion is nothing special, and the drums generally take a back seat to the chopped samples and other instruments. The problem is that there is simply not enough variation among the instrumentals to make up for E Dot Spencer's lack of lyrical dexterity, and I found myself wanting to prematurely hit the "next track" button one too many times. Thus, "Dotta Outro" is a fitting end to the album, as the crashing cymbals and meandering grand piano aren't enough to save another lackluster verse.
Overall, "Inside My BackPack 2" can best be described as unmemorable. While there are a few standout tracks, as a whole the album fails to leave a lasting impression. Normally, when I review a CD, there are certain verses or lines that linger in my mind well after the last track has faded out, but this is simply not the case with E Dot Spencer's latest release. The production has a vibrant feel overall, and credit is due for the impressive number of old-school soul samples used, but this is not enough to overcome the mediocre rhymes that bless the tracks. In hip-hop, creativity is key, and there is simply not enough variation in either the beats or lyrics to lift "Inside My BackPack 2" out of the depths of mediocrity.
Music Vibes: 7 of 10 Lyric Vibes: 5.5 of 10 TOTAL Vibes: 6 of 10
Originally posted: April 19th, 2011
source: www.RapReviews.com