Acid Reign :: Diversity
:: Uncommon Records
as reviewed by Patrick Taylor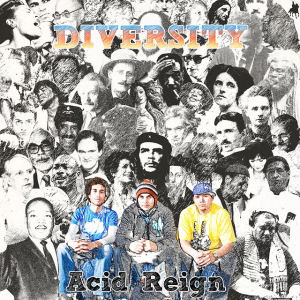 First things first. This is the L.A. hip-hop duo Acid Reign, NOT the British metal band, known for such songs as "Insane Ectasy" and "Humanoia." The Acid Reign that made "Diversity" do not have long manes of hair that they whip around while they shred on their flying V's. Instead, they shred on the mic, spitting lyrics with flows honed from years of participating in Project Blowed, the Thursday-night open mic workshop that was the breeding ground of Jurassic 5, Aceyalone, and the Freestyle Fellowship, among others.
Gajah and BeOnd got their start almost two decades ago rapping with their Christian youth group. Over 18 years and several releases, they've honed their sound, added a member, and moved away from their explicitly Christian rap tag. Not that they've gone gangsta or mainstream: they still keep it positive, but they've moved away from proselytizing.
The titular "Diversity" applies to the album itself as well as the lyrics and philosophy of the rappers.They are joined on the mic by Aceyalone, Abstract Rude, Myka 9, Nga Fish, Rifleman, Graves, Olmeca and Neila. Beats are handled by EQ, Nasa, OoloO the Wize, Re4M, Brazini, Biz 1, Deaf Switch, Scorpioflo, Da Poet, Chrono Triggers, DJ Casey, and Bornagen Baldwin. It's fitting that an album that is about enclusivity and allowing for a plurality of voices has so many guests.
The beats are diverse as well, drawing from a range of styles and samples. It starts off with "We Do It All," which has a wicked Middle-Eastern sample flipped by EQ. On "The Man," EQ works with an Eastern European gypsy sample, and later in the album Brazini flips an Italian torch song on "Love Vs. Hate." "People Take Charge" builds a beat over classical music, and "Babalu" samples the Ricky Ricardo song. It's not all exotic samples, however. "Rise of the Machines" and "Adrenaline Shot" are industrial robotic noise, and "Kiss Ass" is a (terrible) rap rock song. The beats are generally loud and colorful.
Gajah, BeOnd, and Olmec spit dense, rapid-fire verses. They can be impenetrable at times, but the lyrics are all on a conscious tip, criticising haters, the industry, and the government while urging listeners to stay true to themselves and respect one another. They are as earnest as campus activists, even quoting Bob Marley's line about freeing yourself from mental slavery.
If "Diversity" has one weakness, it's that there is not enough diversity in the tone or energy level. The beats and rhymes are loud and impassioned throughout, which becomes exhausting over the course of the album. Even when they slow things down, like on "Total Control," they still deliver their lines with a jackhammer pace. That criticism aside, "Diversity" delivers on the promise of its title, applying a variety of different sounds and ideas to hip-hop. Fans of conscious rap will want to check this out.
Music Vibes: 7 of 10 Lyric Vibes: 7 of 10 TOTAL Vibes: 7 of 10
Originally posted: May 24th, 2011
source: www.RapReviews.com