Logik Dat Lad :: New School Cool :: LogikDatLad.com
as reviewed by Matthew 'Matt G' Gutwillig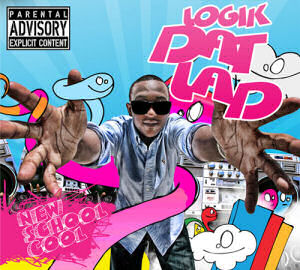 The buzz generated from a carefully crafted independent release has catapulted many hip-hop artists into the limelight. Artists like 50 Cent and Drake have inked million dollar deals with major labels based on the critical acclaim and popularity their independent mixtapes achieved on the streets and the internet. The reputation earned on the grassroots level provided the perfect barometer for mainstream appeal even before their debut albums sold millions of copies. Though these rappers appeared to be overnight success stories, the reality is that this level of recognition only occurred after years of tireless work in their respective cities. Since 2003, Canadian emcee Logik Dat Lad has been grinding it out with his group Cut Throats, and his debut EP "New School Cool" is a product of his own dedication to the craft. Released in April off the Toronto-based rapper's website, Logik is giving away his EP as a free download and has incorporated social networking to receive feedback from his fans.
Even with technology in place, independent success is usually achieved when the artist has enough originality to distinguish himself from the competition and strike a chord with the listeners. After the amusing intro skit "Put You On To Cool," where Logik and his homies discuss everything that is not trendy, the tune "Mind Trip" featuring The Mad Poet and Rochelle Jordan symbolizes everything that is cool and refreshing about the EP. The subtle interaction between the jazzy horns and rhythm guitar on this song gives the listener the impression of an old-school hip-hop classic with new school appeal. Logik recognizes that his time to shine may be now or never, so he's looking to seize the moment:
"Kick back, relax, close your eyes and open your mind
Like catchin z's, your thoughts at ease
Stuck between a dream and reality
In search of direction with more paths than intersections
Make right moves and block out doubt
If I lose the choice, I choose my own cop out
Strive till I top out, feel what I talk bout
If you playin' my position just listen and vision
Infinite wisdom my final goal
Put my heart and soul into this music for plaques of platinum or gold
Overachieve, I'm on the honor roll, I paid the toll
No, ain't easy paths here
Gotta grind, won't look back, I can't allow that there
Until I'm in the clear, chillin' in the rear of a lair
With no fear of heights, just dreamin' out loud
I'm just the resort of what happens when your mind's in the clouds"
With a witty style and competent flow, Logik shoots for the stars on this first joint and comes correct. Tracks like "I'm Good" featuring Rochelle Jordan, Flex and Rich Kidd and "Rock The Mic" with Rochelle Jordan and Flex continue to showcase the fresh sound of the EP. "I'm Good" features mellow synths and punchy drums, while "Rock The Mic" incorporates sweeping orchestration and a thumping bassline. On both songs, Logik provides substance whether rhyming about his passion for the art form or the dedication he has in accomplishing his goals. From these first few songs, one gets the impression that Logik is not trying to rewrite the hip-hop canon, but rather carry on tradition with his own vibrant style and perspective.
The second half of the EP is clearly an attempt by Logik to balance the conscious rhymes with his pop-rap sensibilities. "Break a Sweat" featuring Rich Kidd and King Cut and "Party Girl" featuring Duch Dillinger are straight-up club jams that have the emcee slick talking to the ladies with effectiveness. The former tune has a stripped-down sound with intriguing synths, while the latter features stuttering drums and a buzzy, synth melody. Although club jams and songs for the ladies are heard all the time, Logik incorporates enough of his personality to make common topics sound interesting. "Little Secret" could have been dropped as Logik takes his macking game a little too seriously for his own good on this acoustic joint.
As a whole "New School Cool" shows enough polish from Logik Dat Lad to indicate that he could very well be the next Canadian emcee to blow. Outside of "Little Secret" and the unnecessary interlude "That Ain't New," this EP provides a nice blend of substance and radio-friendly sound that is quite enjoyable and unique. The optimism and ambition found in Logik's rhymes illustrate that he will undoubtedly be around for a long time to come. This EP should be enough for his fan base to stay satisfied until his debut album is ready to be released.
Music Vibes: 8 of 10 Lyric Vibes: 8 of 10 TOTAL Vibes: 8 of 10
Originally posted: May 31st, 2011
source: www.RapReviews.com