Kool G Rap :: Riches, Royalty & Respect
:: Fat Beats Records
as reviewed by Matt Jost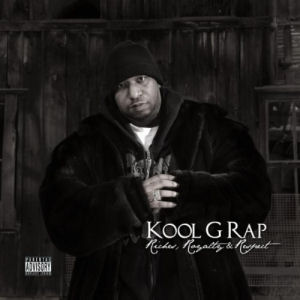 Few rappers reach an iconic status without having tasted concrete stardom. Kool G Rap is one of them, an undeniable influence on rap music since the late 1980s. A new Kool G Rap album is therefore a significant event, especially since the last official full-length project didn't make it past the preview EP "Half a Klip." In terms of anticipation and case history "Riches, Royalty & Respect" may not be "Detox," but it is a welcome vital sign from a living legend.
On the face of it, "Riches, Royalty & Respect" delivers the goods. "In Too Deep" conjures up the familiar portrait of the artist as a cold-blooded, cocaine-slinging hustler entrapped by the trap. Producer DJ Supa Dave (not to be confused with Supa Dave West) sets the scenery to music by digging deep into symphonic soul. "Sad" does justice to the concept of incorporating vocal samples into verses, G Rap's street sermon carried forward by a Supa Dave track that burns with the passion of vintage blues and soul. The two also team up for one of Nathaniel Wilson's most autobiographical songs to date, "Pages of My Life" (like the majority of the tracks regrettably only two verses long).
High-profile producers The Alchemist ("American Nightmare") and Marley Marl ("$ Ova Bitches") both do not disappoint either. While musically the album treads mostly familiar ground, more daring production can be found on "G On," for which The Insurgency flips "Criminal Minded"'s "Word From Our Sponsor," and "Goin In," where Gordon Humphrey's heavyset, hard-hitting beat merges almost cinematically with KGR's portrayal of himself as a true rap professional:
"He got the whole world countin' on his comeback
City to city, like, 'Where the fuck is son at?!'
Wasted too much time fuckin' with them dumb brats
Whoever slept on him, boy, you shouldn'ta done that
Now go stand in the corner, here, put on your dunce cap
He real with it, he cocks both of his guns back"
Yet like virtually all comebacks from rap's elder statesmen, "Riches, Royalty & Respect" reveals certain shortcomings that may or may not have been present before but become apparent as rap history advances. Advocates of the arform will argue that Kool G Rap and most of today's successful rap acts are worlds apart artistically. They are absolutely right, but for a Kool G Rap the bar is placed higher than chart positions and numbers of social media followers.
Objectively, the misgivings may seem minor, but when it comes to the Top-Five-Dead-or-Alive guild, the strictest standards have to be applied. In the bluntest of terms - Kool G Rap is not a philosopher and he is not a poet. At least not in the sense of the artistic possibilites people like Scarface, 2Pac, The Notorious BIG, Jay-Z, Nas, Mobb Deep, Wu-Tang Clan, Styles P, Lil Wayne or Cormega have opened for street-themed rap. He will rap laps around anyone, and often that's exactly as far as he'll go. He is an MC's MC any day, the favorite rapper of your favorite rapper's favorite rapper, a hip-hop icon - whose reach is exactly a rap connaisseur's earshot. Ironically, he is an adept at American iconography, reporting from its underworld - which has inspiried film and fiction for decades - with a keen sense of observation. But even though the story is a recurring format in his work, the latter Kool G frequently raps in freeze frames. There's little dynamic or development in his narration. Take "Maggie" - while it's a flawlessly constructed metaphorical song with stark imagery, it's simply a romanticized still life compared to, say, Saigon's recent "Enemies."
Songs like "70's Gangsta" suggest that G Rap's penmanship has grown stiff, despite the claim "I do it like Rudy just jumped out the movies." Strangely, it seems he feels the need to do some catching up and revisit the blaxploitation era. "Pimptro" - the album's intro, nonetheless - might as well be from some obscure Kool Keith project. It's passť, pointless, pseudo and quite frankly as foreboding an opening as possible. The following "Ya Chic Chose Me" pairs a soul-sampling, thumping track that still doesn't do much damage with rather humdrum vocals and lyrics, including more unsubstantiated claims ("I'm like Sam Cooke, Otis Redding / I give you soul and presence"). Still the performance is more natural than the adopted pimp accent on "Da Real Thing," whose Al Green interpolation pales in comparison to Big Mike's "Playa Playa."
Remarkably, every single track on this year's free EP "Offer You Can't Refuse" tops roughly one third of "Riches, Royalty & Respect."
It's when G Rap remembers his abilities as a narrator that the album reminds us what a genius he is. "Pillow Talk" only needs two verses to recount the end of a relationship. The scene is firmly set in Kool G Rap territory (girlfriend cheats and tells on our hustling hero) and described vividly by KGR to Supa Dave's Wu-Tang backdrop. "The Meaning to Your Love" could be staged some time earlier in the same relationship, the man pondering the woman's loyalty. Apart from apparently mishearing the vocal sample (Level 13 samples Feist's "The Limit to Your Love," as successfully covered by James Blake), G does an outstanding job:
"Is you here for the long run?
Is you here for the long sums?
See where you at if a storm come
I bet you up and leave a breeze like it's no wrong done
A ounce of weed a day, baby, you got some strong lungs
But what would happen if
God forbid I'm in a accident
Lose my two legs and my back is bent
And every stack sent to doctors for puttin' brackets in
I bet you say, 'Salute captain' and go and pack your tents
First time I seen a chick do a backwards limp
I be like, What happened, baby, I thought G Rap your prince?
Shit brought you back to senses when a nigga back in rent
I bet you have a foot forward and one back to sprint
When it's all gone in life, no longer immaculate"
Kool G Rap was once the quintessential MC ahead of his time. But competition caught up. He has met his match repeatedly, whether it comes to elucidating the hustler's mind (Jay-Z, Z-Ro), spinning street tales in rhyme cascades (Cam'ron, Chamillionaire), mustering the fervor demanded of an MC of his caliber (Bun B, Ill Bill), or plain bad-ass gangsterism (50 Cent, Clipse). All things considered, however, Kool G Rap has remained both consistent and true to himself on an exceptionally high level. It's no coincidence that the album's closer, "Harmony Homicide," recalls the young, inventive MC from "Road to the Riches." The fact alone that so many famous and different rappers can be compared to one ought to tell us what kind of an iconic figure we're dealing with here.
Music Vibes: 7.5 of 10 Lyric Vibes: 7.5 of 10 TOTAL Vibes: 7.5 of 10
Originally posted: May 31st, 2011
source: www.RapReviews.com