Edo.G :: A Face in the Crowd
:: Envision Entertainment
as reviewed by Pete T.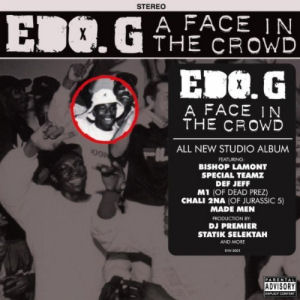 Years before Benzino proclaimed his clique Made Men, Reks was getting "Grey Hairs," and Sam Adams dubbed himself "Boston's Boy," Edo.G's name was synonymous with Boston hip hop. Despite its location a quick shot up I-95 from the birthplace of hip hop, Beantown has yielded few rap stars in comparison to the Rotten Apple, but Edo.G became one of its first and most recognizable faces at the dawn of the '90s. Debuting in 1991 as Ed O.G. & Da Bulldogs with the acclaimed "Life of a Kid in the Ghetto," he became revered for a pure East Coast sound and social consciousness displayed on classic tracks such as the plea for parental responsibility "Be a Father to Your Child." Leaving Da Bulldogs behind after 1993's "Roxbury 02119," he went on to cut tracks with everyone from Diamond D and Common to Ill Bill and Devin the Dude, recording a series of strong solo LPs as well as full-length efforts with Pete Rock, Masta Ace, and Special Teamz. Despite his prolificacy and constant presence for a full two decades, Edo remains relatively unknown outside his native East Coast, largely eluded by mainstream hits and certainly rendering him "A Face in the Crowd" for many casual rap listeners.
Edo's latest is a 47-minute effort of sweet, nostalgic East Coast rap. Being that throwback rap from '90s East Coast vets is practically a genre unto itself, it takes an extra something to stand out from the crowd. One way is to enlist strong producers and guest MCs, and "A Face in the Crowd" features production by DJ Premier, M-Phazes, Max Mostley, Statik Selektah, Young Cee, Explizit One, Astronote, and The Breaks with guest spots from Bishop Lamont, Def Jeff, Chali 2na, Made Men, M1, Special Teamz, JTronious, and Amandi. Premier's "Fastlane" kicks off the LP, and it's classic Premo, with a wistful, winding array of piano chords and sweeping violins and a scratched-vocal hook sampling KRS-One, M.O.P., and Guru:
"Yo, I speak for the hoods, I speak for the 'burbs
I speak for the Gs, I speak for the herbs
My feet in the street, your foot on the curb
I speak a different language, you speak a few words
Responsibility and humility in a world of hostility
My best ability is availability, what's yours
With no possibilities and closed doors?
I thought it was rap, y'all dairy queens
Cats who get scared by scary things
See what the 'Bury brings, hip hop done heavy things
And to me it means everything
You either lookin' or you facin' somethin'
Everybody's either chasin' or runnin' away from somethin'
It ain't just rap, I teach it well, speak it well
You lookin' at heaven from a sea in hell, it's Edo"
Edo hits the nail on the head—"humility in a world of hostility" has allowed him to keep churning out his product for twenty years. Edo.G is a workingman's MC, steering clear of gimmicks in favor of a tried-and-true approach. He pumps classic hip hop culture before it was corrupted by capitalism—the bittersweet M-Phazes production "I Was There" recalls glory days, shootin' the breeze with D-Nice and Ed Lover, honest record labels, and rap battles that didn't end with gun violence. No one would mistake him for a new jack—his simple rhyme schemes and slow, blunt delivery are fairly uncharismatic, and his verses are neither as thought-provoking nor evocative as his early material. Still, if anything he's a seasoned professional, and "A Face in the Crowd" is the product of a vet who has honed his craft to a science. "Righteous Way" is inspired and heartfelt, and "Drink Up" manages to be both contemplative and celebratory. The production throughout is melodic, orchestral, and harmlessly melancholy, and the collaborations are enjoyable. Special Team-mates Slaine and Jaysaun rock the murky "Like That," and Jurassic 5's Chali 2na lends a heady verse to the subtly powerful "Life."
"Ain't Gonna Wait" is the standout, featuring a monster of a beat from Australian maestro M-Phazes, orchestrating punchy horns, lively keyboards, soaring strings, and smooth vocals. Edo.G sounds as self-assured and comfortable as he ever has, managing to supply the energy even through his laidback cadence:
"Yo, I go hard, flow hard, no fraud
You so flawed, I'm pissin' in your yard
Scratched and clawed, you jawed like a broad
I'm always abroad, sold-out shows and they applaud
You hustlin' or you hangin' in jail
Waitin' to fail, sold your soul, gave Satan a sale
You punk male, junk mail
You hangin' on a cross, or you bangin' a nail
I sell fish water, slaughter much harder
Five nickels still equal a quarter
I'm a lion, man, you a lyin' man
Fuck around and be a dyin' man
I'll melt your ice in a fryin' pan, call me Iron Man
No denyin' what I'm supplyin', man"
Statik Selektah's production "Speak Your Mind" is cool enough to mellow even the sunniest of summer days, with a silky-smooth syncopated jazz rhythm and clever interplay of percussion and piano. The R&B-styled vocals recall Statik's recent tryst with Termanology on "1982," and the quick-lipped M1 contrasts Edo's stable flow brilliantly. The epic closer "World on My Shoulders" features Made Men on a tasteful piece of chipmunk soul, uniting Boston's biggest rap acts on a latter-day gem.
"A Face in the Crowd" pulls few punches yet delivers across the board; an extremely consistent record filled with sweet, soulful, and charming production with well-selected guest appearances. It's short enough to avoid filler and serves as a more-than-worthy addition to Edo's already considerable discography. Edo.G may be "A Face in the Crowd," but he's one who deserves your undying respect regardless.
Music Vibes: 8.5 of 10 Lyric Vibes: 6.5 of 10 TOTAL Vibes: 7.5 of 10
Originally posted: June 21st, 2011
source: www.RapReviews.com