Coughee Brothaz :: Fresh Brew
:: Coughee Brothaz Music
as reviewed by Pete T.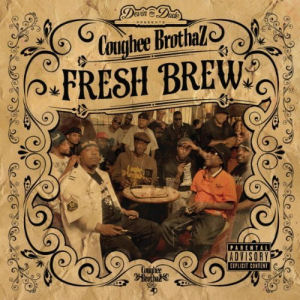 Devin the Dude's Coughee Brothaz assembly traces its roots back to the Odd Squad, a comedic trio which met great acclaim with "Fadanuf Fa Erybody," a 1994 cult classic that Scarface once dubbed Rap-A-Lot's greatest album. Nowadays Coughee Brothaz features a rotating roster of Devin's Odd Squad brethren, Houston neighbors, and former Rap-A-Lot labelmates, and on "Fresh Brew" the lineup includes Devin, Jugg Mugg, Rob Quest, 14K, 3BN, KB, Tony Mac, DJ Domo, onetime 5th Ward Boy E-Rock, and Facemob's Smit-D among others. Devin and his buddies operate at a speed worlds slower than we earthbound mortals, and "Fresh Brew" is an hour's worth of relaxed, sticky, hilarious funk just in time for summer.
Coughee Brothaz bring a stoner mentality to humorous everyday situations, and when caught together in the studio they have the effect of a crew of middle aged men yelling advice from the corner over forty ounces. Many of the situations they tackle here are reminiscent of those visited on "Fadanuf Fa Erybody," such as the infectiously laidback "A Pair of Lips" which cautions against backstabbing gossips and the raucous "Garden Tool" and "You Should Be By Yo'Self," which recall "Hoes Wit Babies." They're a raunchy bunch but every verse is delivered with a smiling knowingness, and more than anything else they're out to have fun in spite of any trouble facing them.
"Backstrokin'," the K-Rino-aided "Keep On Workin'," and the soulful "Got Bills to Pay" exhibit their irresistible good-naturedness through tales of daily struggle and deliverance through marijuana. Musically "Fresh Brew" is a consistently delightful ride of slow, cheerful funk with a smart capacity for herbal paranoia. The uneasy chords of "No Such Thing As I Can't" abet a collective paper-chase narrative, the slick funk of "I Can't Do It" enhances the feeling of zooted desperation, and "Blunts and Pens" features a space-age track slowed down enough to appease the syrup-sipping crowd.
There's nothing too complex about "Fresh Brew," and therein lies much of its appeal. Coughee Brothaz spit slow flows over lounging instrumentals and slow-burning beats, voicing their day-to-day beef between tokes and passing it on to the next man. Devin's best is brought out in the company of his similarly talented friends, and "Fresh Brew" showcases a side of Houston hip hop too frequently overlooked by Rap-A-Lot in its heyday. Whether you're an herbal enthusiast or just looking for a smooth record to cool out to over the hot summer months, "Fresh Brew" succeeds brilliantly.
Music Vibes: 7.5 of 10 Lyric Vibes: 7.5 of 10 TOTAL Vibes: 7.5 of 10
Originally posted: June 28th, 2011
source: www.RapReviews.com