Dice Raw :: Greatest Rapper Never: Preservation :: Raw Life
as reviewed by Mike Baber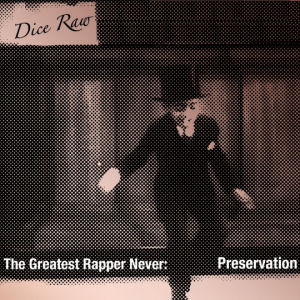 Dice Raw has come a long way since making his debut nearly two decades ago on The Roots's 1995 album "Do You Want More?!!!??!," which saw the young Philadelphia emcee spit a vicious freestyle on "The Lesson, Pt. 1." After proclaiming himself "the most corrupt motherfucker in the tenth grade," Dice became a protégé of The Roots and has since appeared on many of the group's subsequent albums, each time displaying more maturity and polish as a rapper. Despite his success as a longtime Roots contributor, though, he has failed to make an impact as a solo artist, and until a year ago his most recent single dated back to 2000. Thus, it is no surprise that "Greatest Rapper Never: Preservation," the first album in a trilogy that he plans on releasing, received very little fanfare or media coverage. Heck, I wouldn't even have known to keep an eye out for the album if it hadn't been for a Roots concert I attended back in December where Dice performed. While he may be largely unknown to the mainstream audience, those steeped in hip-hop culture and history know of Dice's skills on the mic, and it should come as no surprise that "Preservation," although it clocks in at just over 25 minutes, is a well-versed and old-school-inspired effort.
Dice Raw doesn't hold back about being overlooked and underappreciated in the hip-hop game, and this is evident from the album's first song, "What About Dice." As the gliding synths quickly give way to a heavy drum loop that dominates the track, Dice spits an authoritative opening verse:
"I've been makin' records for a long time
It's been giving me, real hard time
People sayin' I don't wanna hear Dice Raw rhyme
But I don't listen, I'mma keep spittin' til it's all mine
I can't be broken down, I got a strong mind
The world's tallest mountain is what I'm boutta climb
Nobody see it but me, I guess they all blind
Anyone with half a brain can see it's Raw's time"
Given that the drums on "What About Dice" can be overpowering at times, I was happy to see the percussion take more of a back seat on "Never." Over a triumphant set of horns and a sweeping vocal sample, with a cow bell to anchor the track, Dice delivers another determined performance, rapping "I'm never gon quit, I'm never gon stop/ I'm never gon give up 'til I'm on top." And on "100," the album's lead single, Dice makes it clear that he's a step above the mainstream crowd of radio-friendly emcees. With lines such as "You niggas thinkin' like Jim Jones, ballin/ I'm thinkin' like Communist Russia, Stalin" combined with the driving electric guitars and brassy electronic synths that lace the track, "100" is one of the catchiest songs on the album.
At this point, though, the album starts to take a more contemplative turn, as Dice Raw remembers the feel-good days of the 90s and reflects on how things have changed over the years. Just as Common questions the state of hip-hop on his famous track "I Used to Love H.E.R.," Dice does the same with "Baby Come Home," treating hip-hop as a female and asking her to "run back through my arms." The mellow synths, jazzy piano sample, and simple but effective drum loop set the stage for Dice's rhymes, as he shows his frustration with trying to keep hip-hop pure as an underground rapper:
"Hey girl, I know the drama that you been through
And all the crazy places you been to
And all the wild niggas that pimped you
Yea I know, I got a little pimp inside me too
But just cause I'm from the underground
What, I ain't suppose to have dreams too and drive a Benz too?
I know that's just some materialistic shit
And I shouldn't let it fuck with our relationship"
Dice continues to look back on the next song, "1995," as he spits "I reminisce about back in the day/Maybe a little too much, you know what they say." With a hardcore set of drums and a grand piano that acts as a soothing complement, the track has an emotional feel that is sure to leave any listener nostalgic. And on "Time Flies," as he reflects on his childhood, Dice urges America's youth to cherish life and stop living so "reckless," rapping "They used to hang out and shoot hoops/ Now they wanna shoot at each other's coupes."
The bottom line is that, despite its short length, "Greatest Rapper Never: Preservation" is a polished and enjoyable album, as Dice Raw delivers his outlook on hip-hop and on life over a mix of instrumentals that is anything but repetitive. When "100 (Remix)" came on to close out the album, I was actually disappointed that the slew of Philadelphia guest artists – Freeway, Schoolly D, EST, and Bonic, to be exact – took away from Dice's microphone time. When you have an artist who has been denied the spotlight for so many years, you can hear the determination and grit come across in the music, and this is part of what makes "Greatest Rapper Never: Preservation" such an engaging listen. Time will tell whether the next two releases in the trilogy can measure up to "Preservation," but until then, fans of old-school hip-hop should not hesitate to pick up Dice's most recent solo effort.
Music Vibes: 8 of 10 Lyric Vibes: 8 of 10 TOTAL Vibes: 8 of 10
Originally posted: June 21st, 2011
source: www.RapReviews.com