J. Rawls :: The Hip-Hop Affect
:: Greenstreets/Nature Sounds
as reviewed by Steve 'Flash' Juon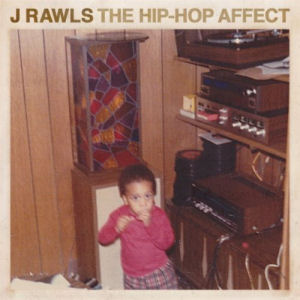 Backpackers, b-boys and girls, and lovers of "Brown Skin Ladies" worldwide already know the name J. Rawls. His list of production credits reads like a who's who in hip-hop, and his Lone Catalysts albums with rap partner J. Sands stand so far out in musical and lyrical quality that they make our highest echelon RR list of Nines and up. Even a vaunted producer like Rawls can trip or slip here and there, with Matt Jost feeling that he had "a great idea that failed to materialize properly" on "Histories Greatest Battles" but for Rawls that's almost always the exception and certainly never the rule. A far easier rule to follow is that when you see J's name on it, you will find hip-hop satisfaction. For me at least this rule is golden.
"The Hip-Hop Affect" is a celebration of the Ohio native's long tenure behind the boards, working with all of the artists he wants to have flow all over his beats. He's not being shy though - the album's first full song is aptly titled "Best Producer on the Mic" and lives up to that billing by having Diamond D, Oh No and Kev Brown over J's triumphant horns. Unfortunately due to the largely collaborative nature of "The Hip-Hop Affect" when Rawls does bless the vocal instrument he's often getting lost in the shuffle, which is why it's a true treat to hear him flowing solo and freely on "Why You Do." As one might suspect from the song's title, this is J's opportunity to offer his musical modus operandi and explain how he's been able to maintain for so long in the game:
"I'm seizing this moment, in time to rhyme
and put my feelings down, line by line
It was November '98! Yup, that was the date
It changed a boy's life, it must have been fate
Held my little man in my hands we had so many plans
'til reality hit, like a kick from Jackie Chan
Now picture this - 25, just startin live
Tryin to get my Lou Reed +Walk on the Wild Side+
'Son you must have been kickin it!' Nah, I was changing diapers
Up early in the morning while Sands was in the cypher
Yeah I did the 'Brown Skin' and other jams, you can search
But them bills was gettin crazy, so I had to go to work
And it's a strange new feeling, how you change up your swagger
'A hundred dollar kicks?' Heh, nah that don't matter!"
J. Rawls clearly has his priorities straight. Family meant more to him than flossing, and making a living to take care of his family meant more than being out having fun with his peers. He doesn't just get respect as a man who's a father to his family though, he gets it as a producer who makes beats worthy of paying for so they DO get that bread . There's no shortage of cool things going on throughout "The Hip-Hop Affect," touching the nerves of hip-hop junkies with electric shocks of enjoyment that leave you tingling and wanting more. Sadat X and Wise Intelligent bless the old school R&B soul of "Face It." J. Sands gets back in the mix again for the funky and brassy track "Sandsdy." The track "Just Rhymin' With Fest" is also aptly named as Chi-Town native Rhymefest gets down on a Sands beat best described as ethereal. One of hip-hop's most definitively distinctive vocal tones, Hiero founding figure Casual, can be heard over the literally finger-snapping "Find a New," and the massive 8 minute long "We're On Top" has just about EVERY ill underground emcee in Dayton, Columbus or Cincy to come along in the last 10 years - a true "OHIO STAND UP" moment.
Along the way J. Rawls also gives a chance for the new generation to shine on his beats, getting down with the likes of Afaliah on "Jewel" and Senor Kaos on "Ya Friends in the Way." It's hard to resist skipping right to the tracks with the names you know best though, songs like "Are You Listening?" featuring Bad Azz, Edo.G and Copywrite. If you follow the album in order though, you'll find that Rawls is telling a story to his son Joshy about what hip-hop is and why it's important to him, and the narrative is as compelling as any of the individual tracks or great collaborators. Sometimes being conceptual can get in the way of being musically interesting but on "The Hip-Hop Affect" J. Rawls strikes an enjoyable balance between encapsulating his experience and still giving you that hit of dope hip-hop shit.
Music Vibes: 7.5 of 10 Lyric Vibes: 7.5 of 10 TOTAL Vibes: 7.5 of 10
Originally posted: June 21st, 2011
source: www.RapReviews.com