Kidd Quest aka Jay Quest :: Put Your Headphones On: Soundtrack :: Bandcamp.com
as reviewed by Mike Baber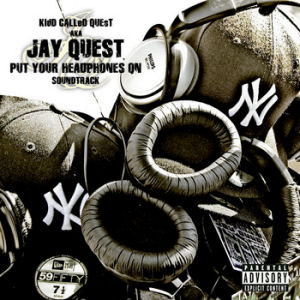 New York City is the birthplace of hip-hop. Ever since DJ Kool Herc rocked his first block party four decades ago in the Bronx, hundreds of emcees and producers have emerged from the five boroughs and made a significant impact on hip-hop history and culture. Today, "East Coast Hip-hop" has become synonymous with the NYC, and while cities such as Philadelphia and Washington D.C. continue to make their presence felt, there is no denying that New York has always been the go-to hotbed for hip-hop. Artists hailing from the Big Apple are a dime a dozen these days, but it is much more uncommon to hear hip-hop coming out of upstate New York, and I was intrigued when I learned that Kidd Called Quest, aka Jay Quest, was repping Rochester. Mainly, I was anxious to see whether "Put Your Headphones On: Soundtrack," which features a number of guest emcees spitting over exclusively Jay Quest-produced tracks, was at all influenced by the soulful and jazzy vibes that characterized New York hip-hop during the golden age of the early 90s.
Production-wise, the album starts off on the right foot. After a three-minute intro that probably should have been cut in half, the first song, "Top Billin'," kicks things off with a deep rolling bassline and a pulsing horn sample to set the tempo. A high-pitched whiney synth on the chorus and smooth rhyming from UPTOPROC over the head-bobbing drums make "Top Billin'" one of the catchiest tracks on the album, and I had high hopes that the rest of "Put Your Headphones On: Soundtrack" would measure up to par. "The Struggle" keeps things going, as hard-hitting kicks, a sweeping soul sample, and a crashing cymbal give the track an orchestral feel. On the other hand, "Keep Hustlin'" is a piano-driven beat with a chopped vocal sample that laces the track, and the simple but effective drum loop and bassline set the stage for Black Sinatra to spin a tale of street life.
At this point, though, the album starts to take a turn for the worse, and not necessarily due to Jay Quest's production. It's tough dropping an album as an up-and-coming producer when it is difficult to get anyone other than b-list underground emcees to rhyme over the instrumentals, and it is easy for a good beat to be ruined by subpar lyrics. There is simply not enough creativity from the guest emcees to keep things interesting throughout, and the lyrical content rarely strays outside of hustling, making money, and keeping it real. "That Ain't Gangsta (Stop Playing)" is a poor call-out attempt by ED Monster and Dice over an otherwise solid track, featuring a fast-paced violin and an upbeat set of drums. And maybe I would feel differently about "Real Rap" if someone other than Coach P blessed the mic, but I found myself annoyed by the constant piano keys that mar the beat. The bottom line is that, with few memorable performances by the guest emcees, it's hard to get excited about more than a couple tracks, and by the end of the album even Jay Quest's production style grows repetitive.
That's not to say, though, that there aren't a handful of stand-out instrumentals from Jay Quest spread throughout the rest of the album. "Money on the Ave" features a driving electric guitar and faint strings, and the lyrics reinforce the hardcore vibe of the track with lines such as "growing up selling crack was a yellow brick road to the dolla dolla bills." "Ride With Me" has a much more slowed-down feel, as the gliding synths and jazzy trumpet mesh with the laid back delivery of M.O.Z. and Dwayne Collins. And Jay Quest does his best DJ Premier impression with "Street Vet," featuring Gang Starr Foundation member Big Shug, with a simple but heavy drum beat over chopped samples and scratched lyrics on the chorus.
All in all, though, these tracks are not enough to drag "Put Your Headphones On: Soundtrack" out of the depths of mediocrity. Focusing solely on Jay Quest's instrumentals, the album doesn't sound half bad. Sure, there are a couple of duds, but overall he delivers a solid performance, and his hard-hitting drums and chopped soul samples emphasize the hardcore vibe of the album. That being said, while I do feel bad taking off points for subpar lyrics given that Jay Quest doesn't rhyme on a single track, there is no getting around the fact that the emceeing is average at best, and the repetitive lyrical content makes it difficult for one or two tracks to stand out above the rest. Maybe Jay Quest's upcoming album, for which "Put Your Headphones On: Soundtrack" is just a prequel, will feature a better supporting cast. Until then, though, it is difficult to measure his true value as a producer until a well-versed group of rappers has a chance to spit over his tracks.
Music Vibes: 6.5 of 10 Lyric Vibes: 5 of 10 TOTAL Vibes: 5.5 of 10
Originally posted: June 7th, 2011
source: www.RapReviews.com