Da Brat :: Life After Death Mixtape :: DJ Greg Street/So So Def
as reviewed by Steve 'Flash' Juon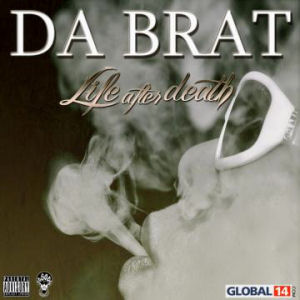 After eight years away, it really does feel like a return from the dead. Hip-Hop's first female solo artist to go platinum, Shawntae Harris b/k/a Da Brat, seemed to disappear from the spotlight virtually overnight. After a disappointing performance on 2003's "Limelite, Luv & Niteclubz" her life and career began a slow and inexorable spin, getting more and more out of control. Her time on "The Surreal Life" highlighted her problems with her temper, so it came as no surprise to anyone who watched the legal problems she would face. She had already served a year's probation before filming for beating a woman with a pistol in a nightclub in Buckhead, Georgia. Apparently having learned nothing from that incident, she attacked a hostess at a nightclub in Atlanta with a bottle of rum, and wound up doing three years in prison after pleading guilty to aggravated assault charges. It wasn't until February of this year that she completed her work-release program. She details her travails behind bars on the second "Second Chance":
"Ain't nuttin inspire me to write one rhyme
When the pen and pad was callin, I declined
I ain't give two shits about a passion I had
Wish I had a semi-auto, spray ALL they ass
I couldn't eat, sleep, shit in peace
Depression had me second-guessin myself in the belly of the beast
They wasn't tryin to put a bitch on before I was gone
So how the FUCK am I gon' ever make it when I get home?
I was cookin ramen noodles with no heat, and warm water
Fightin the gnats and flies off with no swatter
I got bit by spiders got sick
Got shipped to the hospital accompanied by a dick
No lie, Lord why I gotta go through this?
From a Sealy Posturpedic, to a two inch thick
No cleaners, no washing machine to do clothes
I stole, bleach with a mop bucket and blues so
granny panties, all I was allowed to wear
Victoria WAS a Secret, shit, she wasn't there
I couldn't pull that off, cause I had to squat and cough
Get butt naked, pull the cheeks open so they could check it"
There's no doubt she's been through hell and back, going from hip-hop superstar to another ward of the state in prison, and she seems to have come to terms with the "did the crime, did the time" nature of her actions promising "to do things much differently" this time around. Let's hope so. Da Brat is too talented of an artist to be languishing behind prison bars simply because she hasn't had a little therapy and learned some anger management. She has to start over from scratch, and though she's still got a name that carried some fame from the 1990's and early 2000's, the hip-hop scene (and the music industry as a whole) changed a lot in her time away. "Life After Death" is by its very nature recognition of that fact, given away as a free mixtape in the hopes of catching those old ears that still know her and those new ones that don't. And like most mixtapes that come out these days, it's got an established DJ supporting and promoting it (this time Greg Street) and a slew of chart-topping beats for the star to flow over, such as YC's "Racks":
"If you ain't talkin racks, we ain't talkin back
If you ain't talkin stacks, what the fuck I'ma do with that?
If you ain't talkin racks, we ain't talkin back
You know me I'm about my money (what'cho name is) Brat-Tat-Tat
I got a So So sickening flow, six-oh-six-fo'-fo'
Tryin to get to my crib, Westside Chicago
Atlanta where I live, nigga got mo' than one residence
I'm the undertaker, for them dead Presidents
I gave 'em two and a half, I been behind that fence
Threw on an ankle monitor, on parole, then probation seven mo' years"
Da Brat doesn't seem to have lost her ability to flow, let alone spit bars harder than most so called "thug bitches" in the game, and with nothing but time to reflect in prison she seems to have returned with a renewed focus on dopeness. Unfortunately there are drawbacks to the mixtape format, and "Life After Death" suffers from more than the usual share. With only 10 tracks (9 actual songs) and under 30 minutes total it's hard to get a feel for where Da Brat is in 2011, which is only further hampered by a tendency to emulate the style of the bars she's rapping on. Yeah "Racks" is a hot song, but everybody tries to do it like YC when they freestyle or spit on it, which only makes you want to go back to the originator even when the song itself is getting played out. You can change the name but can't change the sound - "Fab 5 Freddy" winds up sounding like Rick Ross' "9 Piece."
On the plus side her honesty and frankness about how she got to where she is today makes the lyrics more compelling than the average mixtape freestyle, and there's no doubt that more than most male or female emcees out there she's got a story to tell. "Life After Death" ends up being (hope she won't get mad at this comparison) a cocktease, letting you know she's got the goods, but then you wind up frustrated that you only got a little bit and never hit. If she comes back with a whole album, original beats, produced by Jermaine Dupri or whoever she can get that will drop her good shit (The Runners, Polow Da Don, or J.U.S.T.I.C.E. League would be good places to start) then maybe she will get that "Second Chance" at "Life After Death." For now, she's still in limbo.
Music Vibes: n/a of 10 Lyric Vibes: 7 of 10 TOTAL Vibes: 7 of 10
Originally posted: July 19th, 2011
source: www.RapReviews.com