Chosen Few Crew :: Scarlet Letter MCs
:: The Alliance Records
as reviewed by Patrick Taylor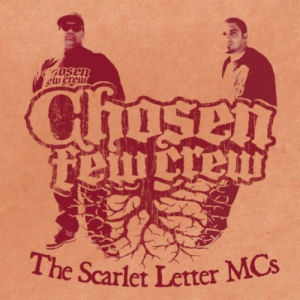 Chosen Few Crew are Chaz and Epic 1, two MCs hailing from Sin City itself, Las Vegas. While the duo have been touring since 2008, "Scarlett Letter MCs" is their debut album. The duo do a combination of old school-leaning hip-hop mixed with more street-oriented rap, all with sincere, positive lyrics.
The album opens up with "In My City," a track about the drama of Vegas that is decent but average. Things pick up on track two, "Turn Off the Radio," where the MCs advise listeners "If you love hip-hop, turn off the radio." It's both a celebration of real hip-hop and a criticism of the state of mainstream music. The song introduces a recurring theme of the album: the struggles of being an underground artist trying to make authentic music.
Battle Ax joins the duo on the club friendly "Celebrate," which features a techno beat by Mozart Jones. "From the Streets" flips a piano loop, with the rappers boasting
"I was born in the gutter
Raised in the streets
Everywhere I look somebody's got beef
So I look to the sky and ask for relief
Waiting for the day we can all live in peace"
Chaz and Epic 1 may be from the streets, but they aren't thugs. "Some carry heat, but we stick to beats," they explain. They don't swear, don't rap about sex, drugs, or partying, and keep things positive throughout. "Godfather," for example, samples the theme to the titular movie, but is about looking to God for guidance, not being a crime lord.
This could come off as corny to some listeners, but CFC pull it off. They have an earnestness that is hard to hate, and prove themselves on the mic. They could fit on a Christian rap bill, but they could also share the stage with underground rappers. They are rappers who are Christian, not Christian rappers, and pay as much respect to the culture of hip-hop as they do to God.
This is a debut album being put out on the artists' label, and it feels amateurish at times.
While CFC are able on the mic, their inexperience in the recording booth is sometimes evident in their flow, with the odd clumsy rhyme and hesitant delivery. Beats are supplied by Vegas Beats, Q.B, Rizo, Leonti, Jeri Foth, Lonard Young, and Supaman. They are a mix of street rap and old school loops and scratching that are nice if not that mind-blowing, at least not to a reviewer who isn't a fan of street rap to begin with.
Those criticisms aside, I enjoyed "Scarlett Letter MCs" and liked where the Chosen Few Crew are taking hip-hop. They rap like they mean it, like hip-hop culture means something to them. That's not something that can be said of every guy in an XXL t-shirt with a mic in his hand.
Music Vibes: 6.5 of 10 Lyric Vibes: 7 of 10 TOTAL Vibes: 7 of 10
Originally posted: July 26th, 2011
source: www.RapReviews.com