DJ Junkaz Lou :: Tales From the Nightmare Industry Vol. 1
:: Junkadelic Music
as reviewed by Mike Baber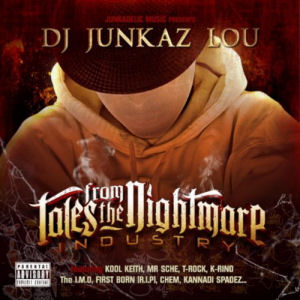 Gangsta rap is in a sad state. As I wrote my review last week of LA rapper Co$$'s "Before I Awoke," an album clearly influenced in part by West Coast heavy hitters such as Dre and Snoop, I realized that, in today's hip-hop game, there are few mainstream emcees who fit the profile of gangsta rap. Save for a few exceptions, the subgenre has largely moved underground, and a number of artists choose to eschew the spotlight in favor of maintaining their hardcore style. Unfortunately, much of the music today fails to capture the essence of the early 90s -- when gangsta rap was a powerful form of expression that took hip-hop by storm and opened listeners' eyes to the lifestyle of the streets -- and instead suffers from overly simplistic lyrics and mediocre beats. Given the fact, though, that "Tales From the Nightmare Industry" is a compilation album, I had hopes that the handful of Junkadelic Music emcees would have enough creative firepower to switch it up occasionally and keep things from sounding monotonous. Unfortunately, despite a few solid verses, there was simply not enough depth to satisfy my initial expectations.
In terms of production, DJ Junkaz Lou certainly delivers some head-bobbing tracks. "Dream or Nightmare" has a sinister vibe overall, with a simple but effective drum loop over deep brassy synths and eerie electric piano keys. IMO's gruff delivery meshes with the hardcore feel of the track, as he spits about the pitfalls of coming up in the hip-hop game. On the other hand, the more upbeat "Gangsta Boogie" is one of the catchiest tracks on the album, as Kool Keith outshines Chem over the driving trumpet sample. Perhaps the most polished song, though, is "Ya'll Ain't Ready," which features a Nate Dogg-esque half-singing, half-rapping chorus over a vibrant piano sample. Throw in quality verses from Mr. Sche, and the track is step above most of the rest of the album.
While the beats are, for the most part, the strong point of "Tales From the Nightmare Industry," there are still a handful of tracks that don't measure up to par. The one instrumental interlude, "Flatline Industry," sounds like something straight out of FL Studio, and the generic drums and synths give the track an artificial feel. And without much sampling to be found, several of the tracks lack the crisp sound of the drums -- the pop of the snare -- that gives hip-hop its authentic sound. These shortcomings, though, would not be as obvious or as pressing if it weren't for the overall mediocrity of the rhymes, which detract from several quality beats.
"I'm On Again" features pulsing electronic synths and spacy piano keys that lay the foundation for a heavy track, and at first it seems as if Chem can keep up with the fast-paced hi-hat. As everything but the drums drop out, though, it becomes clear that Chem is nothing more than an average lyricist at best, and the track soon grows repetitive. "Young & Buck" also falls prey to the same problem, as Mr. Sche and T-Rock rely on simplistic lyrics and rarely venture outside of the clichéd topics of hustling, making money, and smoking weed. While both emcees have the delivery and flow to match the deep rolling bassline and hard-hitting drums, once you actually take a close listen, there is nothing special to be had. The low point, though, comes with the album's final song, "I Drop Money." With an unoriginal chorus ("I drop money down/ ow get that money girl" repeated four times over) and equally unoriginal lyrics over a cheesy, radio-friendly beat, the song proved to be a fitting end.
I don't want to be too quick to stereotype the whole album, as there are indeed a handful of solid verses and a few quality instrumentals. For the most part, though, "Tales From the Nightmare Industry" simply lacks the polish and depth necessary to feel like a complete album. Upon first glance, many of the tracks don't sound half bad; there are plenty of hard-hitting beats that would sound great bumping out of car speakers, and more often than not the emcee's delivery meshes with the track. Upon closer inspection, though, there is little lyrical variety or complexity, and after a few listens I found myself quickly growing tired of the album. Hardcore gangsta rap fans might want to check out "Tales From the Nightmare Industry," but most hip-hop aficionados will find little of interest. In today's day and age, with a countless number of underground releases flooding the market, artists really need to be unique in order to stand out, and "Tales From the Nightmare Industry" simply has too much of a generic feel to make any noise.
Music Vibes: 5.5 of 10 Lyric Vibes: 4.5 of 10 TOTAL Vibes: 5 of 10
Originally posted: July 12th, 2011
source: www.RapReviews.com