Glasses Malone :: Beach Cruiser
:: Cash Money/Suburban Noize Records
as reviewed by Steve 'Flash' Juon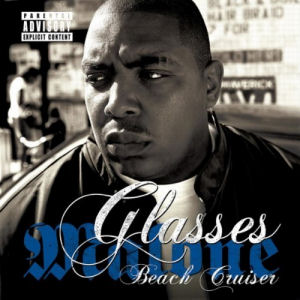 When the first single from your debut album was released FOUR YEARS AGO, that's the music industry equivalent of what they call "developmental hell" in Hollywood. For those not familiar with "developmental hell" it means a that due to politics in the studio and/or with the directors and actors attached to a movie, a script never gets turned into a film and sits in limbo. Some scripts go through four or five different directors trying to get out of "hell" and get turned into a major motion picture blockbuster. Likewise Glasses Malone has been through at least five different record labels over the years including Black Wall Street, Hoo Bangin', Universal, Cash Money and now Suburban Noize Records.
Malone's "Beach Cruiser" is theoretically a joint release between the latter two, but try finding any reference to Glasses being a Cash Money artist on their website. Nevertheless Malone has insisted CMR is involved and gave him "full creative control," and Suburban Noize does briefly mention Cash Money in their entry for "Beach Cruiser." For all intents and purposes though Suburban Noize is at the forefront when it comes to this album getting out of developmental hell and actually being produced and released. All of the publicity and promotion we've received for "Beach Cruiser" comes directly from them.
Listening to "Beach Cruiser" one of the reasons Glasses Malone was in limbo for so long is immediately obvious. If someone slapped a label that said The Game over Glasses' name and didn't tell you, it would be like switching Folgers Crystals for your regular coffee. (If you're too young for that reference, search for the commercials on YouTube, where you'll also find a hilarious Chris Farley parody of the spot.) You might think he had a cold and/or took a hit of NyQuil before recording, but that would be the biggest difference. He's got the same raspy voice, the same West coast swagger, and if Jayceon Taylor has a "Compton accent" then Charles Penniman has the same one too. Even though Glasses is obviously a talented rap artist, you have to imagine scores of record label executives scratching their heads trying to figure out how to market him without drawing obvious comparisons to Game, then giving up in frustration at the prospect.
In my view there's really no escaping the comparison between the two, and no reason this album should have sat in developmental hell so long as a result. The four singles released so far since 2007 have all been enjoyable, most notably the first track "Certified" featuring Akon. Produced by DJ Toomp, the song sounds remarkably modern and up-to-date despite its age, and if Malone draws comparison to Game then Toomp can draw comparison to The Runners or Just Blaze. It's a hard hitting multi-layered production of bass, drums, synths and claps with a big brassy feel ideal for Malone's flow:
"Niggaz spit fairy tales, G issue the facts
Not Jeezy but I sold my fair issue of crack
Not Weezy but Malone got that hustler's music
And them hustlers use it, serve customers to it
Went from 2 to 3 hundred, got the Mexicans down
100 Crip, 100 Blood, 100 Mexicans now
Hundred round in the clip, man who wanna get done?
With the new West Prez on these A-Town drums"
Through all the years of hell until "Beach Cruiser" was released, all of the singles dropped managed to hang on to a place on this album, with only 2008's "Haterz" being relegated to bonus disc deluxe edition status. 2009's Bigg D produced "Sun Come Up" featuring Birdman, Rick Ross and T-Pain is still in the mix, as is 2010's "I Get Doe" produced by and featuring The Cataracs. The latter may be Malone's most popular song to date:
"Fast life, fast cars, ain't no slowin down
Ain't no brakes on my drop, fin' ta flow it now
It's like the throttle got stuck, headed fo' the clouds
And the law was on my ass cause they know my file
But on my momma rest in peace I'm a soldier's child
So ain't no stoppin for them coppers 'til the road run out
Mo' money, mo' problems, shit I know it now
But ain't no time to resolve, there's too much dough to count"
There are guest appearances aplenty throughout "Beach Cruiser." Nipsey Hussle and Snoop Dogg drop in to go "Eastsidin" on a Tommy Gunz track. Mack 10 and LaToiya Williams smooth things out with Curt Beatz as they take Malone's gun "Off Safety." Strange Music star Jay Rock joins Malone on "No Sympathy," and Akon affiliate Ya Boy is on "Rich N Thuggin." There's an undeniably West coast feel to the sound and the guest artists, although the bonus disc edition does expand beyond it for the Jerry Duplessis produced "My Turn" featuring Lupe Fiasco & Wyclef, then adds Mannie Fresh on the Fresh produced "Fucc Witt Me" and Tyrese on the song "I'ma Pray," which would probably be a single candidate if it was on the main disc.
While "Beach Cruiser" is a solid album from start to finish, there's at least two major differences between Malone and his vocal twin Game. The first is forcefulness - Game seems to exude a bristling confidence in every word he speaks, as though he's trying to smash his rap lines through a brick wall. The other is is humor. Game may be accused of dropping too many famous names in his bars by his critics, but those references are something fans know are used to comical effect. While Malone has the swagger and the vocal tone, he doesn't have the memorably funny punchlines and he doesn't have The Game's intensity. It is therefore in some ways unfair to compare them, but as noted above, it's not something that can be avoided. I'd still recommend "Beach Cruiser" as a good late summer 2011 album to ride around to, but it's possible that Malone's been trapped in developmental hell too long on this CD and that he has hotter material yet to come.
Music Vibes: 7.5 of 10 Lyric Vibes: 6.5 of 10 TOTAL Vibes: 7 of 10
Originally posted: August 30th, 2011
source: www.RapReviews.com