Likwuid :: No Regrets
:: Sano Business
as reviewed by Mike Baber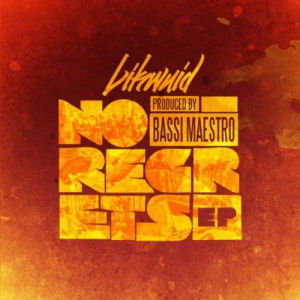 Some emcees simply have a way of commanding the listener's attention, whether it's with a distinct voice, a sharp delivery, or a funky rhyme scheme, allowing the listener to get lost in the music and not think twice about skipping a track. While it's rare to find a full-length album with enough depth and creativity to make every song a worthwhile listen, "No Regrets" admittedly has an advantage in this respect, given that it's tough to get tired of an album that's only six tracks in length unless there is a complete lack of originality. Nonetheless, female emcee Likwuid's self-proclaimed final EP pulls the listener in from the beginning and never lets go, making for a surprisingly deep release chock full of intelligent, thought-provoking lyrics that deal with everything from putting whack rappers in their place to empowering women in hip-hop and in other facets of life. With hard-hitting production handled entirely by Italian producer Bassi Maestro and a number of guest emcees to boot, it's hard to go wrong with "No Regrets."
Make no mistake, despite being an Italian emcee and producer, Bassi Maestro clearly understands the roots of old-school hip-hop, and several tracks on "No Regrets" reflect the boom-bap feel of the 90s, with a little added new-school twist. It starts with the opening track, "Likwuidation Reprise," which features a rapid-fire grand piano chord and a funky hollow electric piano that dances across the track. Likwuid delivers a powerful opening verse, spitting for a minute and a half straight before Bassi mixes things up and scratches in lyrics to end the song. Next, there's "Loose Change," which pit's a pulsing synth and an aggressive electric guitar over a rolling bassline, making for an upbeat track that Likwuid dominates with her steady flow. "Just Love," on the other hand, has more of a mellow vibe, complete with uplifting piano keys and a soothing jazz trumpet sample that massages the ears. The song takes on a nostalgic feel, as Likwuid raps "I'm on a Quest to find Love like a Soulchild song/ Lookin' back to my Roots like that dude named Quest through the drums."
Overall, though, while Bassi Maestro succeeds in laying a solid foundation for Likwuid's rhymes, the production isn't without its flaws. Several of the songs, for example, could benefit from sampled drums, which would make for a crisper and more authentic sound than the drum kits that Bassi uses. Luckily, though, Likwuid's verses make up for these few shortcomings. On "Queendom Anthem (Learn How to Fly)," over one of the more synth-driven tracks on the EP, she questions religion and the true meaning of life and issues a call to women throughout the world, rapping "All of my queens everywhere, you such a Devine specimen/ To be a goddess is your birth right, nothing lesser than." And on "Sight for Sore Eyes," she addresses the gender stereotypes that hamper women in relationships, as she spits:
"I pay the bills, nobody pays attention
I come home, cook the meals, then I clean the kitchen
Washin' up his clothes, washin' up the babies
I'm bringin' home the bacon, still gotta make the gravy
We converse about commerce, it's a placebo
'Cause if I say too much I might conquer his ego
And then he'll make excuses for his secretary's e-mails
He left the screen up by accident, I saw the details"
Of course, Likwuid isn't just confined to rapping about female empowerment, and both male and female hip-hop fans are sure to enjoy her verses that focus on more gender-neutral topics, such as putting to rest fake emcees who are more concerned with making it rain in the club than making real hip-hop. In addition, Likwuid welcomes a number of guest emcees to complement her rhymes, including members of her former Sweatbox crew on the title track "No Regrets," each of whom spits an impressive verse over what is arguably Bassi's smoothest instrumental on the EP.
In the end, it's hard not to be left wanting more after playing through "No Regrets" a few times, as there are only five full-length songs plus a short intro track. On the plus side, though, there is truly no filler material, as Likwuid brings something fresh to the mic every time she spits, and it makes for an enjoyable listen that will appeal to new-school and old-school hip-hop fans alike. And in a day and age where there are few female emcees who can truly old their own on the mic, Likwuid distances herself from the middle of the pack with her well-versed lyricism and on-point delivery, which is well-suited to Bassi Maestro's production style. "No Regrets" won't make a splash in the mainstream market, but that shouldn't stop you from checking out what will most likely be the veteran emcee's final hip-hop release.
Music Vibes: 7 of 10 Lyric Vibes: 8 of 10 TOTAL Vibes: 7.5 of 10
Originally posted: August 23rd, 2011
source: www.RapReviews.com