L Pro and 5th Sequence :: Equilibrium :: Vinyl Fluid Records
as reviewed by Patrick Taylor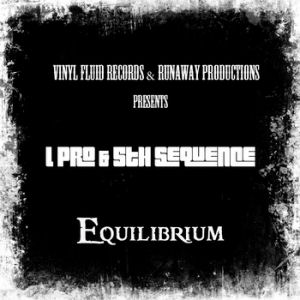 This is an EP from Portland MC L Pro and producer 5th Sequence. According to his bio, L Pro has been in the game for a minute, first as half of 90s rap duo Grassroots, and then working with Soul Plasma on 2003's "Simply Soul." After getting divorced and stabbed in the face (!), Pro took some time off from hip-hop. "Equilibrium" is a prelude to his forthcoming album "Vertigo."
L Pro is an able rapper, and he's found a perfect partner in 5th Sequence, who acts as Pete Rock to L Pro's C.L Smooth. The beats are built around funky jazz loops, punctuating with cutting and scratching.  
The EP starts off with "Good Morning," with L Pro rapping over a funky horn and string loop. The track introduces L Pro as a rapper not afraid to cut rivals down with his microphone skills. Between the bouncing beat, the classic hip-hop lines scratched in, and L Pro's battle rhymes, "Good Morning" feels like it could have been released in 1991 rather than 2011.
The horn sample on "Conversation" is reminiscent of Pete Rock and C.L Smooth's "T.R.O.Y," with L Pro rapping about a conversation he had about his rap career with a female admirer. "Listen mama, there's no need for drama/I'll send you the MP3 so you'll believe," he raps.
5th Sequence mixes things up on "Encore," chopping up a vocal sample with synths to create a more contemporary sound. "The Light" lays down a slow-burning guitar line for L Pro to spit over. Things head back to the 90s on "Fluid," a bouncing  track with a New Jack beat and trumpet sample.
L Pro's bio is full of drama, but you'd never know from his music. Most of his lyrics are about being nice on the mic and being better than his rivals - pretty standard battle rap material. Still, "Equilibrium" is a solid EP of 90s-sounding hip-hop. The beats are on point throughout, and L Pro is a good rapper. From the sounds of this EP, L Pro and 5th Sequence have the start of a beautiful friendship.
Music Vibes: 7.5 of 10 Lyric Vibes: 7 of 10 TOTAL Vibes: 7 of 10
Originally posted: August 2nd, 2011
source: www.RapReviews.com