Grand Mother's Funck feat. Akil The MC :: The Proud Egyptian
:: Sony Music Entertainment Switzerland
as reviewed by Matt Jost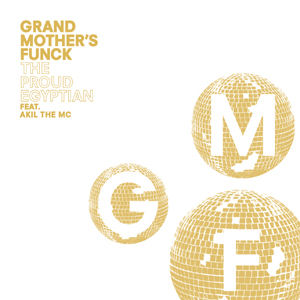 Coincidences can be a wonderful thing. Just like this reviewer never could have imagined a funk band from around the way share billing with an internationally renowned rapper, that same band couldn't possibly foresee millions of proud Egyptians take to the streets to put an end to a fossilized regime shortly before it would drop an album named "The Proud Egyptian." But coincidences can also take inconvenient turns. The Proud Egyptian according to Grand Mother's Funck is not a confident citizen rising up against Mubarak and his clique in the Arab Spring of 2011 - it's a sex position. Ironically enough, this particular Proud Egyptian has so far escaped the online Urban Dictionary, which manages to come up with vulgar interpretations of even the most unsuspicious of terms.
With that out of the way, let's get down to brass tacks. Akil, for those that don't know, was one of the Jurassic 5 (or 6, technically), an LA collective who successfully blended old school rap with contemporary Left Coast hip-hop between 1993 and 2007. Grand Mother's Funck is an ensemble from Switzerland, established in 1993 and releasing albums since 1995. The combo first invited Akil The MC to join them on stage in 2009, which led to seven studio tracks that were released on vinyl in 2010. Until then, GMF had employed the talents of various guest lead vocalists, all of them singers. While they have worked with rappers before, Akil is the first to record a number of songs with them. They call their collaboration a natural combination since J5 and GMF were both musically inspired by the same sounds. As Akil is quoted in the press release: "The chemistry was so natural. This project definitely fits who I am and what I'm about: Great Music and Fun – GMF! I enjoy their enthusiasm and love for good music. It's a perfect match!"
Two years later the EP is extended to full length and available on iTunes and CD. "The Proud Egyptian" lives up to the potential when a veteran MC who is known to use his voice as an instrument and a band whose discography is nine albums deep meet. Akil is featured on eight tracks, delivering his positive message over vintage rhythms, but never taking possession of the tracks, letting his co-vocalist and the players do their thing. "Your Thang" is also the name of the first song, and Akil delivers a proclamation of self-determination the people of Egypt would surely agree with:
"It's your world
You're the man or woman with the plan
Do you and only you cause only you understand
your self, your health, your wealth and what you can do
A lotta people quick to tell you what you can't do
[...]
I can't be me if I'm tryina be you
What work for me might not work for you
Self-confident, dominant, prominent
The obvious position of power and accomplishment
Self-pride, not a ego flyin' high
Me, myself and I - still a part of human kind"
J5 fans will instantly recognize the musical territory treaded by GMF and Akil. Still, while "The Proud Egyptian" may at times be tailored towards the rap features, the music does not pander to the hip-hop audience but caters to anybody receptive of driving horns, precise percussion, funky bass slaps and guitar licks, etc. joining for a harmonious whole. It's clear to hear that a decent amount of work went into the making of this record, its rich sound rounded off by a crystal clear mix-down (courtesy of onetime Paisley Park Studios engineer Hans-Martin Buff).
Current lead singer Rich Fonje holds his own on his solo tracks, whether it's the steamy "Please Me" (where we meet our Proud Egyptian), the bluesy "Fool's Fairy Tale," or the rocking "Drink This Dream." On "Wonder Why" he and the band pay hommage to '60s R&B while his ode "To Soul" is also lyrically dedicated to that sweet soul music:
"I go down to the river with my rocking chair
I wanna join Aretha, I hope she's still sittin' there
And what about you, Marvin, have you found someone who cares?
To have a friend like Donny, Roberta, you know that is rare
[...]
And when I listen to you, Otis, singin' 'A change is gonna come'
I wonder did you really know this, did you know this all along?
And Bill, are you livin' in darkness, is your house still not a home?
Or do you sing, 'You are the sunshine of my life' to someone?"
It's nice to hear a singer being able to actually articulate his reverence for soul legends when two of the biggest rap stars on the planet can't think of anything beyond titling a song "Otis"... Akil himself isn't the most up-close-and-personal lyricist, and so his contributions to "The Proud Egyptian" are mainly functional. Next to another motivational piece ("Do"), he leads the proceedings on "Party All Night," sets the mood for the nocturnal "Nighttime," kicks a formally contrasting but lyrically congruent double-time verse for the reflective "We Must Move Along," and conjures up a better world on "One."
Like rap's own Lords of the Underground Grand Mother's Funck are 'keepers of the funk,' just in a more traditional sense, similar to collectives around the world like Swedish trombonist Nils Landgren and his Funk Unit, Dutch saxophonist Candy Dulfer and band, Mountain Mocha Kilimanjaro and Osaka Monaurail in Japan or the Dap-Kings and the Dirty Dozen Brass Band in the States. With "The Proud Egyptian," GMF deliver an album that deserves to be heard, particularly by a hip-hop audience, since it features a seasoned rapper that rocked many a stage and partook in many a cipher in his lifetime. "The Proud Egyptian" always focuses on the greater good - to let the good times roll. From "Let the World Know" and its high-end shine that makes it fit for the dancefloor, to "Heart of the Beat," whose chugging rhythm and '80s raps evoke a juke joint and a park jam at the same time.
For some, GMF's feelgood funk may be a bit too old fashioned, others would have wished for a more intense interaction between the South Central MC and the eight Swiss funkateers. Still this is an in-depth collaboration that has few, if any, equals. Years ago Jurassic 5 noted on their debut track "Unified Rebelution" that "the world don't move to the beat of just one drum." But if you're into funk, hip-hop, or (hopefully) both, there's a good chance that you'll move to the beat of this drum.
Music Vibes: 8 of 10 Lyric Vibes: 7 of 10 TOTAL Vibes: 7.5 of 10
Originally posted: August 30th, 2011
source: www.RapReviews.com